We were lucky: not only did we meet her at the IWA in Nuremberg, but Danielle also posed for us in several photos. That's why you feel like you've seen her somewhere before. Impressed not only by her beauty, but also by her obvious familiarity with firearms, we decided to deepen our knowledge of her and share it with the readers of all4shooters.

Please, provide us with some bio info about you...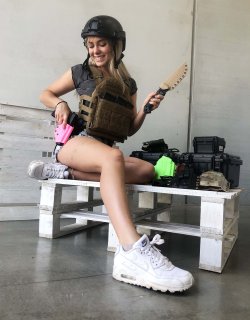 I'm 25 years old, I study microbiology and genetics at the university of Vienna. I also work, in the service and safety field. It's shift work which provides travelling for me too – a thing I enjoy a lot.
I was born in Vienna, the capital city of Austria. I was raised in Lower Austria, on the country side, and I loved it – I am more a mountain child than a city girl. I've always been a lover of nature, mountains and animals, which were common in this area.
I grew up with an older brother, who might be the reason I am good at martial arts today (lol!). My family is a very active one. I grew up trying almost every sport our country could offer. My father and I have been mountain climbing a lot and until this day we meet regularly to go climbing. We also had family vacations to go skiing and hiking. I started riding horses in my childhood, my mom has been joining me with this sport since then. I am still competing on Show Jumping competitions from time to time with my own horse.

When and how did you discover your interest for guns?
I started shooting in my teenage years, mostly because of my friends. Since I am very interested in everything that is new to me, it didn't take much time until I had someone explaining every detail to me and showing how a gun works.
I think I was about 16 years old back then, so still in my school days. Over time I had the opportunity to shoot more frequently as friends took me to the range from time to time.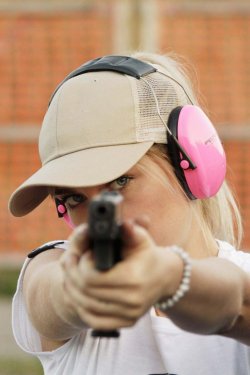 One night I was out with a bunch of friends and it turned out that there was a gunsmith among the group too. So it happened that I was introduced to Martin Fritsch. He's Junior CEO and gunsmith at Austria Arms. And this is when I started shooting more often with different guns. Martin gave me the opportunity for training and testing different firearms until today.

He and the rest of his family have been passionately supporting me and my passion for guns, gear and training right from the start. That was about 3 years ago (by the way, I bought my first pistol, a HK SFP9, at Austria Arms).
Last summer I got more into the gun scene and my Instagram page started by the end of 2018.
I started to produce videos and promotions for various firearms manufacturers together with @tactical_gentleman. Last summer the connection to Sapiens Para Bellum came up, which Martin is member of. They produce YouTube videos and reviews for the German speaking market.
A few videos came into life, until I created the character Valkyrie and kind of hived off the group. Not too far though – we're still working together a lot and this connection will remain in future too. Ever since I visited the IWA in Nuremberg at the beginning of March 2019, together with SPB, my Instagram page is going crazy!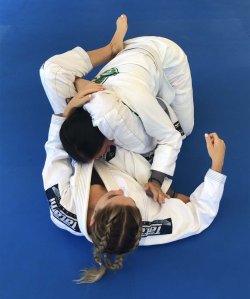 Which martial art are you into? At which level?
Martial arts, more precisely Brazilian Jiu Jitsu, as a hobby are quite new for me. A good friend of mine, who is also my shooting instructor (E3 SelfDefense – www.e3x.at), introduced me to this sport last December. I fell for it immediately because it felt natural to me, like a sport that really suits me.
At the moment I am at two stripe white belt level, which means I am quite at the beginning. I plan on practicing boxing in the future too.
Do you prefer shooting pistols or rifles?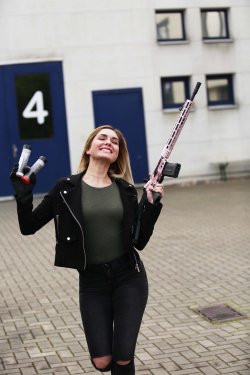 I prefer shooting pistols more than rifles at the moment, because that is what i practice the most and also I am better at it than shooting rifles. I own a GLOCK 19 Gen4, it's one of my favorites. It's an Austrian gun I can always count on. Its easy to handle, has almost no malfunctions and it doesn't need to be cleaned after every use (I am lazy when it comes to cleaning guns). 
Is your GLOCK standard or customized?
My GLOCK has nearly no original parts anymore, I customized almost everything. (Double undercut, grip reduction, red sights, stippled trigger guard, Apex trigger unit, magwell, lasered backplate...)

Name your favourite guns...
I really like the Canik TP9 Elite Combat and it is probably the next gun I will buy for myself. First I have to extend my space for more guns because in Austria you're only allowed to own two guns of category B after attending a course in theory and practice for issuing a license, psychological report etc. – you're entitled to apply for a firearms license card.
For rifles I'd go for AR15, mostly because this is the rifle I have at home and I feel comfortable with it. My taste in guns always changes, though.
Tell us something about your Custom Schmeisser AR-15...
My Schmeisser AR15 is an M4 Dynamic 10.5''. It was a cooperation with Schmeisser. The idea came up at an event last year, where I met the CEO, Thomas Hoff. It took a while but in May this year I travelled to the factory and assembled the gun myself, accompanied by Low Ready Media and their cameras (a German Youtube Channel) that made a nice video out of my visit.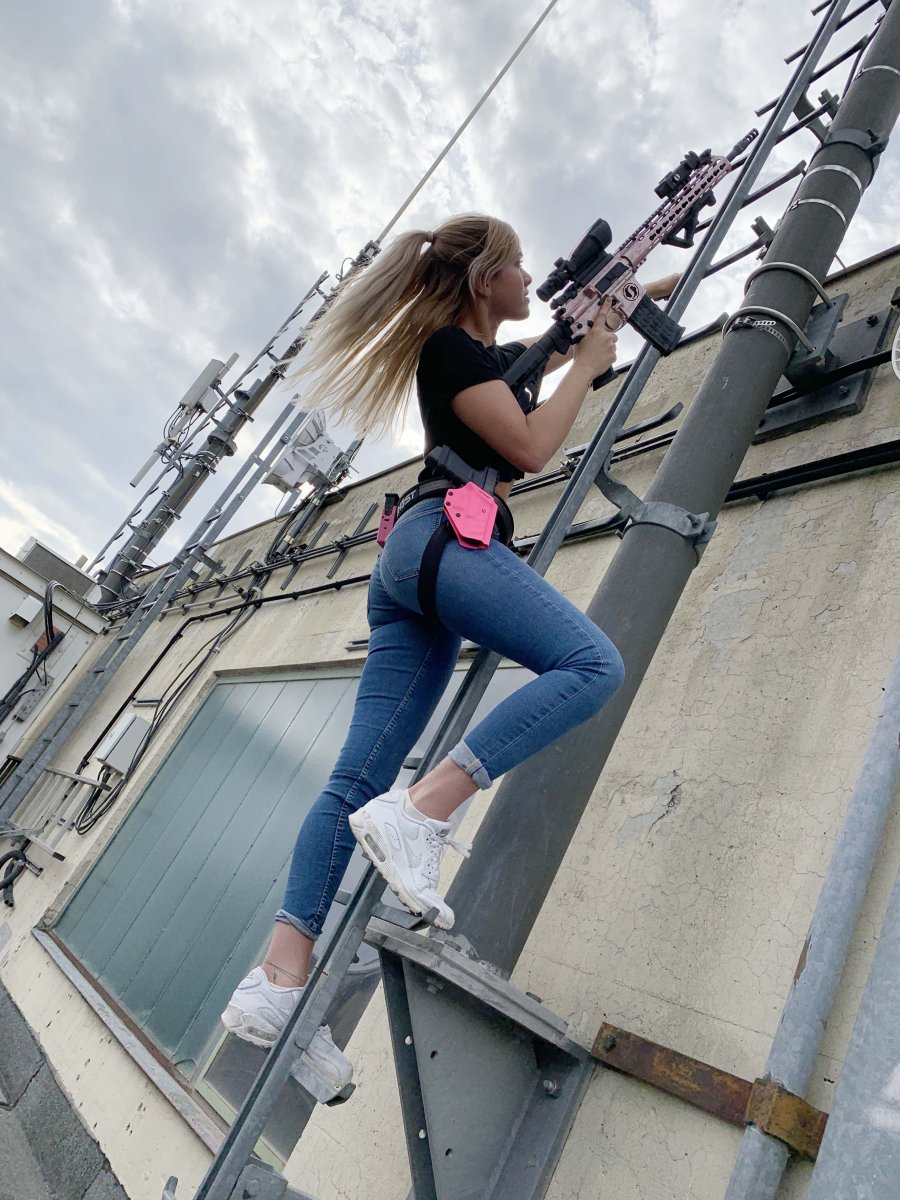 What ammunition do you use? Factory loads or reloads?
I use regular ammunition, factory loads.
Have you ever tried any Italian gun?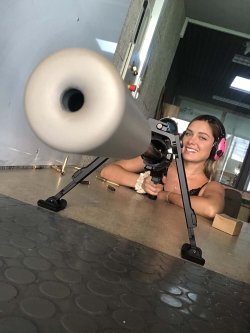 I tried Beretta guns already and I really liked it.
Do you plan to keep on shooting as a profession in the next future?
At the moment I am not planning on keeping on shooting as a profession, but who knows what life has to offer for me. I am open to every chance I may get.
Where and when is it possible for your followers and fans to meet you in person?
My fans can meet me at any Open Door Days in the Austria Arms gun store. Owned by my dear friend Martin Fritsch and his family, who run the business together and who got me more into shooting three years ago. They still are my biggest supporters. Also I will be present at the upcoming Las Vegas SHOT Show, as well as the largest Exhibitions in Europe like IWA in Germany. But also at some competitions: I always announce my presence shortly before the events.
What about your social media channels?
I can be found on Instagram and Facebook with the name Danielle.Valkyrie –  maybe there will be a YouTube channel in the future too. By the end of this year I plan on creating an online shop, with Valkyrie merchandise.