Please give us some biographical data about you:
My name is Mauro Porta and I am an Italian professional photographer. I was born in Novara in Piedmont, in the great River Po Valley. I have a wonderful wife and son. I have always had a love for nature, I constantly try to escape from the sad city by practicing sports like mountain trekking and running, but my real passion has always been Judo. A discipline in which I also involved my son and gave me a lot in human relationship, in particular it taught me respect for people and for any opponent! To me it's always important and I bring this value into my work.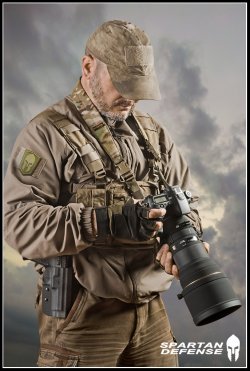 I have always loved light, which by shaping forms and things, reveals the design and human ingenuity. My artistic journey focuses on enhancing these elements with photography! For 30 years I have been producing images in my studio and on location for companies in various commercial sectors, especially in technology, jewelry, industry, fashion, etc. But I am also a passionate shooter and for the last five years I have tried to combine this strong "addiction" with photography, which is my favorite expressive language. So I naturally started a photographic research on firearms and the tactical world, between one shot and the other, aiming to develop a rich portfolio. I decided to propose my part of professional photography activity and called the project SPARTANDEFENSE.
I started by photographing my personal firearms that I use on the shooting range. I then began to understand the shapes, the reflections and the best shots to organize my photographic portfolio. Starting from very clean technical photographs up to set images or with an operator, my idea has always been to look for a particular, accurate style with a certain atmosphere: sometimes dreamlike and rigorous, which arouses interest and curiosity for the shooting world. Light and post-production are important elements on which I concentrate a lot: lately, I started to propose videos related to this sector, with the same principles of "tactical aesthetics". I create my photographs inspired by my experiences and personal sensations, especially while attending various tactical courses where I improve myself regularly, carefully observing my surroundings, the shooters' behavior, how they dress, how they shoot and what they say!

When and how did you discover your interest in firearms?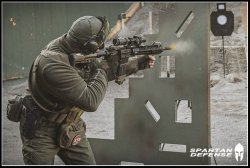 I attended art studies, which led me to fall in love with photography and graphics such as drawing and technical printing. After completing my studies I served in the Italian Army in the Alpine Mountain Troops – Assault Battalion in South Tyrol, also traveling throughout Italy and having many interesting educational experiences, e.g. like pedagogy. Eventually, I retired from military service with the rank of sergeant. This beautiful military training period marked my first contact with firearms (I still remember the thrill of shooting with the massive MG 42/59 with its typical cadence, the strong recoil and the smell of gunpowder); also the tactical aspect and the various training experiences, the camaraderie and the "group action" formed my personality. After my service in the Army, I resumed my civilian life specializing in professional advertising photography, understanding that this was my way of living. Not an easy choice, especially in today's society.

What are your favorite firearms?
I use different firearm platforms; among handguns, my first love was the CZ 75 SP-01 Shadow in 9mm caliber which is still my favorite side gun (an excellent weapon). Military setting, 5" barrel, 18 rounds, ambidextrous safety, metal sights, clean and progressive trigger, rubber grips, streamlined design. My personal preference is for full metal guns, because I feel better with a certain weight in my hands, but I have also shot polymer pistols like the excellent GLOCKs, the XDM-9 or Arsenal Strike One with good results. The CZ line is very aesthetic for me, the design is still up-to-date and often imitated, the cost and completeness make it an affordable gun: I bought mine in a case with 3 magazines and accessories at a great price. Of course it was photographed by me in all aspects ... but I think it will inspire me for a long time!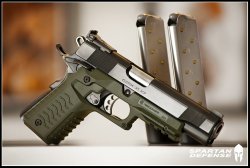 Another desire was to own and use a .45 ACP caliber gun, and the choice for me was only one, the historic 1911 platform, that with over 100 years is still at the top and evolving! My choice was one of the rare Valtro 1911 .45 ACP Custom: a full-frame, entirely made in Italy in the late 1990s by Valtro Stocchetta, a small artisan company, but also known and appreciated in the USA. I find it very reliable and well built, rugged and with the appropriate weight. I immediately equipped it with 4 McCormick Power Mag 10-round magazines, which I find fantastic and reliable. This elegant and accurate gun, the Valtro, is the protagonist of many of my photographs. For me it's visually extremely versatile, as I change the grips and accessories (I use the American VZ in G10 or the Israeli polymer ones from RecoverTactical)... "my 1911 is in constant transformation!"

Do you prefer shooting short or long guns?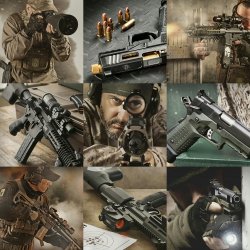 Of course I also use AR -platform carbines and shotguns (which I enjoy a lot); my current rifle is an Italian ADC Armi Dallera Custom Model M5 in .223 Remington caliber with a 12.5" barrel, with a standard military trigger. I can obviously equip my AR-15 with countless tactical accessories based on the use or training I have to perform. I like to try and test different stocks or magazines, grips, slings, sights and target optics. I prefer a Vortex Crossfite 1-4x24 V-Brite MOA, which is bright and sharp overall. At the moment my M5 is fully equipped with Hera Arms OD accessories, with a CQR Rifle Stock, CQR Fronf Grip and H3T Gen2 magazines.
My shotgun is a "primitive and rough" Norinco 97 Tactical (870 Remington-style pump action), in 12/76 Magnum with a 15" barrel, pistol grip and a folding stock that I personally customized. I like to use it together with the handgun to practice weapon changes.

What ammunition do you use? Factory or reloaded?
Both: I shoot a lot of factory ammunition, but I also reload it myself.
Preview: A selection of works by SPARTANDEFENSE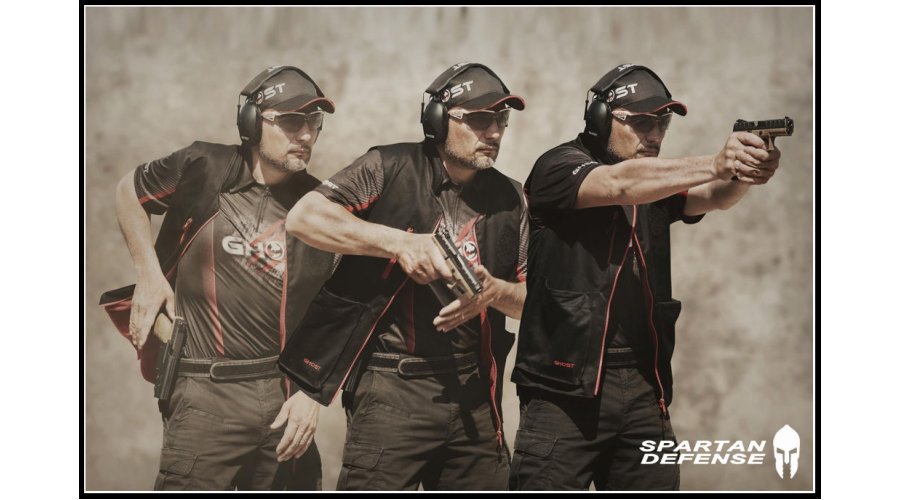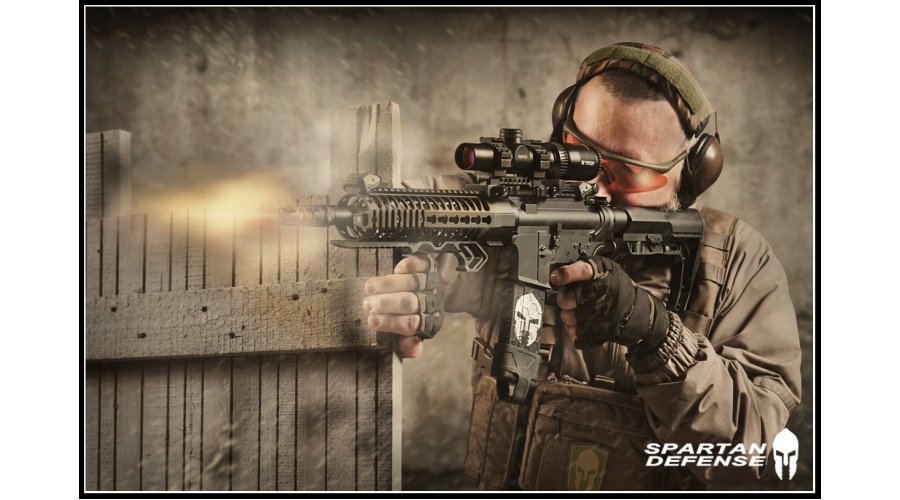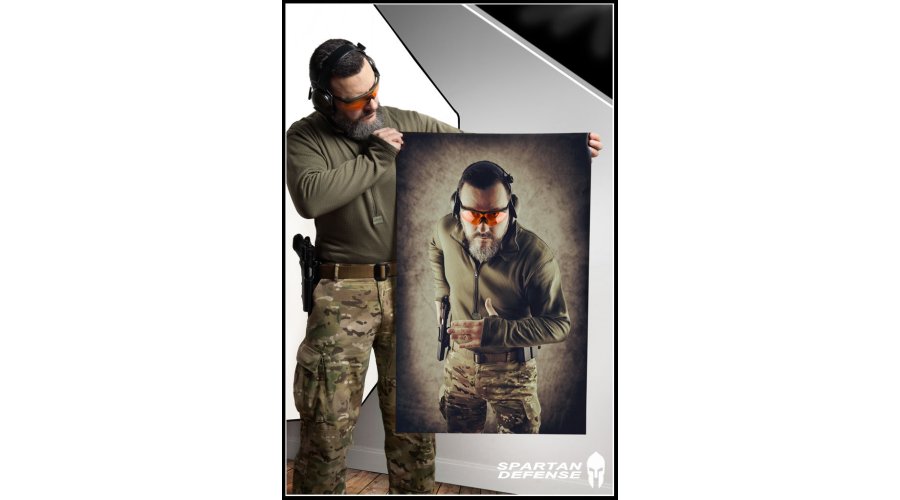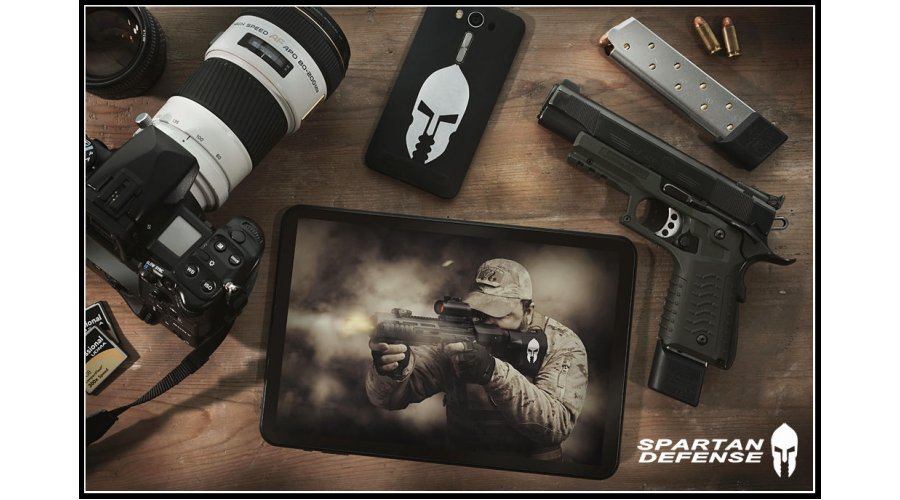 Tell us about the goal of your photo project.
I need real emotions to produce the images I have in my "imagination". That is why the aim of the SPARTANDEFENSE project is to provide arms manufacturers and companies with tactical material and training, a new vision, a continuous aesthetic research and an alternative to the classic basic images. They should improve the design and functionality of products or activities. Quality, point of view and impact atmospheres are my mission! But I would like to go beyond trying to promote this. In the last few years I have, not easily, collaborated with many different brands creating images and videos. I gained trust, which is very important to me. In Italy, in the field of rifle and pistol production, I worked for Tactical73, Nuova Jager, Brownells and for manufacturers of tactical accessories such as Ghost International, Domsystem, Tactical Gear Italy, Blackfolium and other interesting characters such as Tactical Possum. 
For the foreign market I carried out direct contact roles for Ritterstark GmbH – Austria (long range rifles) and for Hera Arms GmbH - Germany (AR-15 and accessories)... two wonderful opportunities! Another segment that fascinates me is training, where there are many visual stories to tell and new ways of expression. In this area I worked with several certified instructors and teams like ATD772, PST (Paolo Simeone Tactical), TPA (Tactical Professional Academy), Phoenix-Shooting Academy and other interesting emerging tactical groups that I invite you to know.

On which social media channels can you be reached?
Currently, you can see my work constantly updated on Instagram at @spartandefense or on my website www.spartandefense.eu.
We wish you all the best with all your future projects! See you soon!