Please give us some biographical data about you: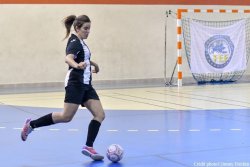 I'm Lalou Croft, Laura actually, 26 years old and a French police officer. I have a bachelor's degree in sports and a two-year management degree. The reason for this specialized background is my main goal, that I have now achieved: to become the best police officer I could ever be. 
I have been playing football for 8 years and played for a while in TFC (Toulouse FC), which allowed me to graduate and then move on to indoor football. With the TFC I then won the 2019 championship, which allowed me to win the 2019 Champions League with my Toulouse football team. I am proud to wear the blue-white-red jersey.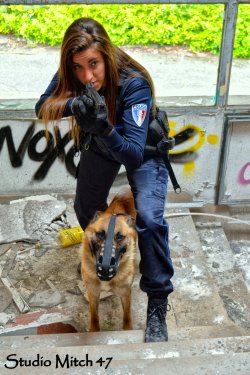 Team spirit, my will to push and to overcome my own limits with energy have been in my mind since I was a child. I have been in the police force for 3 years and I have fun! Being a K9 is great because I can combine passion and work. I worked hard to get there, but today I enjoy my daily life with my four-legged partner Jeriko.
When and how did you discover your interest in guns?
Firearms have always been a part of my life, as my grandfather used to let me shoot tin cans in the garden under my grandmother's disillusioned gaze. I loved that, really! But in France, the issue is quite sensitive among the civilian population – I had to experience that myself, unfortunately.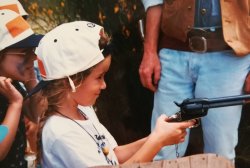 In 2016, during my training as an LEO (Law Enforcement Officer), I also used handguns. I had a Manurhin revolver in .38 Special caliber. 
I was what they called "one who never fired", a novice so to speak. In the first exercise, the instructor let us shoot the first 6 rounds – to judge and observe, to correct us – and there I was! Bull's eye on my first attempt! That's when I fell in love with shooting and guns. And there I became "Croft". 
Do you prefer shooting handguns or long guns?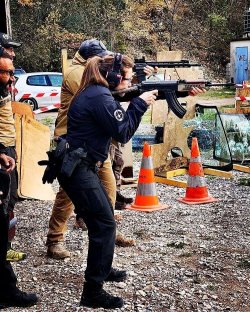 I discovered rifle shooting during my SWAT training course in April 2019, when I was handling a Colt M4, and I loved it! It took me a lot of practice to get up to speed – compared to those who had been training for a while – but with adrenaline, motivation and drive, it all happened very quickly.
I prefer shooting with an M4, feeling more solid in handling it, tactical and hardcore! What I really like are close quarter combat exercises. If you carry a ballistic shield, you have to be a bit bigger, while the rifle feels better to me!
Handguns are different. By definition opposed to the rifle, not for the same purpose, used in the same way, and I currently own a SIG PRO 2022 in 9mm Luger.
What are your favorite guns?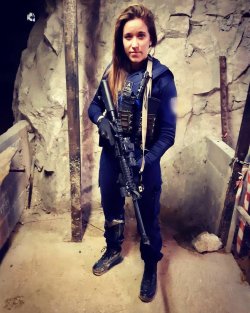 Without doubt the Colt M4. For pistols, the GLOCK 45 in 9x19 mm, I like its lower, balanced weight, accuracy and reliability. 
What ammunition do you use? Factory loaded or reloaded?
I only use factory ammunition provided by our department.
Where and when is it possible for followers and fans to meet you personally?
This is already happening more or less every day! Some people approach me on the street or even during my daily runs. I love to chat with them, laugh, talk, it's always a pleasure for me. Some fans have become close friends over time. Apart from that, let's have a party, it could be a lot of fun!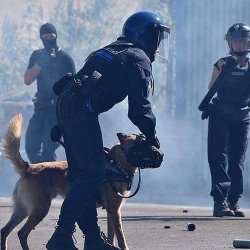 On which social media channels can you be reached?
You can follow my adventures on Instagram @lalou_croft or on Facebook on my Lalou Fight Cop page. I am working on a YouTube channel very soon to share my experiences of internships: skydiving, SWAT, jungle survival training in French Guiana... But also to share my experiences about "how to get into the police".
I will join and work with some friends, the former French 1st RPIMA SOF (French Marine Infantry Parachute Regiment special forces), who will also share their professional experiences. 

We wish you all the best with your future projects and look forward to working with you at all4shooters.com / all4hunters.com. See you soon!