Ever wanted a jet fighter, a tank or an armored car in your backyard? Here's your chance: on May 3-5, 2019, Rock Island Auction Company (RIAC) will be offering for sale a Soviet MiG-21 "Fishbed" supersonic jet fighter, a U.S. M47 Patton main battle tank, and a WW2 U.S. M8 Greyhound armored car. And these are just the most spectacular – or bulkier, at least – items included in RIAC's 76th Premiere Firearms Auction that will be held in Rock Island, Illinois, at the Jumer's Casino & Hotel.  
Founded in 1993, RIAC holds 3 Premiere Firearms Auction per year. And the next one promises to be spectacular as usual. Starting from the highlights, the MiG-21 jet fighter example put up for bid (serial number 94A7809) has a somewhat interesting history. Built in 1972, it flew with the Polish Air Force and features a Tumansky R-25-300 afterburning turbojet engine. Purportedly, this MiG was purchased directly through the Polish government after the fall of the Soviet Union, disassembled, crated and shipped to the United States where it was reassembled and made air worthy. Once in the U.S., it was learned that the aircraft retained its original Soviet attack radar system. Reportedly, the owner originally resisted the CIA's order for it to be confiscated and was told that if the radar system was to be activated, the aircraft would be shot down. Eventually, the owner came to his senses and relinquished the attack radar to American authorities.
The fighter comes with a Soviet flight helmet, oxygen mask and flight suit. The estimated price for this extraordinary item is quite popular, after all: just 20,000-30,000 USD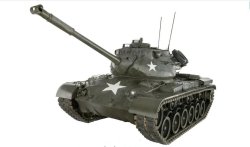 Next, the M47 Patton Main Battle Tank : the example up for bid comes from Spanish Army and was imported to the United States in the late 1980s. It is fitted with an M36 90 mm gun mounted in a large cast turret and a Continental AV-1790 12 cylinder air cooled turbo charged 810 hp gas engine. (In case you were wondered: the main gun is demilled.)  It's not the first time RIAC offers a tank: back in 2018 they already auctioned off a 1950s-Vietnam Era M41 Walker Bulldog light tank ( see here ). In this case, the estimated price tag is a hefty one, at 225,000- 350,000 USD.
A bit less expensive, the World War 2 M8 Greyhound armored car complete with a demilled 37 mm cannon, could be yours for 75,000-150,000 USD.
Winchester, Colt, and much more...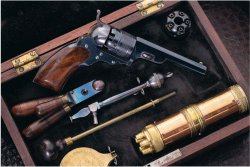 If you don't have enough room in your backyard,  RIAC's 76th Premiere Firearms Auction will also offer fantastic guns. Among the most interesting items, a stunning factory engraved Winchester deluxe Model 1886 with bright platinum bands . Numerous special order lever actions in superb condition populate the sale, but other eras are represented as well and an exhibition grade Deluxe Model 1907 semi-automatic rifle , signed and engraved by Master Engraver Angelo Stokes.
Colt's fans will find something to sink their teeth into, too. Among the over 650 Colt firearms, a Gustave Young engraved Third Model Dragoon as well as the finest known, factory cased Colt Pocket Model Paterson No. 1.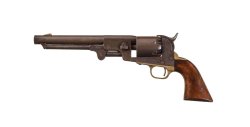 Other items worth noting include a US Model 1799 North & Cheney flintlock pistol , the finest known Dance & Brothers Confederate revolver , a McCormick "Model 1797/Horseman" type flintlock , a very rare North Army Contract Model 1811 flintlock , as well as several stunning high art presentation swords from the era's finest artisans. 
As for sporting guns, the names of Savage, Marlin, Westley Richards, Holland & Holland, Rigby, Parker Brothers , and others should give you an idea.
But there's much more to suit any taste: the full catalog can be seen here .