Four days of IWA are now behind us and some, both exhibitors and visitors, also have two days of EnforceTac behind them. Time to collect the last impressions, to catch up on things that have somehow been forgotten, and to catch up on some appointments that have already been missed three times. On the final day, the exhibitors traditionally walk through the halls themselves to finally see what was new outside their own booth cosmos. When asked about their impressions, opinions are divided. Some praise the more spacious aisles and the new halls, which are flooded with light from large windows, and there was often more time for intensive discussions. Others are more skeptical. After all, there were many US exhibitors missing and those from Asia who could not or did not want to participate because of Corona, the large unoccupied and partitioned areas could not be overlooked. But all in all, one could certainly speak of "cautious optimism". 
Like us at all4shooters.com, many have already adjusted to a (also) digital industry in the last two years. There are no more printed press kits, USB sticks are already out again. At most, QR codes on product tags show how much the real and virtual worlds have grown together. Everyone is happy to have seen many old acquaintances and business partners again over the last four days, and those who at least got a glimpse of the latest industry products on our websites may also feel like going hunting, to the shooting range, to the archery range or to the paintball arena again soon and slowly get back the fun in our hobby. The IWA OutdoorClassics 2022 was certainly only the prelude: so here is some more news – other news will probably also come in the next day or two.
This post will be updated regularly!

Long guns at the IWA OutdoorClassics 2022
New Falkor rifles in 6.5mm Creedmoor and .308 Win.

From Falkor Defense, two new rifles in 6.5mm Creedmoor and .308 Winchester. The Falkor rifles will cost about 6,200 euro. Falkor manufactures the 7even Short / Long Action, a conversion alternative for gunsmiths. The action will be priced at about 1,650 euro. Starting in the second quarter of 2022, Helmut Hofmann GmbH expects to start using ammunition from Aguila. The Mexican ammunition manufacturer will also supply centerfire ammunition in short- and long-gun calibers. Of interest from a hunting perspective are the 3-Hugger (3HGR) rifle sling carry systems, which can be used to represent any carry style relevant to hunting. The carrying systems range from around 32 to 80 euros.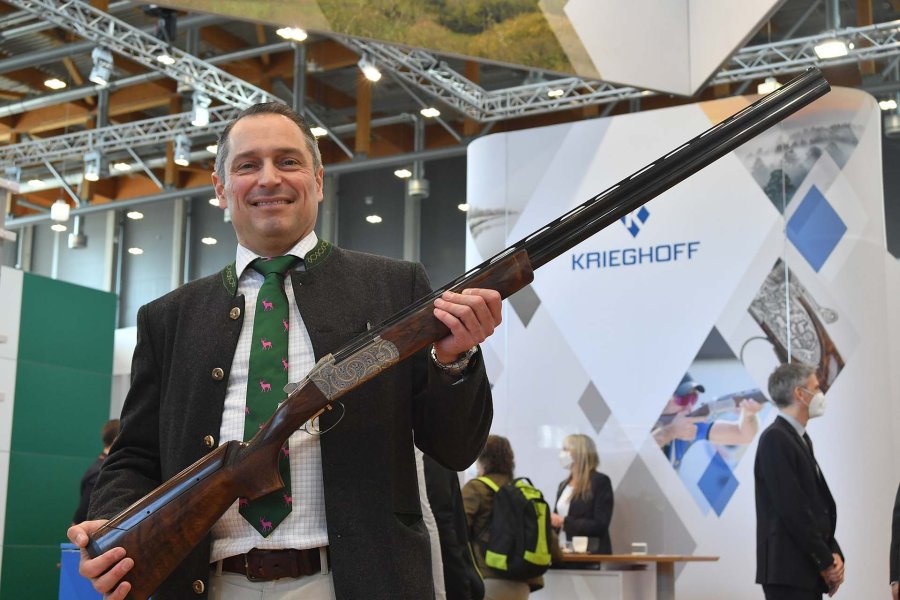 Krieghoff K-80 – a shotgun that has been one of the premium sporting guns for many decades. With the new 81 cm long Parcours barrels, the manufacturer wants to achieve the balancing act between Parcours and Sporting barrels. The sight rib of the barrel bundle, which weighs around 1,550 grams, tapers from 10 to 8 mm and has no milled center groove. The barrel bundle is priced at 5,043 euros. The complete shotgun in the form of the K-80 Parcours X costs 12,830 euros. 
Krieghoff has also relocated production of its thin-walled KTW (Krieghoff Thin Wall) interchangeable chokes to Ulm. 
In addition to the muzzle-flush KTW Flush Fit version, these are also available in an extended version as KTW Pro Choke. In 12 and 20 gauges, these are available as cylinder, skeet, ¼, ½, ¾, 1/1 as well as super full choke. 
Incidentally, Krieghoff is the only gun manufacturer in Germany that can offer retrofit installation of interchangeable chokes. Thus, even older/ shotguns with fixed chokes can be modernized in Ulm. 
The prices of the muzzle-flush chokes range from 57 euros, while the prices of the extended ones start at 88 euros.
Video: new from Kriegh​off at IWA 2022

This video has been hidden because of an external service (YouTube) that could potentially collect personal data.Allow video services for the duration of the visitAllow video servicesStop allowing video services
This video has been hidden because of an external service (YouTube) that could potentially collect personal data.Allow video services for the duration of the visitAllow video servicesStop allowing video services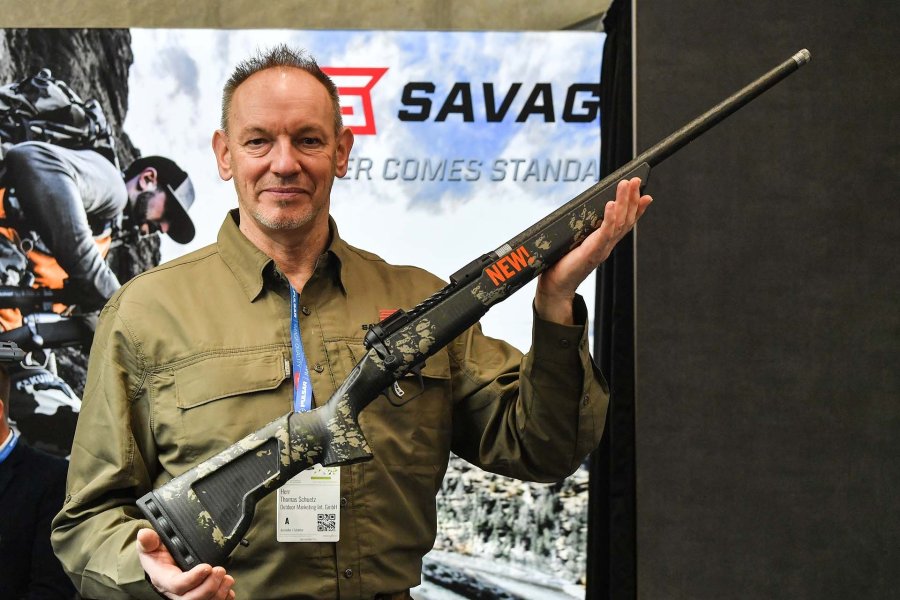 One of the novelties brought to IWA 2022 by Savage is the 110 Precipice Carbon, an ultra-light rifle, ideal for driven hunts and  mountain hunting. As the name suggests, this bolt-action rifle features a carbon fiber stock with "Forest Camo" finish, while what you don't see is the skeletonized internal structure that makes it extremely light, only 880 grams (31 oz). The vertical pistol grip allows the shooter excellent control of the gun when swinging and shooting it. The carbon fiber wrapped stainless steel barrel is manufactured by Proof Research, an American company specializing in superlight firearms and components. It is 56 or 61 centimeters long, depending on the caliber. The muzzle is threaded and equipped with an Omni-port muzzle brake as standard.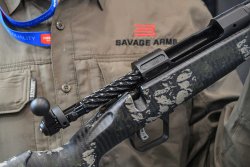 As usual for the rifles of the American manufacturer, the Accu-Trigger allows the shooter to adjust the trigger pull weight between 680 and 1800 grams (1.5-4 lb). The bolt has also been lightened and is fluted. We find lightening millings on both the front and rear of the receiver, which is made of stainless steel and coated with a Melonite surface treatment that ensures maximum weather and scratch resistance. On its upper part we find tapped holes for optics mounts.
The Savage 110 Precipice Carbon is available in .22-250 Remington, .308 Winchester, 6.5 Creedmoor, 6.5 PRC, .270 Win., .28 Nosler, .30-06 Spr.,.300 WSM, .300 Win. Mag. and .300 PRC, with a magazine capacity ranging from 2 to 4 rounds, depending on caliber. And still depending on caliber and barrel length, the Savage 110 Precipice Carbon reveals all its lightness. Its weight ranges in fact from 2.72 kg for the version in .22-250 with a 56 cm barrel to 2.81 Kg for the .300 PRC caliber rifle with 61 cm barrel. Retail price has not yet been determined.

Video: Savage 110 Precipice Carbon
This video has been hidden because of an external service (YouTube) that could potentially collect personal data.Allow video services for the duration of the visitAllow video servicesStop allowing video services
Handguns at the IWA OutdoorClassics 2022
B&H: exclusive revolvers for hunting and sports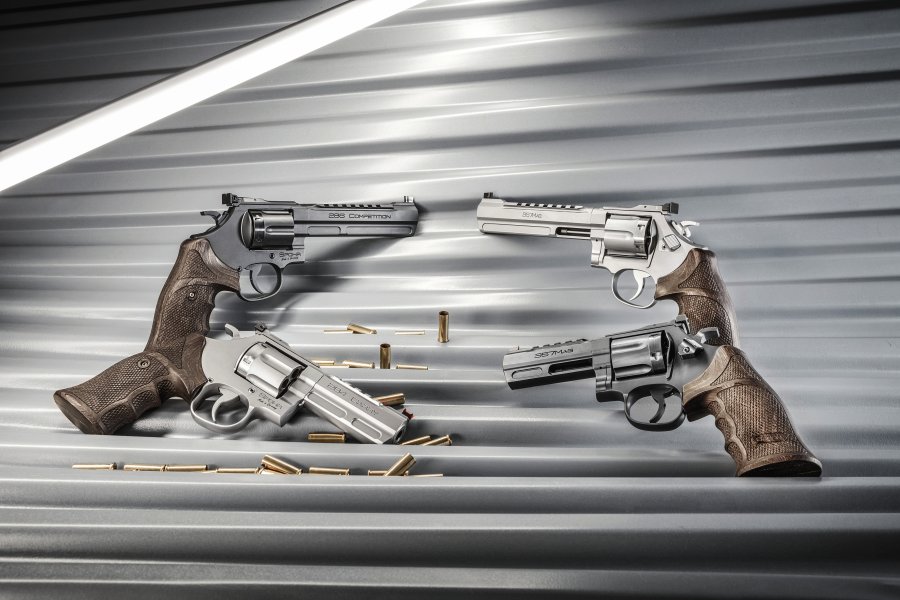 At B&H, it was not without reason that they were at the booth together with handguns tuner Thomas Spohr; the two owners Jens Busch and Hendrik Hansen are active sports shooters themselves: In cooperation with Spohr, the two revolvers 284 Carry and 286 Competition were created The 284 is a four-inch in .357 Magnum with a 1913/Picatinny rail for mounting a red dot – but there is also an interchangeable barrel in 9mm Para. The longer 286 Competition comes with the ideal trigger pull of 1,200 grams for competition. Both models are available in stainless as well as with black PVD finish. Testers commented, "The B&H-exclusive 286 and 284 models certainly offer the optimum for the whole possible revolver disciplines in various associations, in our view."

Optics at the IWA OutdoorClassics 2022
New at DDoptics: SHG 8x42 and 10x42 binoculars,  Pirschler Range 10x45 binoculars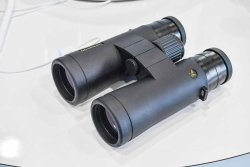 DDoptics had the binoculars of the new premium SHG series in their luggage in Nuremberg. In the DDoptics SHG 8x42 and 10x42 the magnesium housing ensures the light weight of about 700 grams, the Japanese FLK glass material for first-class light transmission values of 90-91 percent at night and up to 93 percent during the day. The Chemnitz-based company is particularly proud of the large field of view (SHG 8x42: 142 m/100m) the image sharpness up to the very edge and the suppression of stray light. 
Among the highlights of the optics presented by DDoptics is of course the new Pirschler Range 10x45 binoculars, complete with integrated laser rangefinder. Their range is up to 2800 meters.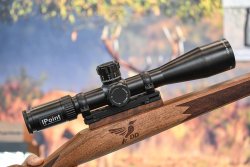 But DDoptics is not resting on its laurels in the field of hunting scopes either. 
Among the innovations are hunting riflescopes with newly designed parallax adjustment, ideal in combination with the lens adapters with bayonet mount for thermal imaging attachments of various makes, also newly developed at Doptics. 
In practice, the newly designed parallax adjustment enables the useful combination of a thermal imaging attachment even at a magnification of 15x and more, with sharp image reproduction, a clear plus at long distances.
Ammunition at the IWA OutdoorClassics 2022
Hornady: new CX and ECX non-lead rifle bullets for hunting, plus reloading tools and accessories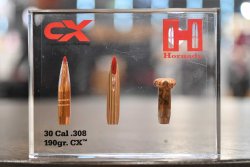 Franco Palamaro, © F.PALAMARO
The well-known ammo manufacturer Hornady is introducing two new non-lead rifle bullets on the market, the CX and the ECX, both designed for medium- to large-size game hunting. The Hornady CX (Copper alloy eXpanding) is a monolithic expanding bullet and is the product of the latest ballistic findings from the development of the ELD- and A-Tip bullets. With its optimized design it offers extended range performance and greater accuracy. The one-piece copper alloy won't separate and delivers devastating terminal performance, deep penetration, and 95% weight retention. Its Heat Shield Tip is made of a heat resistant polymer that resists aerodynamic heating and provides a consistently high BC for the bullet's entire flight path, while the grooves on the CX bullet maximize aerodynamic performance while effectively reducing bearing surface and fouling. The CX bullet is available for many popular calibers including the 6.5 mm (.243"), 7mm (284") and .30 (.308).
Franco Palamaro, © F.PALAMARO
The ECX bullet, on the other hand, is a non-lead, copper alloy bullet has been specially developed for the European chamber and barrel dimensions available in popular metric calibers and will be available in the new Hornady International ammo line. According to the manufacturer,  the ECX represents "the pinnacle of monolithic bullet performance": the shape of the ECX was purposefully crafted to produce high levels of accuracy across a wide variety of chamber designs and twist rates. It has been designed for 95% or more weight retention with limited fragmentation and deep penetration, even through bone. The flat polymer tip helps initiate expansion by driving back into the hollow cavity at the front of the bullet creating uniform expansion. As for the CX, the grooves on the ECX bullet have been optimized to reduce drag, for more retained velocity downrange and more energy on target. The ECX bullets are available in .22 (.224"), 6.5mm (.264"), 7mm (284), .30 (.308"), 8mm (.323") and 9.3mm (.366") calibers.
Hornady also offers a wide range of reloading tools and accessories: from the Basic Powder Funnel – an anti-static funnel that fits all calibers between 22 and 45, and with its squared rim design to avoid rolling off the table – to the Premium Powder Funnel Kit, that comes in a practical storage box and consists of a completely antistatic aluminum funnel with interchangeable caliber inserts with diameters of .224, .243/6mm, .257, .264/6.5mm, .277/6.8mm, .284/7mm, .308, .338, .375. All this stored in a form-fitted storage case.
Lastly, the new Hornady Security TrekLite Lock Box XXL is ideal for safely transporting handguns, ammunition or valuables when travelling. Made of light but extremely durable polycarbonate with rubberized corners, it offer the best protection, even in checked luggage; thanks to two integrated TSA combination locks.
Video: Hornady: new CX and ECX non-lead rifle bullets
This video has been hidden because of an external service (YouTube) that could potentially collect personal data.Allow video services for the duration of the visitAllow video servicesStop allowing video services
Hodgdon: reloading data for 75th anniversary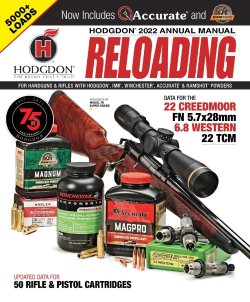 US powder manufacturer Hodgdon is celebrating its 75th anniversary this year. 
Fittingly, the new 2022 Reloading Manual not only includes a chapter on the company's impressive history and new calibers such as 22 Creedmoor, 5.7x28, 6.8 Western and 22 TCM, but also plenty of data for Accurate and Ramshot powders, which, along with Winchester and IMR, are now part of the Hodgdon Group. 
Some of the new load data, including Accurate and Ramshot powders are also available for free at www.hodgdonreloading.com and now in metric units. 
Accessories at the IWA OutdoorClassics 2022
MAK AG: MAK P-Lock gun assembly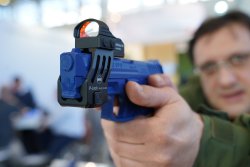 MAK AG also had a colorful portfolio of innovations with them again. For example, the MAKcam V4 or the LED-equipped Hellfire handgun sights, both of which we have already presented to you in our coverage of EnforceTac 2022. Another highlight is the P-Lock pistol reflex sight mount made of 7075-T6 aluminum. This is a mount for installing a red dot sight on your handgun. It uses the Picatinny rail on the front of the gun. The P-Lock locks by simply sliding it on, and is unlocked by pressing a button. MAK guarantees absolute repeatability. This is ensured by two locking lugs on the standard version. When the assembly is mounted, the shooter can still use the gun's rear and front sights thanks to a milling on the underside. The MAK P-Lock is available for pistols from GLOCK, CZ, HK and Walther, among others. In addition to the in-house MAKdot, the Docter Sights and MRDSs from Burris (FastFire) can also find their place on the mount. For GLOCK the availability is immediate, for other brands in a few weeks.
Video: MAK P-Lock gun assembly 
This video has been hidden because of an external service (YouTube) that could potentially collect personal data.Allow video services for the duration of the visitAllow video servicesStop allowing video services
Frankonia: practical hitech gadgets for hunting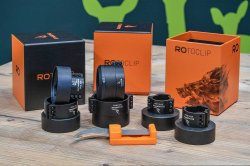 From EP Arms of Röthenbach, in central Franconia, a new "made in Germany" product, available exclusively through distributor Frankonia: it's called Rotoclip and is a quick and easy-to-use adapter with bayonet mount that allows night vision or thermal imaging devices to be connected to a riflescope. One half of the Rotoclip adapter is screwed onto the scope like a mounting ring (several diameters are available) while the other half of the Rotoclip is screwed onto the mount. All types of threads are available. 
The manufacturer claims a mounting tolerance of only +/- 0.1 mm. The Rotoclip system is already available from Frankonia, priced at around 250-280 euros.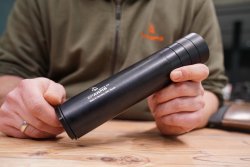 In addition to the Rotoclip adapter, EP Arms also produces the "Sylencer Roto 50" silencer. The Sylencer was developed specifically for hunting. The Sylencer Roto 50 is made of aluminum on the outside, while an alumide composite material is used on the inside. The special feature of the Sylencer is that the suppressor is completely modular - only one part bears the serial number and all other modules can be combined and/or purchased as required. The user himself/herself decides how many of the silencer chambers are currently needed depending on the gun or application, or which muzzle thread is currently needed. The price of the Sylencer Roto 50 silencer is 599 euros, complete with muzzle thread and five chambers. The 50 in the name indicates the outer diameter in millimeters; a silencer with a diameter of 40 mm is already in the works at EP Arms.
Video: Frankonia: practical hitech gadgets for hunting 
This video has been hidden because of an external service (YouTube) that could potentially collect personal data.Allow video services for the duration of the visitAllow video servicesStop allowing video services
Tcrow XT-2 from Xspecter: all-round, stabilized visibility for thermal imaging and night vision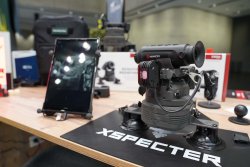 With the new and exclusive Tcrow XR-2 thermal viewer from XSpecter, Frankonia is primarily targeting hunters, but this device is also excellently suited for intrusion detection, thanks to 360-degree vision. XSpecter has developed a vehicle mounting system on which thermal or night vision devices (or headlights) can be mounted. Mounting is done using strong suction cups, and the ability to adjust the angle allows it to be attached to the inside of the windshield. But that's not all: a two-axis gyroscopic system provides image stabilization when on the move, and control of the viewer is via a Bluetooth remote control. 
And there are various options for control and sensors. For example: in "Scan" mode, the Tcrow RX-2 works at user-defined angles. In tracking mode, you give the mount a direction via remote control, and XSpecter support automatically ensures that mounted optical instruments or reflectors stay pointed at the target area. The Tcrow XR-2 works wirelessly, power is provided via USB, and according to XSpecter, the device is powered for 7 to 8 hours on a full charge. Additional projectors and magnetic mounting feet are also available as accessories for the gyro-stabilized mounting base. Prices start at 1,899 euros.
Video: Tcrow XT-2 from Xspecter
This video has been hidden because of an external service (YouTube) that could potentially collect personal data.Allow video services for the duration of the visitAllow video servicesStop allowing video services
Facebook videos of the news at IWA 2022