The international team of all4shooters.com will of course be there again and will present the latest products and trends from IWA 2022 in continuously updated daily reports. So it's worth bookmarking this post and checking back regularly – as well as finding lots of new posts and videos on our all4shooters.com and all4hunters.com Facebook pages, and on Instagram.
Incidentally, on today's first day of IWA, the RUAG Ammotec livestream will run from the big stage in Hall 3A at 10:00 a.m., with a total of seven (!) hours of live programming and product videos. Here it's all about talks, trends and the latest products from RWS, GECO, Norma and Hausken, as well as the role of influencer marketing for firearms and ammunition. So really everyone who is interested can be there live. You can find more information here on this specially created overview page.
For the first time this year, IWA begins on Thursday (March 3) and runs through Sunday (March 6), all one weekday earlier. In addition to Corona, which strongly influenced the IWA planning (in the meantime, only the simplified Corona access requirement 2G applies in Nuremberg, see here IWA protection measures), unfortunately since the end of February world politics has also played an important role for the exhibition organizers as well as for all visitors and exhibitors: Directly at the start of the EnforceTac, which precedes the IWA, we received this important news: in consultation with the Free State of Bavaria and the City of Nuremberg, NürnbergMesse has excluded all registered exhibitors and trade visitors from the Russian Federation and Belarus from participating in IWA OutdoorClassics and Enforce Tac.

We from all4shooters.com wish peace in Ukraine again as soon as possible and quick help and support for all those affected. Only civilian products, firearms and ammunition for hunting and sport use will be shown in the Nuremberg exhibition halls at the IWA. So let us also deal with each other in a civilized, calm and respectful manner and ensure that we can provide many impulses for our fans and the specialized trade. We are looking forward to many personal conversations, interesting new products and we are eager to provide you with all the novelties in text, pictures and video. On each of the 4 days of the fair and also in the following week. As you are used to from us: with an international focus in English, German and Italian. And don't forget to check out our social media channels. In 2022, we will even have 3 video teams at the start for the first time. 
There is reason to be excited...

What's new to see at the IWA? Day 1 – March 3, 2022

Long guns at the IWA OutdoorClassics 2022

Sabatti Rover Scout and Hunter Classic Pro rifles, the all-rounder and the hunter
So far we have presented the new Rover rifle series by Sabatti on the whole: now it's time to take a closer look at some of the individual models that make up this family of hunting and shooting rifles characterized by an excellent quality/price ratio. Let's start with the the Shooter model, a version designed for Long Range shooting enthusiasts, which features a barrel with proprietary MMR multi-radial rifling that ensures excellent accuracy.  The Shooter is a bolt-action rifle with a light aluminum alloy action and a 3-lug bolt with 60° opening throw. The rifle is fed by AICS-compatible box magazines with a maximum capacity of 7 cartridges.
A three-lever Match type trigger group is fitted as standard on the Sabatti Rover Shooter.
The barrel is cold-hammer forged and is available in 20-inch length only, or 51 centimeters. The barrel extension allows for easy i barrel nterchangeability without any need for headspace adjustment. The barrel of the Sabatti Rover Scout has a muzzle diameter of 18 mm (.71"), a matte black finish, and is fitted with the Sabatti three-chambered muzzle brake on a 5/8"-24 UNEF thread, with steel thread cap. The Shooter has no iron sights, but thanks to the integral Picatinny rail it can accept any type of optic.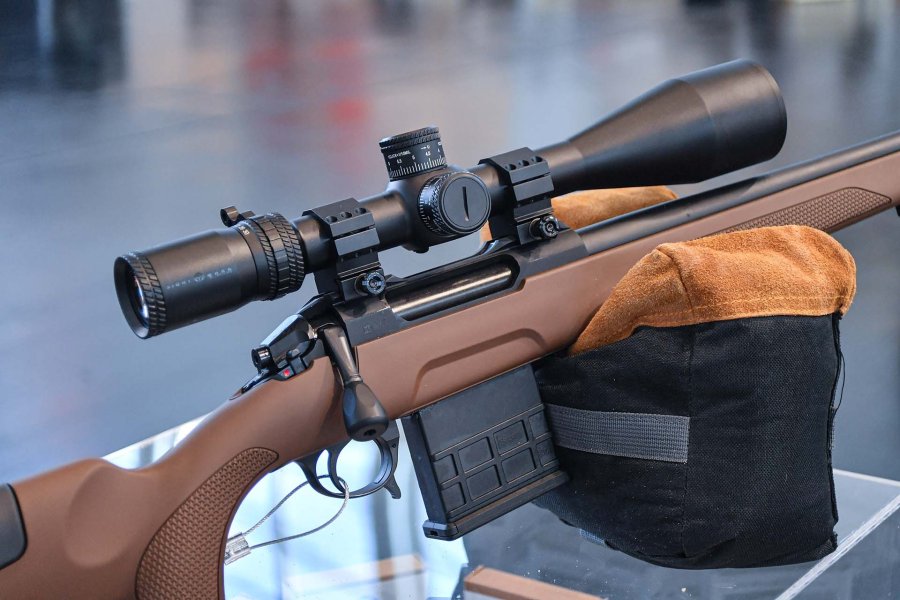 The stock of the Sabatti Rover Shooter is made of wood covered with a soft-touch finish in earth color. On the stock end there is a synthetic rubber recoil pad and a removable polymer cheek rest that can be replaced with three rests of different heights.  It is also possible to order a set of shims to adjust the length of pull. A multi-purpose steel plate embedded into the fore-end allows for the mounting of bipods and other accessories. The Sabatti Rover Scout rifle is available in .223 Rem, .243 Win., .270 Win. 6.5x47 Lapua, 6.5x55 SE, 6.5 Creedmoor, 6.5 PRC, 7mm Rem. Mag., .30-06 Spr, .308 Win .300 Win. Mag.
Let's now move on to the Hunter Classic Pro model which, as the name suggests, is aimed at hunters with more traditional tastes. In this model, the stock is made of walnut wood with laser checkering on the grip areas. For this model too there is the possibility to replace the cheek rest and to adjust the stock length thanks to the optional shims.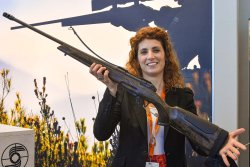 Also on the wooden version we find the metal rail embedded in the forend that allows for the mounting of a bipod. The barrel of the Rover Hunter Classic is top class, cold hammer forged. It has a muzzle diameter of 16 mm (5/8"), a matte black finish and ends with an M14x1 thread that allows for the mounting of various types of muzzle brakes or flash hiders. The barrel lengths available are, depending on the caliber, 46, 51, 56 and 61 centimeters. 
The magazine is a proprietary Sabatti type with a capacity of three rounds. Also for this model, the standard trigger is two-lever but the rifle can be ordered with a three-lever Match trigger group or with a set trigger. The Hunter Classic Pro has no iron sights but the Picatinny rail on top of the receiver allows for easy mounting of conventional and optoelectronic optics. Available calibers are .223 Rem, .243 Win., .270 Win. 6.5x47 Lapua, 6.5 Creedmoor, 6.5 PRC, 7mm Rem. Mag., .30-06 Spr, .308 Win .300 Win. Mag.
To learn more please visit the Sabatti Armi website.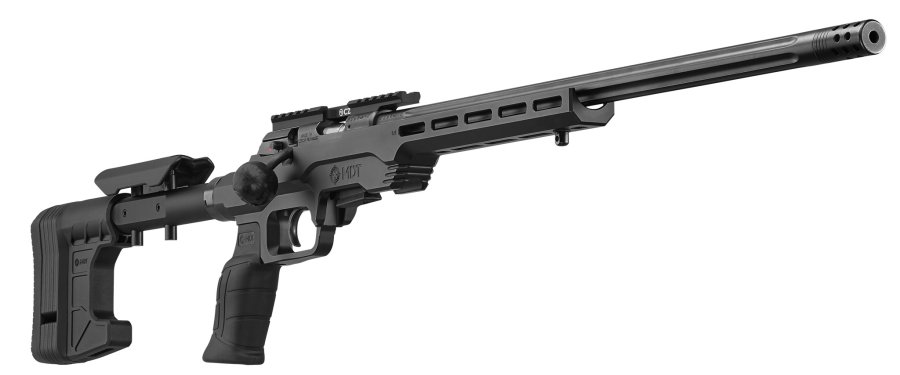 Most readers of all4shooters.com are already familiar with the CZ 600 rifle series, which was presented for the first time at IWA 2022. Among the rimfire rifles, the new CZ 457 MDT sporting model was added with an attractive dural chassis, fluted barrel, match cartridge chamber and muzzle compensator. The stock has a height-adjustable cheekpiece and the overall length can be changed with four buttpad spacers. Included is a Picatinny mounting rail with 25 MOA tilt, which allows for easy scope sighting-in even at longer distances. The Long Range Precision model received a new black stock and the CZ 457 LRP BLACK designation. This version retained all the features of the original model, i.e. excellent accuracy, stock modularity in length and height, and also the Picatinny rail. The cold-forged 20 inch long, heavy, fluted barrel, also with match cartridge chamber, has a cylinder compensator on the muzzle. For more info, visit the CZ website.
This video has been hidden because of an external service (YouTube) that could potentially collect personal data.Allow video services for the duration of the visitAllow video servicesStop allowing video services
Verney-Carron: straight-pull repeater for left-handed shooters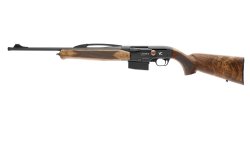 The French long gun manufacturer from Saint Etienne, whose 200th anniversary in 2020 (it was founded in 1820) had to be cancelled, already introduced the "Linergie" straight-pull rifle with spring-assisted action in 2021, and for this IWA they have added new models to the range. For the first time for southpaws there are two "genuine left-handed" models, and even at the same price as the right-handed models: Linergie One with "genuine left-handed" synthetic stock and forend, and the left-handed version Linergie Classique with walnut stock and forend. The Linergie Karbon version comes with fluted and threaded barrel with muzzle brake and adjustable comb on a synthetic stock with a carbon coating. With the "Executive Pack", available as an option, it is possible to upgrade a Linergie rifle with a Speedline Classic stock with two adjustable combs and two butt plates, allowing optimal shooting comfort. 
Handguns at the IWA OutdoorClassics 2022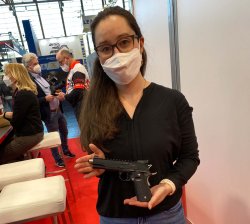 STP Prommersberger: Marvel interchangeable systems in .22 LR and OR interface for 1911s and 2011s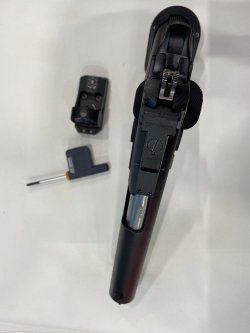 STP now offers .22 LR Marvel conversion systems for STP 1911 pistols. The conversion systems are characterized by a high degree of functional reliability, and also cycle with normal velocity loads. The conversion systems are fitted with micrometer sights. The basic model costs 780 euro, the version with Picatinny rail is 960 euro. In addition to the slide stop, the interchangeable systems are also fixed via the screwable spring guide rod. In addition to the Marvel systems, conversions from Tactical Solution for Glock are now also available.
STP now offers an OR interface for 1911 / 2011 pistols.  The interface can only be requested for pre-ordered pistols, with not yet finished contour milled slides. The surcharge is about 550 euro and also includes the adjustable micrometer sight. The interface can be ordered for all common red dot sights, for example for C-More, Burris, or Docter. 
Optics at the IWA OutdoorClassics 2022

Brand new, ultra-light and ultra-strong: EAW shows prototypes of a 3D mount made of titanium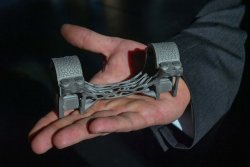 Franco Palamaro, © F.PALAMARO
The company Ernst Apel GmbH (EAW) already caused a sensation last year with its highly skeletonized mount for Picatinny rails manufactured using a 3D printing process.
Now the mounts specialist from Germany is following suit and presented an even more heavily milled prototype of the printed mount in Nuremberg – but this time made of titanium. By switching from aluminum to the new material titanium, EAW saves another 20 percent in weight, yet the new titanium version is even more stable than its aluminum counterpart. The production of scope mounts using the 3D printing process has been patented by EAW. However, sport shooters and hunters will have to be patient for the new titanium version.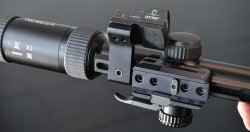 Franco Palamaro, © F.PALAMARO
Also new and already available from EAW series production for various red dot "footprints": a clever little adapter rail by means of which Mini Red Dot Sight (MRDSs) can be attached to the scope from below in a Zeiss inner rail as a back-up sight. The illustration shows a Noblex riflescope in the version with Zeiss inner rail. Mounted below it is an ultra-compact quick-release mount for Picatinny rails from EAW and directly behind it is the Z-Rail adapter rail from EAW. On top of it sits a MRDS in the form of a Docter-Sight.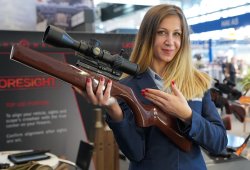 Sightmark launches the new Presidio model, an affordable riflescope designed specifically to meet the needs of European hunters. This includes, for example, the German # 4-style reticle, but with two additional holdover marks in the lower bar of the reticle for shots at further distances. Of course, the 2.5 MOA dot in the center of the reticle can also be illuminated, with six intensity settings to choose from. 
The reticle on the Sightmark Presidio is located in the second image plane, so it remains the same size for the eye at all magnification levels. The Presidio also has a six-fold zoom factor, with a magnification range of 2.5x to 15x. The 30 mm main tube, an objective lens diameter of 50 mm and the dioptric compensation on the eyepiece, which can be quickly adjusted by hand, are all part of the standard equipment of hunting scopes for raised hide hunting in Europe. 
The reticle adjustment is made in fine steps of ¼ minute of angle (about 7 mm per click at 100 meters). The compact turrets are well protected under screw caps and can of course be adjusted without tools. Adjustable parallax compensation is also found on the main tube of the new scope. 
Facebook videos of the news at IWA 2022