Although the IWA 2022 has come to an end on February 6, 2022, we continue to report! Because there are still some highlights from the fair which we do not want to withhold from you. In addition to guns, we were also able to discover other new products in the fields of optics and accessories. Many innovative manufacturers such as Nextorch could also be relied on this year. 
In addition to our report, we will also link more videos at the end of the article. There you will find, as usual, more information about the presented products and brands.
Long guns at the IWA OutdoorClassics 2022
Anschütz 1782 now also with GRS stocks
A combo for hunting top accuracy: the Anschütz 1782 with the well-known and appreciated GRS stock. A total of four different models will be available. The GRS stocks allow for precise adjustment of various elements to the shooter's physique. In addition to models made of wood, synthetic stocks are also available. The Anschütz 1782 comes in calibers including .308 Win., 6.5x55 and .300 Win.Mag., as well as all other calibers offered by Anschütz. Trigger options include a two-stage trigger and a crisp trigger. The price is 2,598 euros as shown.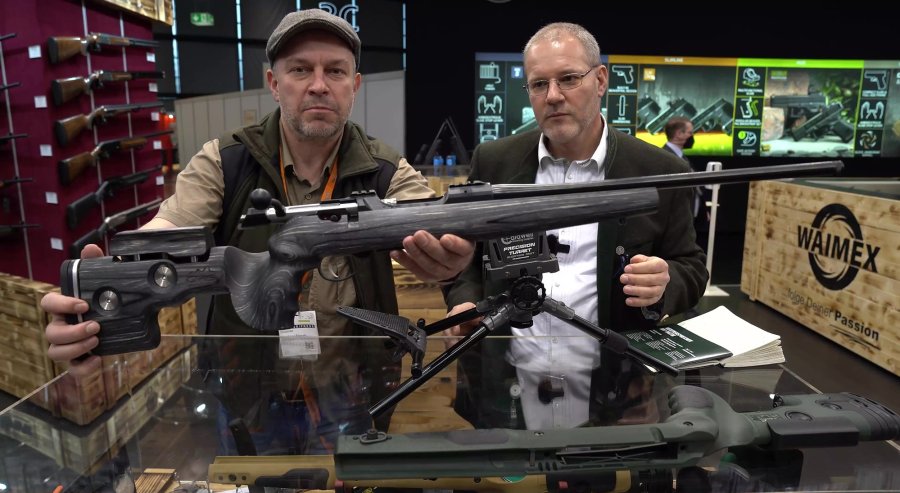 German importer Waimex also showed the Tactacam, a mobile camera in 4K quality, or 1080p if the 120 FPS slow motion function is used. The hunter can attach the camera to his/her riflescope with the help of an adapter and thus film the view through the optic including the reticle. Of course, this is especially useful for capturing special hunting experiences. In general, however, the Tactacam can be used just like any other action camera. For example, when mountain biking or for other sports. The camera comes stand-alone for 469 euros to the hunter, the adapter is an extra and costs 209 euros. All new products will also be available soon.
HS Produkt VHS-2 semi-auto rifle (aka Springfield Hellion) and H11 pistol (aka Springfield Hellcat Pro)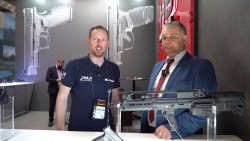 Springfield Hellion or HS Produkt VHS-2? Springfield Hellcat Pro or HS Produkt H11 Pro? Call them whatever you want, the substance does not change. At IWA, the Croatian manufacturer HS Produkt made some sensation with its bullpup rifle and compact pistol. Let's start with the Hellion / VHS-2 rifle. Even if it can't quite be described as a novelty – the original assault rifle was introduced back in 2013 – this is a semi-automatic version developed for Springfield Armory and the U.S. civilian market. Chambered in 5.56x45, it offers some interesting features including a two-position gas regulator for use with suppressors and fully ambidextrous controls. The cocking handle is located on the receiver top (under the Picatinny rail), quite like the French FAMAS rifle, with the difference that in the Croatian rifle it can be turned both to the left and to the right. Even the ejection system for fired cases is reversible, requiring no additional parts or tools. The mentioned top Picatinny rail integrates built-in, spring-loaded folding sights that quickly pop-out in case of need. The stock is adjustable, while the polymer handguard features nine M-Lok slots. The Hellion/VHS-2 5.56 mm bullpup rifle is designed to feed from AR-pattern magazines and comes with a 30-round Magpul PMAG. It should hit the European market around July 2022. MSRP in the U.S. is $1.999.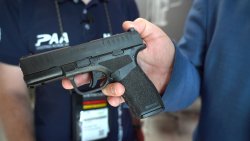 The Hellcat Pro / H11 is a further evolution of the Hellcat, combining the performance of a larger handgun with concealability: it is a 9mm compact EDC pistol that offers 15+1 capacity in a small footprint. The Pro version is optics ready and has been designed with the use of red dot optics in mind – the slide is milled to accept the smallest, most popular micro red dots on the market. 
Overall length is 6.6"/168 mm, height is 4.8"/122 millimeters height, for a 1"/25 mm thickness and 21 oz/595 g of weight. The barrel measures 3.7"/94 mm. The Springfield Hellcat Pro comes with two 15+1 round 9mm caliber magazines.
Optics at the IWA OutdoorClassics 2022
Hikmicro: new thermal imagers in the Gryphon and Thunder series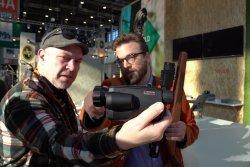 Not only is manufacturer Hicmikro making its debut at IWA in 2022, it has also presented two new devices to the public: the Thunder TH35PC and Gryphon GQ50L. With the Gryphon, Hikmicro aims to take a completely new approach to thermal imaging optics: by merging classic thermal imaging and digital night vision technology, the handheld devices are said to offer a new imaging experience not yet available in models with these small dimensions. Heat sources can be displayed in six different color modes. Hikmicro's new series includes three models – one with a large 640×512 12 μm VOx sensor and two models with a small 384×288 12 μm VOx sensor. They are also optionally available as LRF variants with integrated laser rangefinder. The brand new Gryphon GQ50L will celebrate its world premiere at IWA 2022. With a 50-millimeter lens, a 640×512 VOx sensor and 12 μm pixel pitch, the GQ50L is the new top product in the Gryphon series. Especially in fields with large, open areas, the large Gryphon plays to its strengths. By combining thermal imaging, night vision technology and laser rangefinder, the customer gets three devices in one.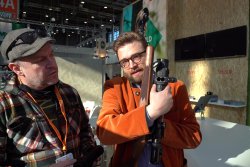 In addition, Hicmikro had the Thunder TH35PC on display at IWA 2022. This is the latest family member of the series that consists of thermal clip-on devices. It replaces the extremely successful TH35C. Compared to the TH 35 C, the TH 35 PC presented to the public for the first time at IWA 2022 offers a VOx sensor with 384×288 pixels and a pitch of 12 μm. Hicmikro was also able to increase battery life to up to four and a half hours.
Finally, the devices of the Panther series were also on the stand. These are thermal riflescopes. The series offers incredible detection capabilities thanks to the powerful 12 μm VOx sensor and the lens with an aperture of F1.0 – so it is possible to detect a 1.7 meter target at a distance of up to 2,600 meters. The integrated laser rangefinder also allows the user to precisely determine the distance. Another special feature is the video function: 50 frames per second in full-screen mode provide smooth videos of dynamic scenes. The metal housing offers high shock resistance of up to 750 g/ms for larger calibers such as .375 H&H or 9.3×64, and the IP67-certified clip-ons are also dustproof and waterproof to a maximum water depth of one meter for a maximum of 30 minutes. The Panther series includes four models – two with 384×288 12 μm VOx sensor and two with large 640×512 12 μm Vox sensor. 
All of Hicmikro's devices are powered by replaceable rechargeable batteries.
Noblex E-Optics: compact binoculars with integrated rangefinder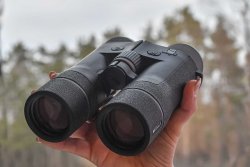 Franco Palamaro, © F.PALAMARO
Noblex E-Optics had a pair of binoculars with an integrated laser rangefinder in the bag. However, Noblex's NF 10x42 R advanced can do more than just measure distances at lightning speed within around 0.3 seconds, at distances of up to 2,300 meters. Of course, users can also switch the German company's new optic from meters to yards. Several scan modes are available for the 10x42 R advanced, for example to adapt it to different weather conditions, such as light fog or rain. The OLED display itself offers several brightness levels. The NF 10x42 R advanced can also take angle measurements. Bill, please: Noblex E-Optics quotes a price of 1,099 euros for the new binoculars with rangefinder.
Accessories at IWA OutdoorClassics 2022
Nextorch: high-tech lamp T20L for law enforcement, expandable baton and angle light P10
The innovative light specialist Nextorch came with several new products: In addition to a headlamp and the new gun lights (we reported on the EnforceTac), there were also three exciting products to see at IWA: While two are also intended for professional use, one is available to everyone. In the Law Enforcement area, Nextorch showed us the new T20L, a high-performance flashlight. Nextorch also showed the new NEX HG2 expandable police baton.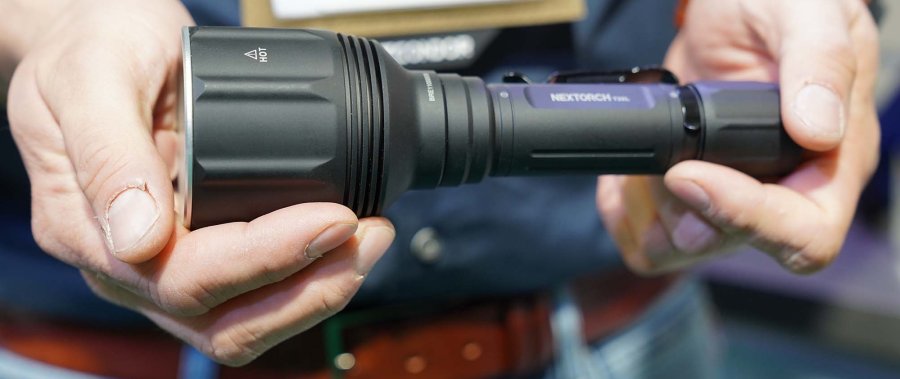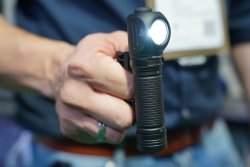 For civilian users, Nextorch had the P10 angle light. Like many of the company's lighting solutions, it can be used universally: its shape means that it can be conveniently attached to clothing, for example. This leaves the user's hands free. The user has seven modes at his or her disposal: 1,400 lumens (270 meters), 200 lumens (70 meters), 25 lumens (26 meters), a stroboscope, a red light function, a flashing red light, and an alternating blue and red flashing light. Especially the latter functions are worth their weight in gold to the hunter, for example, in the context of a game accident. The lamp is made of special aluminum and is scratch, shock and impact resistant. According to IPX-2, it can withstand water up to a depth of two meters. Power is supplied by a replaceable 18650 battery, which Nextorch claims is enough for – depending on the mode - three hours to 20 minutes of runtime. The 117.2-millimeter-long and 91-g P10 comes to the user for an MSRP of 59 euros.