At the Target Shooting Show held at Stoneleigh Exhibition Centre, UK, on November 16th and 17th, 2019, Eley Hawk introduced its latest innovation, the Alpha Elite. The Alpha Elite is a brand new "birdshot" cartridge in 12 gauge specifically designed for the Practical Shooting Discipline. it features a 28 gram load of 7.5 smooth lead shot, fibre wad, and 70 mm case length cartridge with a 16 mm brass.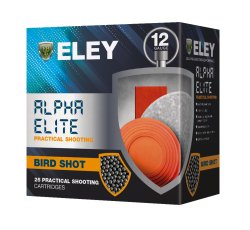 The PSB+3 powder produces fast and consistent clean burn with a low smoke output at the muzzle. This way, the shooter firing multiple shots in a narrow target area will have the best possible visibility during high intensity competitions. Low recoil and minimal muzzle flip for faster next target acquisition with consistent shot to shot performance are guaranteed by the crafted power factor of 540.
According to the manufacturer, the superior fibre wad technology also ensures that a tight pattern with a dense centre is achieved, avoiding the "no shoot" penalty targets, while the use of a 16 mm brass length allows for an easy eject on magazine fed, semi-automatic gas cycling, inertia shotguns or pump-action shotguns alike.
To see how it works, you can watch this video on Eley Hawk FB page.

Eley Hawk Alpha Elite for tight patterns
At the Target Shooting Show Hawk Sponsored shooters Jon, James and Faye Williamson commented that "testing these cartridges we really noticed an improvement over the Eley Hawk Olympic Blues with more pellets in the centre of the pattern which will translate to better target plate knockdown and few penalty targets because we need that tight pattern when we are competing at the highest levels."
The Eley Hawk Alpha Elite will be available to order in January 2020.