Warren Potent is a legend;  he is one of the world's finest Rifle Prone shooters, with a medal haul that few others can match: over 32 years he has competed in 62 ISSF competitions, 5 straight Olympic Games, 7 Oceania Championships and 4 Commonwealth Games, winning 25 medals over the course of his career. 
Warren began shooting Rifle Prone aged 16 and quickly rose through the ranks to win the teams World Championship in 1986. "I've been using ELEY tenex since 1980 at the Australian Nationals, I wouldn't use anything else." says Warren Potent.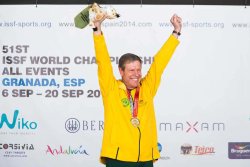 In 2007 Warren's skill was matched with a Bleiker rifle and ELEY ammunition. This combination sparked an incredible run of success. In just three years he added 12 ISSF medals to his tally, including 7 Gold's and a Bronze at the Olympic Games in Beijing. Warren made history in China as the first Australian to win an Olympic medal in any rifle event. 
The 2014 World Championships in Granada was the platform for Warren's proudest moment. He won Gold to become Australia's first rifle shooting World Champion, only a month after victory at the Glasgow Commonwealth Games. 
Warren announced his retirement from shooting after the 2016 season, during which he won two more Silver medals. At 54 he has proved that age is not a barrier to success at the highest levels. His brilliance over the past three decades is made more impressive by the fact that he works full time. This limited his time for training but has proved no hindrance to Warren, one of the sport's most naturally gifted shooters.
Sian Griffiths, ELEY Global Marketing declared: "I have been lucky enough to get to know Warren over the past 6 years. One thing that really impressed me about Warren is no matter what life throws at him he battles through the advertency to victory. In Munich 2014 Warren was in line to make the final when the spring in his trigger suddenly broke and he couldn't continue to shoot. Most high profile athletes would have been really angry with the situation, but Warren quickly accepted there was nothing that could be done and focused on the next event. 
There was also the time in Granada when Warren managed to dislocate his shoulder mid-way through competing, he called over to his coach Peta Kurka who calmly popped it back in place and Warren carried on shooting! Warren to me not only has a natural talent for shooting but he shows true compassion and support for other shooters. He has this calming yet knowledgeable demeanour you can rely on. I know I'm not alone in saying that Warren will be missed on the ISSF circuit by all the ELEY team and fellow competitors. We hope you enjoy your retirement."