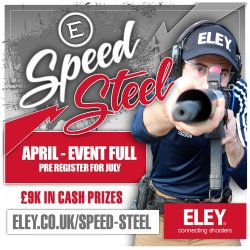 For centuries, Eley's high-quality .22 Long Rifle caliber cartridges - most notably the world-renowned classic Tenex - has been helping shooters improve their performance and achieve best results and records at club, national, European, world championship and Olympic levels. For this purpose, the highest efforts are made in production and quality control. On the British Isles, the traditional manufacturer Eley now is also developing an interest for dynamic action disciplines and supports the largest English Speed ​​Steel Challenge competition. Here, competitors must shoot 8 different stages on steel plates against the time. The competitions run from April 20 to October 12, 2019. Prizes are worth more than 9000 GBP.
Eley Brand Manager Michael Atkinson said: "Practical shooting is a growing shooting sport discipline in the UK and we look forward to being part of this movement as ammunition manufacturers understand the shooters' needs and want to offer them a professionally organized competition format with the Eley Speed ​​Steel Challenge."
Everything for air guns: Eley Tenex Air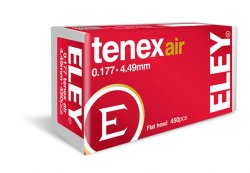 As early as 2018, Eley delivered the prototypes of the new Eley Tenex air match pellets for air guns to 3 selected elite shooters on the occasion of the European Championships in Hungary and the ISSF World Cup in Mexico. The result was 4 medals won and a new world record. This success story has now been continued, as Sergey Kamenskiy cemented his world-class position with the air rifle and the Eley Tenex air pellets at the ISSF World Cup in New Delhi and won gold with a total score of 249.4 points.
According to the manufacturer, material selection, manufacturing processes and 30% greater weight control compared to international competitors in the market are the secret of success of the new match pellets. The Eley Tenex Air caliber .177 / 4.5 mm weighs 8.2 grains (0.53 grams) and three diameters – 4.49, 4.50 and 4.51 mm – to choose from.
Rimfire action: Eley Action and Eley Biathlon Club
The British company also developed the new Eley Action ammo for small caliber rapid-fire rifles. The .22 Long Rifle cartridge with 40 grains / 2.59 gram beeswax lubricated, round-nosed bullet reaches velocities of 332 m/s (muzzle), 303 m/s (50 m) and 285 m/s (100 yards / 91 m). The cartridge can be used in both short and long guns and is suitable for classic disciplines such as three-position or free pistol. Here too, the strictest manufacturing specifications and quality controls required by Eley are intended to deliver maximum functional reliability, top accuracy, as well as low recoil and reduced noise.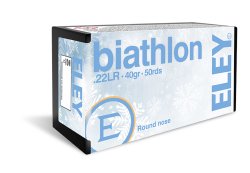 The new Eley Biathlon Club promises maximum functional reliability and shooting performance in the coldest environmental conditions.
Last but not least: the British ammunition manufacturer has set up a new online shop. With a clear, attractive design you will discover everything that makes the heart of the Eley fans beat faster, such as jackets, polo shirts, T-shirts and much more. After order and payment, the goods will be shipped worldwide within 2-3 days via Royal Mail. Of course you can also follow Eley on social media and subscribe to a newsletter to receive updates.
For more information about Eley and the new rimfire cartridges please visit the manufacturer's website.
Find all the IWA 2019 news here at all4shooters.com / all4hunters.com.