Browning International S.A - Browning Ammunition
On September 25th, the Browning International company announced that a full line of centerfire and rimfire handgun, rifle, carbine and shotgun ammunition will soon hit the global markets, offering a new valid alternative to sport shooters, hunters, concealed carry license holders and gun owners at large all around the world.

Developed and manufactured by Winchester Ammunition (an Olin Corporation company, not affiliated in any way with the Browning Arms Company and the Winchester Repeating Arms company − both owned by the Belgian FN Herstal S.A. group − at least until now!) the new Browning-branded ammunition will be distributed by Winchester Ammunition itself on the U.S. market starting January 2016, and by Browning International in Europe and elsewhere, beginning in 2017.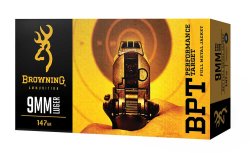 Browning International S.A - Browning Ammunition
Some of the chamberings that will be launched in early 2016 include popular hunting, sport shooting and defensive loads such as .22 Long Rifle, 9mm, .380 ACP, .40 Smith & Wesson and .45 ACP for handguns; 12-gauge (2.¾"/70mm and 3.½"/89mm)  and 20-gauge (2.¾"/70mm and 3"/76mm) for shotguns; .243 Winchester, .270 Winchester, .308 Winchester, .30-06 Springfield and .300 Winchester Magnum for rifles and carbines.
It's safe to assume that, after the official launch of the Browning line of ammunition, more and more popular handgun, rifle, carbine and shotgun calibers will be launched to cover the full spectrum of hunting, target shooting, and defensive purposes.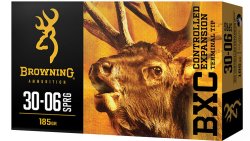 Browning International S.A - Browning Ammunition
Several loading variants were announced, each focused on its intended use with designs engineered for higher efficiency with maximum effect.
In terms of hunting rifle ammunition, the BXR Rapid Expansion loads were designed specifically to achieve rapid expansion on deer-sized game, featuring a copper Matrix Tip for high downrange velocity and energy retention coupled with a rapid expansion initiation; its jacket and tip combination was conceived for accuracy, rapid energy transfer and knockdown power.

The BXC Controlled Expansion Terminal Tip loads were similarly intended for big game, and built around a bonded bullet with a Browning-patented brass terminal tip to penetrate hide and break through strong bones. Its boat-tail design increases downrange velocity, accuracy and energy.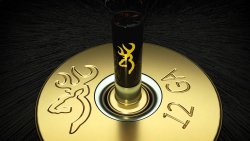 Browning International S.A - Browning Ammunition
Shotgun shooters will be able to choose between the BXD Waterfowl Extra Distance − a round steel shotshell launched from a drag-stabilized wad at high velocity to improve downrange patterns, penetration and energy delivery; the BXD Upland Extra Distance high-velocity, nickel-plated lead shot for use on upland birds; and the BPT Performance Target for clays shooters.
Other entries in the line will include the BPR Performance Rimfire − available in 50, 100 and even 400 rounds bulk packs; the BXP Personal Defense centerfire pistol defensive loads, featuring hollow-point X-Point bullets and black nickel-plated cases; and the BPT Performance Target centerfire pistol loads for training and target shooting, with full metal jacket bullets on black nickel-plated cases.
This video has been hidden because of an external service (YouTube) that could potentially collect personal data.Allow video services for the duration of the visitAllow video servicesStop allowing video services