If it weren't our profession to bring us into play it would have been a curiosity to satisfy anyway, what prompted us to test and show in the field with pleasure one of the new Baschieri & Pellagri products: B&P in this 2018 decided not only to bring back into the world with limited editions old glories of the past, such as the Super Flash cartridge, but also to focus on new proposals especially as regards the world of small calibers.
The cartridges we fire-tested this time are the latest addition, the Flash cartridges in .410 magnum. They are designed for clay shooting but considering their technical characteristics they certainly meet the needs of hunting too.

The Trap and Skeet Professional line

The Flash .410 range is part of the widest and most complete line of Baschieri & Pellagri cartridges dedicated to the sports disciplines of Trap, Skeet and Double Trap.

From the Competition One standard product to the versions loaded with F2 powder, the F2 Flash in particular stands out, distinguishing itself for both technical innovation and for the choice of components. The Flash cartridge in .410 is being added to the Flash range in 12 and 28 gauge and is characterized by its high speed and a consistent and tight pattern.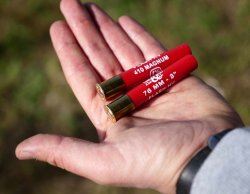 The 76 mm case has a 16 mm brass head and a plastic wad with a cup for safe shots even at medium and long distances.
The 18.5 gram load of tempered lead number 7.5 pellets make this cartridge effective and suitable also for small and medium-sized game hunting.

It is easy to imagine the good results that it could offer above all in the early stages of the hunting season with warm and dry weather where the high speed and the right pressure are ideal to stalk game such as turtledoves or pigeons.
The speed developed by the Flash cartridge is extremely high, reaching 405 m/s. The cartridges are distributed in elegant packs of 25 pieces.

Impressions from the shooting range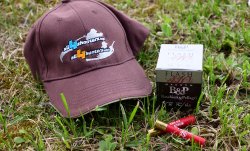 Being a test we fired quite a number of cartridges in rapid succession. And taking into account that the caliber certainly helps, we can say that the Flash .410 cartridge is perfectly able to entertain without tiring the shooter.
The fast-burning propellant and the generous dose of lead do not disturb the sighting and the doubling of  shots even in rapid succession.
The pattern tightness proved to be decisive on several occasions for second barrel kills at distances of over 30 meters.
The clays are broken in a clear and precise way by the number 7,5 pellets – when there is no human error that compromises the results, of course.
The .410 bore is a challenge that especially in sports shooting can greatly improve sighting and lead distance calculations. The Flash .410 cartridge with its speed can facilitate the achievement of good results.