Among the wide range of new cartridges presented in Nuremberg at IWA by Baschieri & Pellagri for 2018, let's learn more about those dedicated to hunters and shooters who love small gauges. 
Extra Rossa hunting shotshell in 28 magnum    
We refer specifically to the new 28 gauge Extra Rossa cartridge with a 32 gram load, which meets the needs of the market and of new shotguns such as the  hunting semi-auto Beneli Rafffaello Ethos in 28 magnum.
This cartridge has a 76 mm plastic case with a 16 mm brass base, a plastic wad and cup and a star crimp.
With a velocity of about 400 m/s, the 28 magnum Extra Rossa shotshell has performances comparable to those of larger gauges. 
The available shot numbers start from 8 and then increase in diameter to 7.5/7/6/5, which demonstrate the versatility of this ammunition designed both for small game and medium game such as pheasant, pigeon or hare hunting. The 28 gauge magnum Extra Rossa is distributed in packs of 25 pieces.
Flash cartridge in .410 bore for sports shooting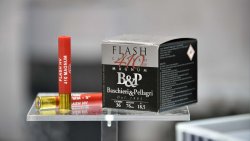 As far as sports shooting is concerned, in the Trap and Skeet Professional line here comes the .410 bore Flash cartridge.
This shell is being added to the 12 and 28 gauge Flash line and is characterized by high velocity and constant, tight patterns. The 76 mm shell case has a 16 mm base and plastic wad and cup.
The load is 18.5 grams of no. 7.5 lead shot which makes it an effective cartridge which is also suitable for hunting, on small and medium-size game. The velocity developed by the Flash cartridge is extremely high, reaching 410 m/s. The Baschieri & Pellagri .410 bore Flash cartridges are sold in packs of 25 pieces.