Shining wedge: the Wedge flashlight from Streamlight
Let's start with a Streamlight innovation that is completely unobjectionable from a legal point of view, in the form of the "Wedge" flashlight, which is already striking in its design. The flat LED lamp with a wedge-shaped lamp head is designed for everyday carry in your pocket and is no more bulky than a conventional pocket knife. Weighing 3.3 oz/93.5 grams, the Streamlight Wedge with its easy-grip, anodized aluminum housing uses a lithium-ion battery and can be easily and quickly charged with a USB-C cable from any electronic device with a corresponding port. In the so-called THRO ("Temporarily Heightened Regulated Output") mode, the small lamp emits a powerful 1000 lumen light burst for a maximum of 35 seconds at a range of up to 110 meters. In standard mode, the continuous light ranges from 300 lumens to up to 69 meters with a battery life of three hours. The Streamlight Wedge flashlight is available in black or coyote and costs 124 euros.
The Streamlight TLR-7 Sub weapon light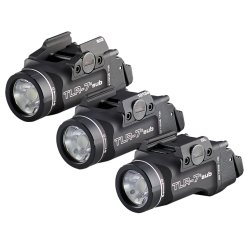 Subcompact and compact pistols are in vogue internationally and so it is only a logical market development that additional equipment for such EDC self-protection tools like red dot sights, weapon lights or LLM continues to shrink too. Streamlight is definitely making its contribution in this area as well, if you look at the new TLR-7 Sub. Weighing around 2.39 oz/68 grams, the LED gun light is designed to attach to the dust cover mounting rails of pistol models from Beretta (PX4 Storm), GLOCK (G43X MOS, G43X Rail, G48 MOS, G48 Rail), Heckler & Koch (HK 45 Compact), SIG Sauer (P365, P365 XL), Smith & Wesson (M&P M2.0) and Springfield Armory (XD-E, XD-S). Measuring just 2.51"/64 millimeters long, the white light source with a black anodized aluminum housing is powered by a CR123A lithium battery and emits a 500-lumen beam of light up to a maximum of 141 meters, which can be switched to strobe effect if needed. In both light modes, battery run time is 1.5 hours. Recommended retail price according to the manufacturer: 187 euros.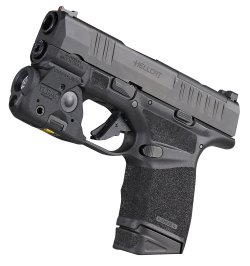 The Streamlight TLR-6 ultra-compact laser light module

Featuring an additional laser, the new TLR-6 ultra-compact weapon lights for the GLOCK G43X/48 MOS/Rail and Springfield Armory Hellcat. Featuring a durable polymer housing, the LLMs are powered by two CR-1/3N lithium coin batteries. The battery compartment is designed and positioned to allow battery replacement without removing the unit from the gun. This eliminates the need to re-zero the laser sight. On the gun, the LLM locks into place in the dust cover rail and trigger guard area. The light provides 100 lumens at up to 89 yards and the LLM have three modes: LED only, LED and laser, and laser only. Battery life is rated at one hour for the first two modes and eleven hours for laser-only. There is also a pure TLR-6 weapon light without laser for the SIG Sauer P365/P365 XL. The Streamlight TLR-6 light-laser module costs 155 euros, and the Streamlight TLR-6 weapon light costs 109 euros.
A larger LLM: the TLR-10 model
The new TLR-10 light-laser module is significantly larger and is designed for a wide range of popular full-sized service pistols with MIL-STD-1913 Picatinny mounting rails on the dust cover. Weighing 4.26 oz/120 grams and 3.87"/98.3 mm long, the LLM is powered by two CR123A lithium batteries and features a 1000-lumen light-emitting diode with a strobe mode and a maximum beam distance of 200 meters. Three modes can be selected: laser only, LED only, and both LED and laser. The batteries have a run time of 1.5 hours in LED and LED/laser mode and 60 hours in laser mode. In LED-only strobe mode, the battery pack lasts for three hours. The Streamlight TLR-10, with an anodized aluminum body, comes with two rear switches for on/off operation, with the controls positioned either high or low to better accommodate different user aiming/shooting techniques. Price: 318 euro.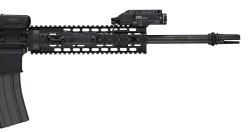 The TLR RM 1 and TLR RM2 lights for long guns from Streamlight
Primarily intended for mounting on long guns are the new TLR RM 1 (with 500 lumens of light output, 140 meters max beam distance) and TLR RM2 (with 1000 lumens of light output, 200 meters max beam distance) light laser modules. Included is a tail switch as well as a remote switch, so you can position and operate the LLMs with rugged, surface-coated aluminum housings according to individual preferences. Again, there are three modes: laser only, LED only, or both together. The light emitting diode has an additional strobe mode feature that can confuse and disorient a blinded opponent. Battery life is 1.5 hours (LED continuous) to three hours (LED strobe). The Streamlight TLR RM 1 costs 329 euros and the RM 2 is priced at 343 euros. Without additional laser as pure weapon lights, the models cost 298 euro and 313 euro respectively.