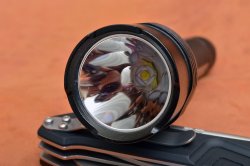 As impossible as it would have seemed just a couple of years ago, tactical flashlight went through a surprising development phase; back then, nobody would have expected a 1100-lumen output from a hand-held illumination device.

Further back in time − let's say, about ten years ago − the lowest output level of the model we're looking at here now (35 lumen) was the standard high output level of of any bicycle front light, and of most flashlights. As low as it seems today, back then it was deemed more than enough for night-time uses.

The combination of a Cree XM-L2 LED and a well-engineered reflector provides a perfect light output distribution with a strongly concentrated central beam − capable to dazzle upon direct eye contact even at a sunset-level environmental light and to defeat natural night vision − and a well omogeneous, large sun cone that provides a good peripheral illumination and prevents self-blinding for the user. The central beam offers a 100-metres range, with the peripheral cone provides good illumination up to 30 metres.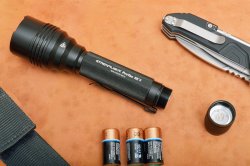 Speaking of battery life − or continuous runtime, to be more accurate − it reaches ninety minutes at the maximum output setting and up to thirty-six hours at the lowest output setting; forget about flashlights on sale from just a couple of years ago, offering a maximum runtime that was about one tenth of this, with the battery life of merely thirty to forty minutes for their maximum output setting.
The small-sized, lightweight machined aluminum alloy frame will contain the three CR123A batteries that are the power source for the Streamlight Pro-Tac HL3 flashlight, and the electronics enabling the user to select between three different output modes: high-intensity discharge (1100 lumens), low-intensity discharge (35 lumens) and strobe. That's easy to do: pushing the tailcap button − either lightly, for momentary operation, or all the way down − will activate the highest intensity output available; a quick double-tap on the tailcap button will activate the strobe scope, while the activation of the low-level output mode is a little bit tricky, as the tailcap button must be activated rapidly for nine consecutive times.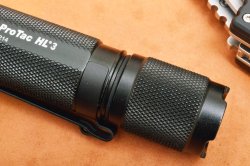 As uncomfortable as it sounds, it all comes to get used to that.
The front lens is made out of reflex-free coated glass, and well protected by water-tight O-Rings − so much, indeed, that it will remain unscathed even after being dropped from one meter on a hard surface.
The Streamlight Pro-Tac HL3 can be safely used under any hard rain situation, and even in conditions when it may fall in a puddle, as the manufacturing company guarantees it to be waterproof up to a 1-meter depth. The silicone-rubber O-rings sealing it against water and other environmental hazards can be accessed by unscrewing the bezel.
In order to prevent the Streamlight Pro-Tac HL3 flashlight to roll down and fall to the ground if inadvertently laid on a not-completely-flat surface, the bezel comes with three flat-surfaced cooling fins that would prevent it from rolling; the long, wire-metal belt clip would also pact as a wedge in that case.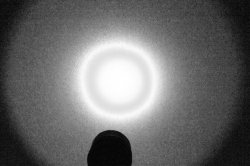 Streamlight officially states that the Pro-Tac HL3 flashlight should only be powered with three CR123A disposable commercial flashlight; we tested it with two 3.7v 17500 rechargeable batteries, and they fit and worked indeed, but this is not endorsed by the company and should only be considered an emergency option, as the power output of these rechargeables on the Pro-Tac HL3 is lower than the one provided by three CR123As.

The embedded electronics provide a scalar degradation of the maximum output in continuous use mode to save battery power: after seven to eight minutes at the maximum output mode, the light intensity will fall to two-thirds of that − that's 600 lumens − and will remain to that level for fifty more minutes. It will then start to drop again, but at the ninetieth minute it will still be at 10% of the maximum output − a level which was considered to be the highest possible obtainable from a standard halogen lamp just a few years ago.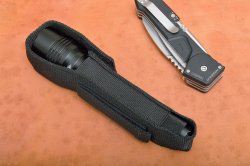 The Streamlight Pro-Tac HL3 flashlight heats up quickly in the first minutes of use, just before stabilizing at an acceptable temperature.
Despite featuring a long belt clip, and despite being quite compact for its performance, the Streamlight Pro-Tac HL3 flashlight has not been conceived for pocket use; its run-of-the-mill black Nylon-Cordura pouch provides an excellent carry option instead, and being the design basically conceived for service issue and open carry, it may be the best option available.
After all, the overall dimensions of the Streamlight Pro-Tac HL3 flashlight are mostly due to its 1.6"/4cm-diameter bezel, that's necessary to house the adequately-sized reflector for such a dazzling high maximum output level.