Looking for a concealed carry sub-compact pistol? Still more options for you from Smith & Wesson: the Springfield-based company has added the M&P M2.0 Subcompact pistol to the existing Full Size and Compact pistol options in its M&P M2.0 series. Available in 9mm, 40S&W and 45ACP, each caliber comes in a choice of with or without a manual thumb safety.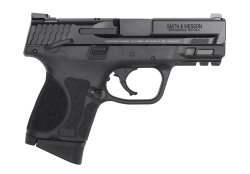 The new M&P M2.0 Subcompact pistol features a smaller, subcompact frame specifically designed for concealed carry and a 12+1 round capacity in 9mm (10+1 in .40S&W, 8+1 in .45ACP).
"As the M&P M2.0 pistol series has continued to expand, we have worked to introduce pistols that fit a variety of different needs: from professional use, to recreational shooting, to home defense, to concealed carry, " says Jan Mladek, General Manager of Smith & Wesson and M&P brands. "The M&P M2.0 Subcompact is designed for every day carry – its shorter frame makes it more concealable while still maintaining a higher double-stack magazine capacity.  One constant across the M&P M2.0 series – whether it's a Full Size, Compact, or Subcompact pistol – is the legendary reliability and shootability of the M&P pistol."
Smith & Wesson M&P M2.0 Subcompact details
From a mechanical standpoint there are no surprises: the M&P M2.0 Subcompact is a polymer framed, striker-fired gun. Barrel is stainless steel, as well as the slide. Metal parts are coated with Armornite durable corrosion resistant finish. Barrel length is  3.6" / 9.1 cm in 9mm and .40S&W, and 4" / 10.2 cm in 45ACP.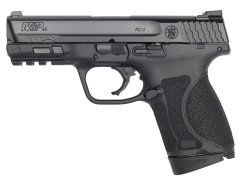 Among the new M&P M2.0 Subcompact's features, a low barrel bore axis that makes the M&P pistol comfortable to shoot reducing muzzle rise and allowing for faster aim recovery, and optimal 18-degree grip angle for natural point of aim. Sights are classic steel, three-dot type.
Frame is polymer, but according to the manufacturer, the extended rigid embedded stainless steel chassis reduces flex and torque when firing. Four interchangeable palmswell grip inserts – from S to M, ML and L – also allow for optimal hand fit and trigger reach.
With an MSRP of 569 USD – the same for all calibers and for both the "thumb safety" and "no thumb safety" versions –  the M&P M2.0 Subcompact pistols ship with two magazines, including two magazine extender sleeves for use with M2.0 full-size and compact magazines, as well as a limited warranty and lifetime service policy.