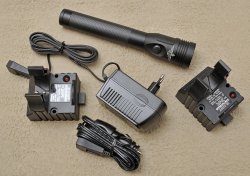 A service-issue tool, but also a merely civilian accessory: a powerful flashlight may be useful in many occasion, but a low battery life can severely hamper its use, so a provision for continuous recharge through a car power outlet may be useful for law enforcement personnel, private security operators, first responders, and generally speaking for whoever is often around at night.

That's a fact, born out of experience: the Streamlight employees − the same ones who listen to the customers' demands and suggestions and develop the new products afterwards − are always the first to test their own new products before their official market launch. 
When long-lasting Streamlight users asked for a rechargeable-battery, high power flashlight featuring a high power, adjustable output, whose battery would last long enough to make it viable for professional applications while keeping it light and small enough to be carried on a duty kit belt and not to cause hindrance when kept on a battery charger inside a vehicle, the company answered with the Streamlight Stinger DS Led HL flashlight.
So adamantly it has been conceived for duty issue and professional uses, each and every one of these flashlights is serialized for positive identification should one being part of the standard issue of a particular agency should ever be lost or found somewhere.
The Streamlight Stinger DS Led HL flashlight is sold in a standard cardboard box and comes with an instruction manual and two distinct battery chargers, each one with its own adapter: one is for standard household power outlets, one is for 12V power outlets usually found on motor vehicles. Both come with an AC/DC adapter to ensure swift and safe recharge, regardless of possible power surges or other irregularities in the power supply which may cause damage to the battery.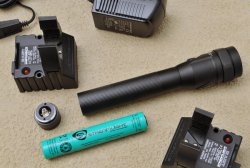 The Streamlight Stinger DS Led HL flashlight will attach to the battery charger in quite a solid way − so much, in fact, that if the battery charger is not well fixed to something, it will be difficult to both insert the flashlight or remove it. It's not a defect: it has been made on purpose so to prevent an accidental detachment of the flashlight from the charger should it be subject to strong vibrations, eg. if installed on a fast-moving squad car or an emergency vehicle rolling on an uneven terrain. A bright red Led on the battery charger will allow the user to quick check the battery charge status.
The light source for the Streamlight Stinger DS Led HL flashlight is a C4-type Led which can generate an extremely high output − up to 640 Lumen. The output can be set on three different Ievels, but even the lowest intensity remains pretty high (170 Lumens, 5500 Candela peak beam intensity), unlike with other handheld flashlights which offer a pretty weak low-intensity discharge setting.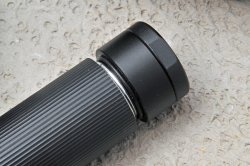 The lowest output level will allow a continuous runtime of up to four hours, which up to a few years ago was the maximum limit for some of the most powerful flashlights out there.
The intermediate output setting tops 340 Lumens − which, once again, used to be the maximum performance level granted by the most powerful flashlights just three years ago. This will allow just over one hour (75 minutes, actually) of continuous runtime, although the embedded circuitry on the Streamlight Stinger DS Led HL flashlight will automatically drop the output level to 80% of the standard, for each one of the three given output levels, after 15 minutes of continuous use, so that performance will remain steady up until 90% of the battery runtime.

The three different outputs can be selected by keeping the switch-on button depressed: it will automatically commute after a couple of seconds. The Streamlight Stinger DS Led HL flashlight comes equipped with an On/Off push-button located on top of the bezel; a secondary one, which will also allow momentarily switch-on, can be located on the tail. Any of the two, if pushed twice rapidly, will activate a high-intensity strobe output mode that will allow 3 hours of continuous runtime and may be useful to disorient an attacker or to signal the user's position in the event of an emergency.
The deep-dish parabolic reflector features a corrugated part close to the Led, in contrast with the otherwise smooth surface. This will allow the Streamlight Stinger DS Led HL flashlight to produce a concentrated beam that will provide the best frontal illumination allowed by the selected output level, along with a lower-intensity peripheral light cone which will still grant an excellent level of peripheral visibility: that's an optimal solution to a quite common problem with flashlights, since a frontally-concentrated beam will dazzle the user and provide a sort of "tunnel vision" that will hide anything around the light beam itself. The bezel comes with an unbreakable polycarbonate lens with scratch-resistant coating; the flashlight itself is IPX4 water-resistant, and is tested to resist impacts up to 3.28 feet (1 meter) of height. 
The hard-anodized aluminium body can be equipped with a factory-issued hex-shaped rubber ring to be attached that will keep it from rolling away on smooth surfaces.
The 3-cell, 3.6 Volt Ni-MH sub-C battery pack is rechargeable up to 1000 times, and in case of an emergency it may be replaced by an equal number of standard, commercial batteries (two AA or three CR123A).
All things considered, the Streamlight Stinger DS Led HL flashlight is compact, lightweight and dependable enough to represent an excellent choice not just for law enforcement, rescue, military, civil defense and private security personnel, but also for campers, outdoorsmen, and travellers. The manufacturer's suggested retail price for the Streamlight Stinger DS Led HL flashlight tops $273.00 in the United States, but it can be procured through online retailers with strong rebates, up to 40% off. Perspective non-US customers should however first try to contact their local authorized Streamlight distributors for availability and pricing.