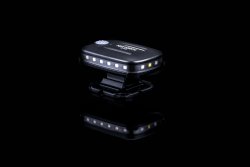 An unfortunately common situation: driving on the highway at night in the rain. There has been an accident, police is on the scene and an emergency vehicle is standing on the hard shoulder with its blue/red lights on. Two vehicles are parked in front of it. The rain, the spray from the opposite lane and the flash of the squad car make it difficult to see, and although only walking speed was being driven, suddenly, as if from nowhere, a police officer is standing right in front of the grille! He was almost invisible before, despite his signal yellow rain jacket with reflective stripes. A moment of shock for two Nextorch managers that had consequences: the very next day, lamp manufacturer Nextorch began developing a signal light to protect rescue workers and police officers.

That was 2019, Nextorch released a small, weatherproof clip lamp that flashed red and blue. Nextorch UL12 is the name of this, it has become a best seller. But resting on the success was out of the question, so the UL12 has now been successfully developed into the UT22 – a real high-tech wonder that is pleasingly easy to use and above all very rugged and reliable.

The Nextorch UT22 has everything a warning light needs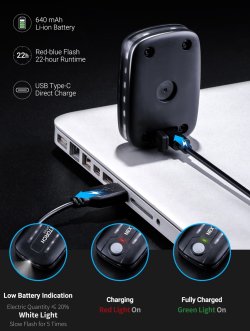 The small Nextorch UT22 is a battery-operated reading light and warning light in one. It also has optional control by a simple tap. Included are a solid mount for helmet rails, straps and a handy Velcro strap. The UT22 flashes a highly visible red and blue warning light all around when mounted on, say, a shoulder strap. In in-house testing, the UT22's warning light was clearly visible from a kilometer away.
The UT22 signal light also has a gravity sensor. With ingenious tilt sensor, the lighting directions of red-blue flash can change between the front and the side automatically – for example, when the wearer bends over, lies down or leans far forward. As a result, the wearer of the UT22 remains reliably visible, regardless of movement and position. The built-in 22 high-power LEDs provide 360 degrees of all-rounded light. This powerful warning light is switched on and off with a normal switch or by simply tapping on the housing – which is particularly practical when wearing gloves, for example. 
The reliable mounting clip ensures a secure hold on shoulder straps, vests, MOLLE, or backpacks. The back of the Nextorch UT22 is magnetic, so you can also securely mount this LED warning light on the roof of a vehicle to warn others or to have both hands free.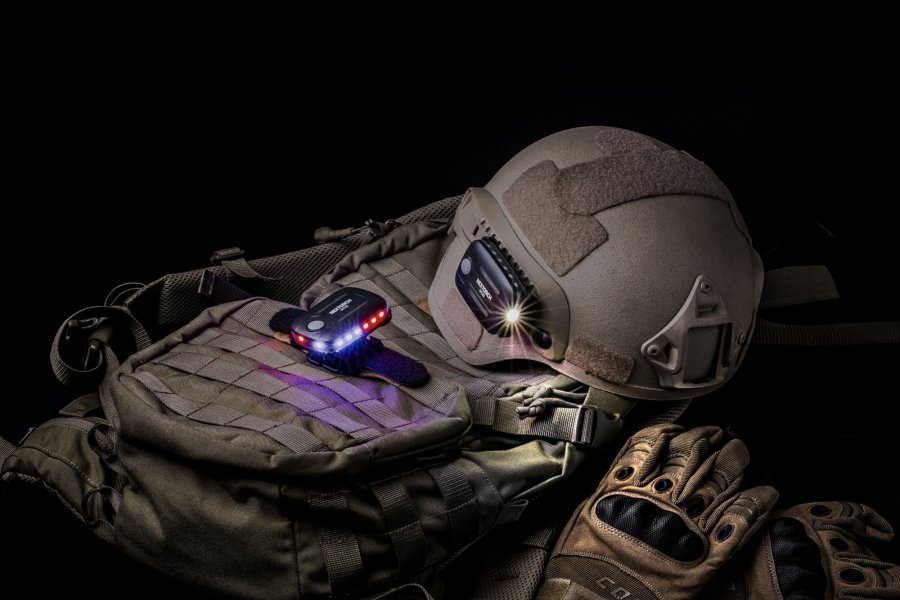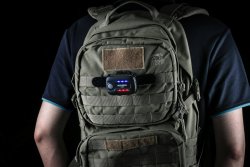 The extra-strong battery is easily charged via an integrated USB-C port, so it's independent of special chargers. With one charge, the UT22 has enough power for 22 hours of continuous use. The Nextorch UT22 warning lamp can of course be used by civilians too! The UT22 can be carried in the glove compartment just in case, after all, thanks to its minimal dimensions, it hardly takes up any space.

Nextorch guarantees the perfect functionality of the UT22 for 5 years. This practical warning light is available for around 45 euros in good specialty stores – perhaps also as a practical gift for every motorist.

Nextorch UT22 warning light specs

| | |
| --- | --- |
| Model: | Nextorch UT22 warning light |
| Price: | 45 euro approx. |
| Light Source:  | Red/blue/white LEDs |
| Brightness: | White light (reading light): 170 lm / 20 lm; Red light: 5 lm / Strobe |
| Runtime: | 2 h / 11 h / 18 h / 22 h depending on setting. |
| Power Supply:  | Built-in 640 mAh Li-ion battery with USB-C charging port. |
| Dimensions (LxWxH): | 60x46x17 mm |
| Weight: | 1.33 oz/37.8 g |
| Impact Resistance: | 1 m |
| Water Resistance:  | IPX4 (protection against splashing water on all sides). |