The features of the new Nextorch P83 LED flashlight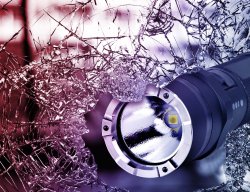 The main feature of the new P83 is directly visible at first glance around the front of the flashlight: there the user will find a 360-degree light source band. This can be switched on independently of the use of the main light and then provides a signal light in all directions. This is a solution that Nextorch came up with through the practical experience of a police officer. This is because the otherwise common illuminated cone attachments for normal flashlights would either be lost or simply forgotten in the field. The result can then be very dangerous for officers, especially in the dark or in the rain. With the new P83, such a flashlight cone attachment is no longer necessary and accordingly will not get lost. In addition, of course, other groups can also benefit from the warning light: for example, hunters can benefit from the all-round light when safeguarding against accidents involving game.
Another feature of the Nextorch P83 is the small nano-ceramic strike bezel at the front of the lens crown. This enables users to break glass, such as car windows, very easily with the Nextorch P83. This is particularly helpful for police raids and, of course, rescue operations. As Nextorch explicitly mentions, this is also an in-house idea that is not only used in other Nextorch flashlights, but is also eagerly copied by competitors.
Besides the mentioned 1,300 lumens, the lamp also offers two other modes with 350 and 25 lumens for the main light. The runtimes are respectively two hours, 4.5 hours and 60 hours.
Construction and accessories: the Nextorch P83 flashlight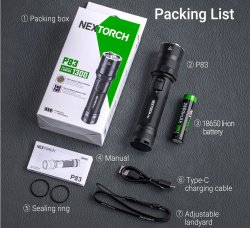 To meet the requirements of an operational flashlight, Nextorch builds the P83 from high-quality aircraft aluminum. This not only ensures high resistance, but also keeps the weight low. Thus, despite the additional features, the officer or civilian user does not have to carry a heavy weight (only 177 grams without battery). The lamp is ANSI certified for a drop height of one meter. And water resistant at one meter (IPX-7).
The LED lamp draws its energy from a 18650 rechargeable battery, which the user supplies with new energy via an integrated, dust- and waterproof USB-C charging port. It is included in the scope of delivery of the P83, as are a USB-C cable, a carrying strap and the user manual. The lamp is available directly in the manufacturer's store and costs 65 euros.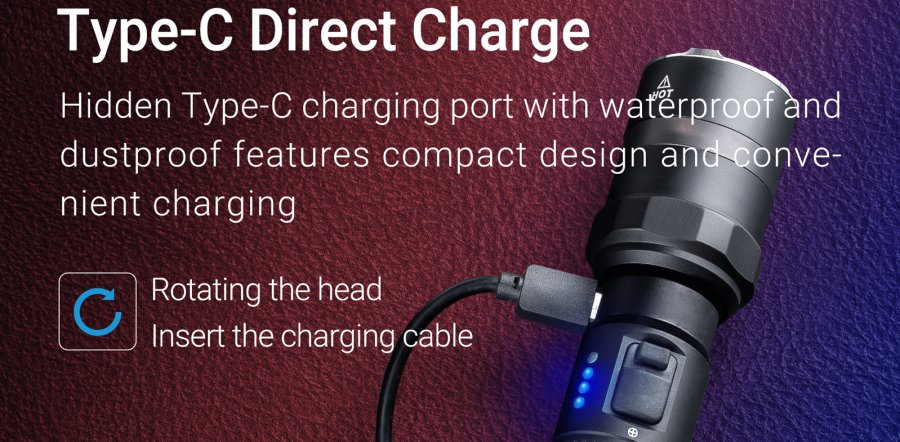 Nextorch P83 specs and price
| | |
| --- | --- |
| Model: | Nextorch P83 |
| Price: | 65 euro |
| Light Source: | LED |
| Light Output Modes: | 1.300 lm / 350 lm / 25 lm (according to ANSI) |
| Warning Light Modes: | 2 lm red flashing / 2 lm red flashing / 2 lm red light / 2 lm blue light |
| Running Times: | 2 h / 4 h 30 min / 60 h (according to ANSI)  |
| Running Times – Warning Light: | Red-blue flash 35 h / red flash 50 h / blue flash 50 h / red light 25 h / blue light 25 h |
| Beam Distance: | 280 meters / 140 meters / 35 meters (according to ANSI)  |
| Waterproof: | IPX-7 1 meter water depth (according to ANSI) |
| Drop Height: | 1 m (according to ANSI) |
| Power Supply: | Rechargeable Li-on battery |
| Dimensions: | 155x28.5x35 mm  |
| Weight: | 6.24/177 g (without battery) |