A tactical torch is a useful tool not only for law enforcement officers or professional use, but also for self-defense and hunting. But choosing the "right" torch can be confusing for many people because of the many models and options available. That's why Peli – a global leader in the design and manufacture of high-performance protective cases, temperature controlled packaging and advanced portable lighting systems for over 40 years – offers a precious guide. So, let's explore this topic together with Peli.
Choosing a tactical torch:  ANSI performance standards
What should you consider when choosing a tactical torch? Actually, the first question shoul be: what are you going to use it for? Your needs will be different depending on whether you are a law enforcement officer, a military professional, a hunter, or simply want to have a torch for everyday carry. In the latter case, a powerful tactical torch is useful not just in low-light conditions, but is also ideal for disorienting or momentarily blinding a would-be attacker. Your choice should therefore start with a correct assessment of you actual needs, always keeping in mind that a real tactical torch is distinguished by its lightweight design, brightness, ruggedness and durability – which also means a different cost from a "run-of-the-mill" flashlight, of course.
Next, you'll want to consider the ANSI (American National Standards Institute) performance standards – that is, a flashlight's features and benefits. These include light output, run time, beam distance, peak beam intensity, impact resistance and water penetration ratings (IPX4, IPX7 and IPX8).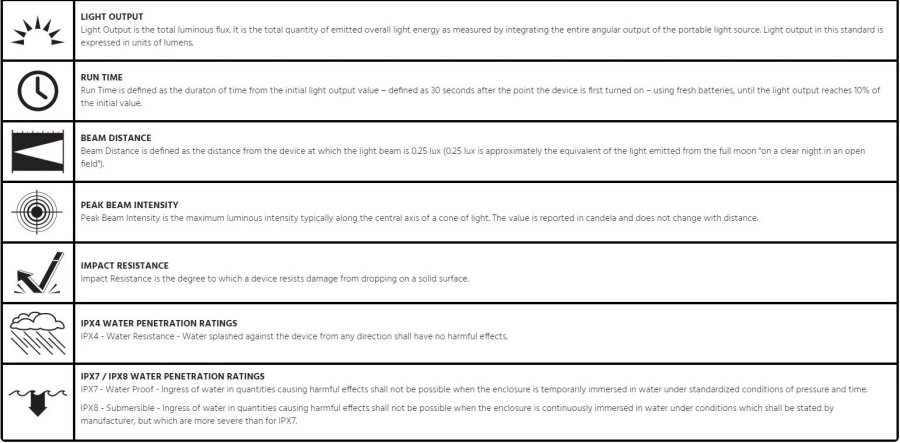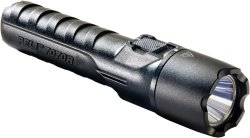 Light output is measured in lumens, and is the measure of the total amount of visible light to the human eye from a lamp or light source. A tactical torch should be above 100 lumens at least, but many models these days are approaching or exceeding the 1000 lumen level, a huge flood of light. Which brings us to run time: the brighter the light, the less time it will run before it runs out of battery. Most good tactical lights will have various brightness settings with a different lumen level, this way you can conserve battery according to the situation. Run time is measured in hours and is calculated by taking the the length of time it takes for the light output to drop to 10% of the rated output on new batteries, rounded to the nearest quarter hour. Obviously, higher brightness settings correspond to shorter run times. Any good tactical torch should have a 12 hours run time at the least.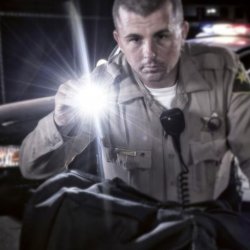 Peak beam intensity is the maximum luminous intensity typically along the central axis of a cone of light, that is the light intensity at the brightest point along the beam. This value is expressed in candela and does not change with distance. So, while lumens will measure the total amount of light emitted by a torch, candela measures the amount of light emitted by a light in a particular direction.
Beam distance means how far the light will shine before it diminishes to the equivalent light of the moon. If you need a tactical torch for self-defense, for example, a higher beam distance will allow you to disorient an assailant from a farther distance away
Since tactical lights have to be tough, durable and robust, impact-resistance is an important feature. It is measured in meters and is tested by dropping the light onto a concrete surface with all accessories and batteries installed, from a specified height – the torch must be 100% functional after the drops and be free of any cracks or breaks at each height tested.
Lastly, water-resistance: being used mostly outdoors, a tactical torch must be impervious to elements. The Ingress Protection (IP) ratings system measures the level of water-resistance, from IPX4 (water resistant) up to IPX7 (protection against temporary submersion) or 8 (the flashlight will keep working even in continuous submersion).
Other features of LED lights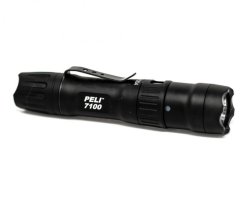 Other features and functions to consider when choosing a tactical light are lamp type, beam type and battery types. Modern torches mostly use LED technology due to its energy efficiency, run-time capacity, impact resistance and brightness level. As for beam type, you can have a flood beam (the light is less powerful, but it will light up a greater area) or a spot beam (more powerful, but focused on a smaller area). Many tactical lights, however, can be adjusted in different modes, providing both flood and spot beams.
AA or AAA batteries are the most common ones. Rechargeable lithium-ion batteries are very common too (usually, they can be charged by USB).
Further features such as modes and settings (including momentary-on option and a constant-on option, strobe and brightness options) should also be taken in account, together with the materials, the length and weight. As we said, a tactical flashlight should be rugged, reliable and comfortable to use.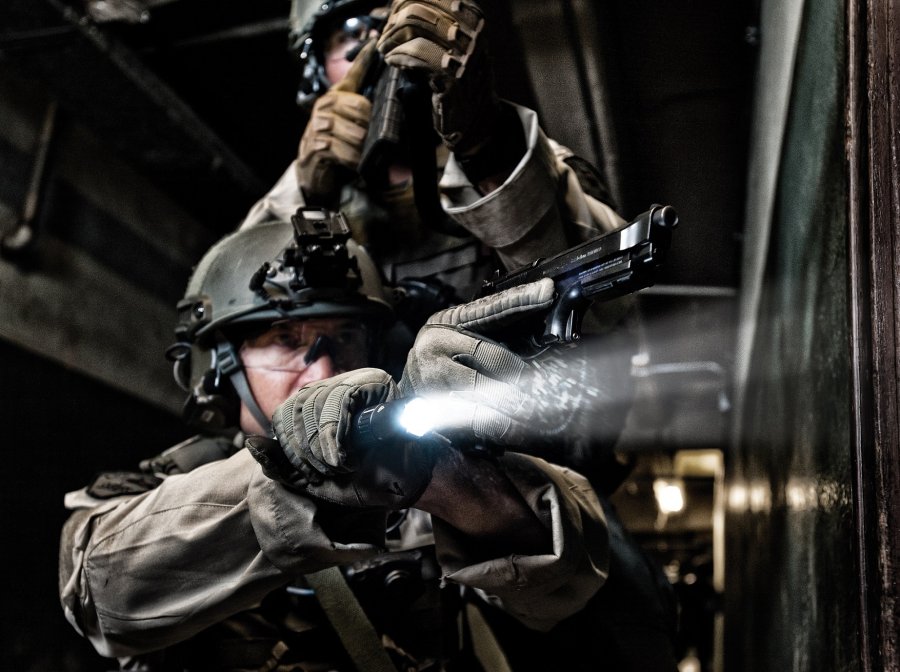 Wrapping up our buyer's guide for tactical lights:
As you can see, there are many thing to consider when choosing a tactical torch, both technical and functional. Not to mention budget considerations. At the end of the day, there is no "perfect" tactical torch that fits everybody's needs in any situation. And as many things in life, the only ideal flashlight is the one that is better suited to your actual requirements.
Please note: Also other high-class manufacturers like Nextorch are ANSI certificated.