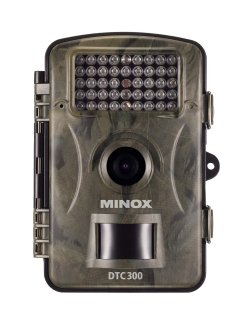 The 90% of wild animals, have nocturne attitudes. The 100% - especially big games- is very elusive towards man. All the hunters and all the game keepers know how important is to know the real consistence of all animal species. Here that from Minox, just at the last IWA, appears a new "photo-trap" tool really efficient in the game and surveillance camera sector: the MINOX DTC 300. 
This small camera is intuitive and friendly user, perfect for beginners who want to get started in the field of game and nature observation. This camera is discrete, intelligent and powerful, making it an ideal and reliable companion in hunting grounds and also for surveillance. We are thinking about farmers and shepherds too, who lives near woods and forests. 
With its 5 megapixel sensor the new MINOX DTC 300 provides an outstanding imaging quality with pin-sharp definition, rich contrast and natural color rendition, both day and night. Besides capturing individual images it is also possible to take video recordings of up to 10 minutes in length. The powerful infrared flash produces reliable images even in unfavorable light or twilight conditions. 
Thanks to its extremely short shutter delay of less than one second and a battery life of over 6 months the new DTC 300 is a reliable tool for outdoors and also for indoors where it can document unauthorized intruders, for example.