On all4shooters.com we have already introduced and tested some of the innovative products from Fluna Tec. These include the optics cleaning kit, the gun care kit and the Gun Black cold bluing. Now, with the Bore Pro, another barrel cleaner has become part of Fluna Tec's cleaning system.
The barrel is one of the most mechanically stressed components of the firearm. In addition, it comes into contact with a number of potentially harmful substances through powder, its combustion and through the bullet. Regular cleaning of the barrel is therefore very important. What exactly does the Bore Pro provide for this?

The Fluna Tec Bore Pro barrel cleaner in detail
In principle, the Bore Pro is designed to perform two functions simultaneously: cleaning and subsequent preserving the barrel. During cleaning, the liquid Bore Pro removes powder residues, but especially copper and tombak deposits. The latter are caused by the abrasion of the bullet jacket. For the preservation of the barrel, the product protects against the dreaded corrosion. Of course, Fluna Tec has developed the cleaner in such a way that it is completely harmless to the barrel steel.
How to use the Bore Pro from Fluna Tec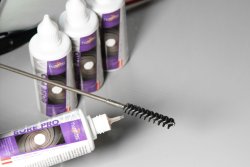 For a particularly thorough cleaning, the manufacturer recommends cleaning the barrel first with the Fluna Tec Gun Degreaser. This removes the coarse contaminants such as powder residue. (all4shooters.com also tested the Gun Degreaser some time ago in our attempts to trigger tuning with Fluna Tec.) You must now distribute the barrel cleaner evenly into the bore. To do this, soak a felt cleaner or wet a brush with the Fluna Bore Pro. Once the bore has been treated accordingly, you should wait 15 minutes to let the cleaner soak in. Then apply the cleaner to a brass or bronze brush and push it down the barrel in the direction of the shot. Then, with ten back and forth movements, the mentioned tombak and copper deposits of the bullet jackets will be loosened. After that, just swipe the barrel several times with dry felts or patches to remove the dirt – done. Since it is a barrel cleaner, contact with otherwise treated metal surfaces, plastics or wood should be avoided.
Thanks to the above-mentioned care and preservation properties of the Bore Pro, the cleaner does not need to be removed from the barrel. You can therefore use the gun directly. Tip: if the cleaned gun is to be left in the cabinet for longer, you can also remove the barrel cleaner with the Degreaser and apply Fluna Gun Coating for long-term preservation.

Fluna Bore Pro Barrel Cleaner comes in 100 milliliter vials at a suggested retail price of 12.90 euros.
---
For more information on the Austrian manufacturer's gun care products plese visit the Fluna Tec website.