We already talked about Fluna Tec, an Austrian company specialized in the production of detergents, lubricants and protective products for guns and optics distributed by RUAG Ammotec. The company's mission is to develop "chemical Innovations for a modern present and an environmentally friendly future". This time we took a look at their gun care kit. Actually, there are two kits, both featuring a handy transparent plastic tube package – a sort of Fluna's trademark. Both kits include one Fluna GunDegreaser 100ml bottle, one 100ml Fluna GunCoating can and a microfibre cloth, but the set no.1 also includes a Fluna GunCleaner 50g can. 
Fluna Tec gun care products in detail
Fluna GunDegreaser is a special cleaner and degreaser for the removal of oils, greases and waxes. It also removes powder smoke, combustion residues and dust, hand sweat and much more. Among its features, it cleans residue-free and does not attack rubber and plastics. It's perfect not only for rifle and pistol parts, but also to degrease barrels before coating them with Fluna GunCoating (see below).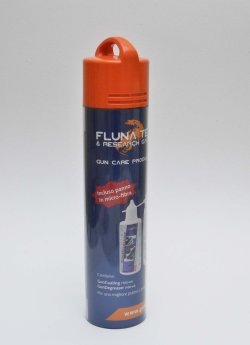 Fluna GunCoating is a high performance ceramic coating for all types of firearms and knives. Despite its extreme lubricating properties, Fluna GunCoating is residue-free, forms an invisible, dry film on the gun and increases the sliding properties of moving parts on the gun.
It does not run off and thus protects the weapon from corrosion in the long term – even against salt water – and can be applied to all surfaces such as steel, plastic, lacquered wooden parts, gold and silver ornaments, colored hardenings, cast iron and rubber.
Fluna GunCoating compensates microscopically small cracks and grooves, and smoothes the treated surfaces permanently. Wear is thus reduced to a minimum and firing performance is increased. It does not resinify, does not stick, is colourless and odourless.
After being sprayed on the cleaned and degreased parts and then spread with a lint-free cloth. Fluna GunCoating is dry at room temperature after approx. 30 minutes and completely hardened after approx. 2 hours.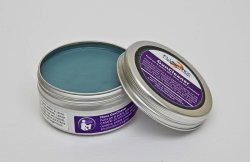 Fluna GunCleaner is a high-performance barrel cleaning paste for all firearms. It cleans powder residues, lead, copper and tombac from barrels of any kind. The only caution is that It  must not be applied to blued or otherwise treated metal surfaces, plastic or wood. To use Fluna GunCleaner to clean a barrel, first soak clean felt plugs in Fluna GunDegreaser or conventional degreaser and pull through the barrel to remove impurities. Then use a plastic brush with Fluna GunCleaner and pass it several times through the barrel. Felt plugs or patches can also be used instead of the plastic brush. Leave the paste to work for about ten minutes, but do not let it dry. Then scrub with a bronze brush from the chamber. After cleaning, remove the mixture of paste and metal grease from the barrel with Fluna GunDegreaser. Finally treat the barrel with Fluna GunCoating.
Prices (MRSP) range from 25.90 euro for the basic set to 44.90 euro for the kit including the Fluna GunCleaner.