Even more than for a journalist, it is always pleasant and exciting for a hunter to enter companies rich in history, where the objects of his passion take shape becoming reality. The courtesy of the Fausti sisters awaits us once again in the showroom spaces where the hunting and shooting models that over time have made the company famous throughout the world in its 70 years of activity are elegantly displayed. Three guns were shown to me, because they are intended to be my next hunting and shooting companions in the season that is about to begin: the DEA SL side-by-side in .410 bore, the Class SLX hunting over-under in 20 gauge, and the Sporting Magnificent over-under in 28 gauge. Let's find out more in detail.
Fausti Magnificent SLX Sporting over-under in 28 ga
An over-under for hunters who like to train or for shooters who practice Sporting, featuring  sturdy mechanics and graceful lines with deep laser-engraved details on the surface of the long side plates.
The Magnificent SLX Sporting is available in 12, 20, 28 and .410 gauges. Its receiver machined from solid steel blocks features a wide base to optimize balance on the gun's center of gravity. On the sides of the receiver there are two of the four retaining points that characterize Fausti's "Four Locks" locking system and ensure durability, stability and accuracy. In this system, to the two locks in the barrels' frame that ensure the upright alignment, a further pair of locks is added inside the receiver sides. This way, they operate laterally and longitudinally, producing a orthogonal double locking. The Magnificent over-under barrels, made from special tri-alloyed steel, are available in four different lengths - 71, 73, 76 and 81 cm, with fixed chokes or internal and interchangeable choke sets at the shooter's choice. The central rib is concave and the upper rib is conical and ventilated. The selective single trigger system with adjustable trigger and automatic case ejection. Like all Fausti guns, it can be made to measure for hunters with customized technical and aesthetic details. The oil-finished type 2A walnut wood stock can also be made to measure. An adjustable stock and rubber recoil pad are available. Also, the forend is available in round, Schnabel or semi-beavertail configuration. Like every Fausti gun, the Magnificent over-under is sold with a certified test target.
Video: Fausti introduces the guns for the new hunting season
This video has been hidden because of an external service (YouTube) that could potentially collect personal data.Allow video services for the duration of the visitAllow video servicesStop allowing video services
Fausti Class SLX 20 ga over-under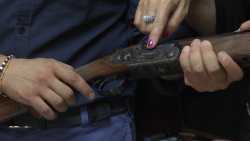 Designed for hunting and instinctive shooting, this over-under is manufactured in 12, 16, 20, 28, 32 and .410 gauges on scaled frames, machined from solid steel blocks and finished with gold engravings on the case color hardened surface of the long side plates. Barrel lengths are very variable and are suited to different types of hunting and shooting, with lengths ranging from 60 cm to 76 cm, including intermediate 63 / 65 / 67,5 / 71 and 73 cm long barrels. Chokes can be fixed or internal and interchangeable. In this hunting model we find the Fausti Four Locks locking system too. The oil-finished, select walnut stock can be pistol grip or Prince of Wales type, while forend can be English or Schnabel type. You can choose between selective single or double trigger and automatic or manual ejection.
Doppietta Fausti DEA SL .410 bore side-by-side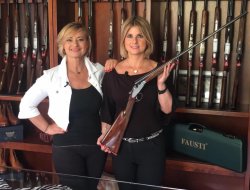 Currently intended for the American public, the Fausti Dea SL side-by-side has all the main features that distinguish Fausti's double guns. Solid but easy to handle at the same time, it has a receiver machined from steel solid blocks with CNC machines to obtain frames scaled to the gauges in which the gun is chambered: 12 / 16 / 26 / 20 / 28 / 32 / .410. Suited to different types of hunting, this elegant double barelled gun is available in two  action finishes: old silver or with long color case hardened side plates, finely engraved by hand with floral motifs. You can choose between single or double trigger and automatic or manual ejection. The available barrel lengths range from 60 cm for hunting in the forest to 76 cm for medium-long distance shots or hide hunting. Here, too, chokes can be chosen by the hunter, and can be fixed or internal and interchangeable. Oil-finished type 3 A walnut wood is used for pistol, Prince of Wales or English stock, with English or semi-beavertail forend. In our case, we were given a .410 gun that we will test hunting with pointing dogs sharing – as always, we'll share our impressions with you.