Light, agile and compact – it does not exceed 5 lb, 4.7 oz / 2.4 kg in 12 gauge: this is the F.A.I.R. Xlight Snipe  over-under shotgun that was presented to us at the shooting lines of the Valle Duppo shooting range by the company's manager, Luca Rizzini. A shotgun that for its technical features was designed for hunting in the woods, for quick and close-range shots typical of hunts with pointing dogs. Its name, "snipe", reveals the intended use and for this reason the gun was designed around the needs of hunters who spend their hunting days making long walks in often rugged terrain in the company of their dogs. This is why lightness becomes a precondition, as well as easy handling when shooting. For this reason, F.A.I.R. manufactured the receiver of this over-under from Ergal 55 light alloy, eliminating any excess weight, such as the central rib. The stock also features wood selected for weight optimization.  
12-ga F.A.I.R. Xlight Snipe over-under: details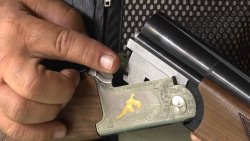 The pistol-grip stock is oil finished with a wide grip to facilitate a quick and stable purchase. For the same purpose. there is also a deep laser-made double checkering. The rubber recoil pad helps to dampen the negative effects of recoil even if, given the characteristics of the gun and its intended use, it is not advisable to use heavy loads.   
The forend is Schnabel-type. The gun features a selective single trigger, but the more classic double trigger is also available. In the Xlight Snipe over-under we have two 24" / 61 cm barrels –  i.e. short and therefore light – that guarantee dense and lethal patterns at the short and medium ranges typical of hunting with pointing dogs, usually no more than 25 meters – and even less in the forest. Made from special tri-alloyed steel with 3" / 76 mm chambers, they are chrome-lined like all F.A.I.R. barrels. In this model the first barrel is a Paradox rifled type to optimize the first-shot pattern – often, the only possible shot in dense environments at close ranges before the wild bird disappears. With this type of barrel I would recommend the use of cartridges with a felt wad to get the best performance avoiding spreader wads that could produce excessive dispersion of the pellet swarm and holes in the pattern. For the second barrel the hunter is supplied by F.A.I.R. with a set of internal and interchangeable Tecnichokes Hunting XP50 chokes with the appropriate key. 
F.A.I.R. Xlight Snipe: the test fire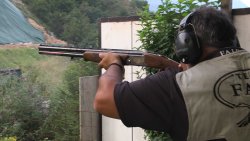 It's worth getting back to the XLight Snipe over-under receiver. In addition to its lightness, it features an aesthetically pleasant nickel-plated finish, laser-engraved with gold inlaid wild game on the sides and pheasants in flight with a woodcock on the receiver bottom. A light shotgun should not suggest a gun that is not very strong, since this over-under, like all F.A.I.R. Ergal guns, has an internal steel reinforcement plate near the strikers. 
The locks feature spiral springs and hammers with a double half-cock safety system. The hinge pins, as in all F.A.I.R. guns, are interchangeable. By shooting 28 g Trap cartridges in quick succession, the Snipe over-under proved stable and accurate at medium range and even at longer ranges than those that are usual when hunting with pointing dogs. The number and rate of shots fired was undoubtedly higher than in any hunting situation, but our test was meant to put the gun under stress and the Xlight Snipe responded positively.
The F.A.I.R. Snipe is available not only in 12 gauge but also in 20 ga, and is offered to the public at a price of 1975 euro (price may vary in your country due to VAT and import duties).
Video: F.A.I.R. Xlight Snipe
This video has been hidden because of an external service (YouTube) that could potentially collect personal data.Allow video services for the duration of the visitAllow video servicesStop allowing video services