Seeing a 16 ga shotgun hung on the wall was a normal thing until some decades ago in the homes of Italian hunters, and not just them.
Lead loads especially balanced for fine sedentary medium-sized game, with a manageable weight of shotgun and ammo that could be used both in walking and stalking hunts were the reasons for its diffusion. Then came smaller gauges with more and more market loadings that made the 16 gauge less popular but never forgotten.
This video has been hidden because of an external service (YouTube) that could potentially collect personal data.Allow video services for the duration of the visitAllow video servicesStop allowing video services
F.A.I.R. Jubilee Prestige: features and details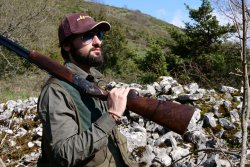 For a few years now many hunters have been rediscovering its value. With them, some companies attentive to changing trends.
F.A.I.R., Fabbrica d'Armi Isidoro Rizzini, has been specializing  since 1971 in the manufacturing of shooting and hunting long guns, becoming in the last forty years one of the main producers of over-and-under rifles and shotguns.
Functionality and reliability are the characteristics that F.A.I.R. has always sought to guarantee to hunters and shooters who wanted a quality weapon at the right price, without giving up careful aesthetics.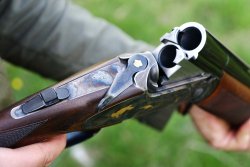 The shotgun that I had the chance to test in the field is a practical example of this corporate philosophy. I tested the 16 gauge Jubilee Prestige over-and-under during a day of partridges hunting with pointer dogs.
F.A.I.R. Jubilee over-and-under line is wide and includes guns in all hunting gauges, from 12 to .410. Over-and-unders featuring an action design with long side plates make up the Prestige range.
Prestige versions with slender side plates are divided into 3 variants: Jubilee Prestige with classic chromed finish, Jubilee Prestige Tartaruga Gold with old-style colour hardened and five gold-plated engravings and Jubilee Prestige XLIGHT with a nickel-plated aluminum action that optimizes the weapon's lightweight construction and enhances its nickel finish.
F.A.I.R. Jubilee Prestige: the field test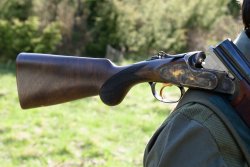 In my case the model for the field test is a Jubilee Prestige Tartaruga Gold.
A gun that, like all F.A.I.R. models, features an action scaled to match the gauge and manufactured from solid forged blocks.
Each component is made by latest generation numerical control machine tools in order to guarantee full interchangeability even to the hunter.
The special tri-alloy steel barrels are available in lengths of 68, 71 and 76 cm, always equipped with internal and interchangeable chokes.
Barrels and chambers are chrome-lined to ensure longer life and protection against corrosion over time. The Jubilee Prestige trigger can be the selective or single version, while extractors are selective and large.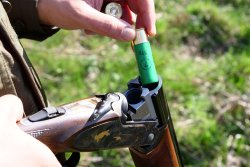 The weight of this over-and-under can be considered standard for this gauge and does not exceed 2.9 kg. it's evenly distributed allowing the shotgun to remain stable and well aligned even when delivering two shots in quick succession.
The design of the Prince of Wales stock and the thin forend, besides the aesthetics of select wood with its pleasant grain and oil finish, allow for an agile and precise swing.
The general ballistic qualities of this shotgun proved to be excellent and consistent using Baschieri & Pellagri cartridges with a standard  31 grams load of No. 7 lead shot even over considerable distances, considering the conformation of the territories in which we were hunting where wild game quickly gained speed along the slopes of steep hills.