Thinking about guns coming from a technological industrial production with modern numerical control machines, you could expect a renunciation of some aesthetic or technical features, and therefore of the possibility of customizing your gun that craft production can offer instead.
Starting from the assumption that, in order to have guns with a good quality-price ratio, the costs and the waiting time of handmade guns cannot be compared, it must be pointed out that there are nonetheless many possibilities offered by some companies, such as F.A.I.R., to have guns that can get closer to the aesthetic and technical standards demanded by hunters thanks to customization on demand. Not just that: in companies like F.A.I.R. it must be remembered that technology and precision machiners are always flanked by skilled workers, therefore an essential human component to guarantee quality to the products. We find an evident example in the successful Iside side-by-side series that have given great worldwide prestige to this company, recognized until then mainly for the production of over-and-under shotguns. The Iside series offers a wide range of choices between more classic or basic models and other more elaborate and refined guns that can in any case be made with special features for hunters who want them.

F.A.I.R. Iside side-by-sides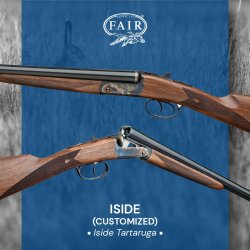 Iside shotguns are machined from solid forged steel and are recognizable by the purity of the rounded lines of their round-body actions. The Iside family, in the smooth-bore versions, includes the Iside variants with manual ejectors; Iside EM with "triple depth" laser engraved frame and long-stroke automatic ejectors; Iside Tartaruga Gold with gold-inlaid, case-hardened receiver and wooden recoil pads; and Iside Gardena, featuring a single or double trigger and automatic ejectors and divergent barrels that allow a wide shot pattern. You can also shoot both barrels with the rear double trigger when pressed first when hunting from hides.
Choice of gauges is wide: 12-16-20-28-410. The double shotguns in an elegant version with long side plates belong to the Iside Prestige line. The Iside Prestige models are offered with long-stroke automatic ejectors and side plates with a slender round design. They are available in two versions: Iside Prestige and Iside Prestige Tartaruga Gold, where the aesthetic details that differentiates them are the chromed receiver for the Prestige version and the color-case hardened receiver with gold inlays and wood recoil pad for the Prestige Tartaruga Gold version.
Innovative solutions combined with the use of top materials as far as robustness is concerned have allowed F.A.I.R. to reduce thickness on the Iside actions, saving size and weight so much as to make the recourse to aluminum alloys in order to lighten the guns useless. Getting into detail, an example of customization is the model Iside Tartaruga, a double shotgun that is made with color-case hardened receiver and a stock available in different versions, traditional double or single trigger, barrel lengths ranging from 68, 71 up to 76 cm depending on the environments and types of hunting preferred by the hunter. The features guaranteed by F.A.I.R. remain unchanged in all models with regard to the internal barrel profile and the manufacturing methods. The barrels are made of high quality steel and chrome lined to guarantee durability and the best shooting performances. 
As far as chokes are concerned, the more traditionalists can have them fixed, while those who want an even more versatile gun can opt for the version with internal and interchangeable F.A.I.R. Technicoke chokes. The available wood is select and oil-finished European walnut with a special fine-pitch laser checkering and a particularly effective grip. There are also different fore-ends available in the English slim or beavertail version, as well as elegant recoil pads in solid wood or ventilated rubber for those who want more simplicity in favor of greater comfort. Depending on the hunter's preference, cartridge case ejection can be the ecological manual or automatic. Every detail of the construction of Iside shotguns respects the motto of the F.A.I.R. company, where different hunters can find the gun closest to their tastes according to tradition and technology. To complete the range of Iside shotguns, we would like to remind that the recent Vintage model has been added. It is designed for those who love the classic external hammers. Available both in a smoothbore version in 20 gauge and in the Safari Express version for hunting large ungulates, the Vintage stands out for the lines of its color case hardened receiver and "demibloc" barrels. 
---
For more information please visit the F.A.I.R. website.