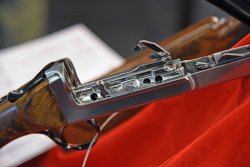 The Cosmi shotguns are semiautomatic shotguns that open up like double-barrel guns. The elegant line of the shotgun is ensured by the location of the magazine in the stock. Apart from improving aesthetics, this results in perfect balance, regardless of the presence of cartridges in the gun.
The safety catch is actuated by means of a sliding button like in double-barrel guns. 

The diameter of the spring turns is considerably lower, since the spring  does not need to be coaxial to the tube that contains the shells. 
The result is an extremely elegant forehand. The spring is assisted by a powerful elastic element that absorbs recoil and avoids whiplash.