Fedor Vasilievich Tokarev was born in 1871 in Rostov Oblast, Russia, and at the age of nineteen he joined the Oranienbaum Military Academy where he began his career as a weapons designer. His name will always be linked to his best-known designs, the Tokarev TT-30 and TT-33 semi-automatic pistols and the Tokarev SVT-38 and SVT-40 semi-automatic rifles, which were manufactured in large numbers during the German-Soviet War. He passed away in 1968 after collecting important honors: he was awarded the Order of Lenin four times and was named Hero of Socialist Labor. It is hard to imagine a more Soviet character than he, yet today the Tokarev brand belongs to a company based in  Knoxville, Tennesee, that imports and distributes in the U.S. a wide range of Turkish-made 12-ga shotguns.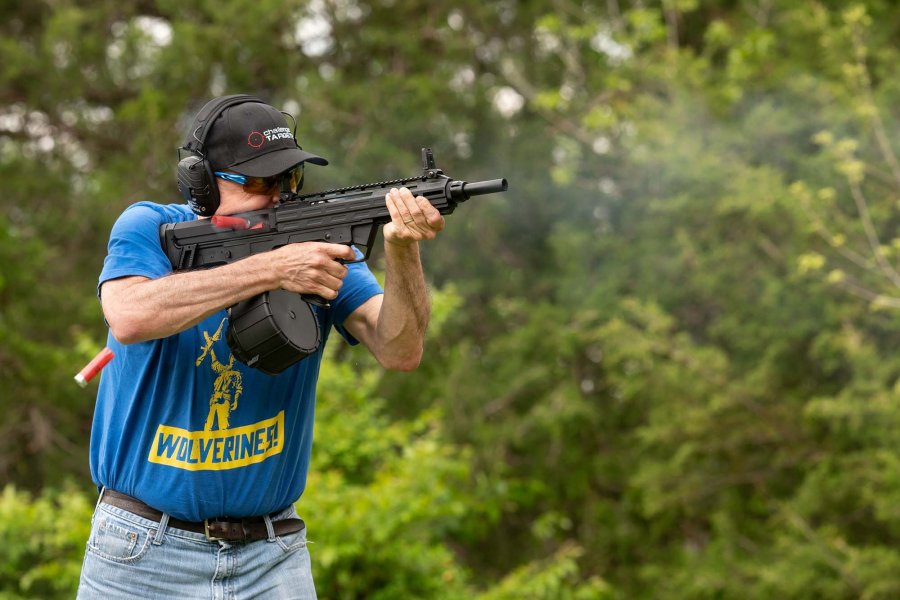 Tokarev TBP12, a semi-automatic bullpup shotgun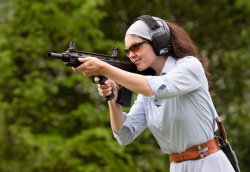 Among the various Tokarev USA-branded shotguns, we have chosen to introduce you to the TBP 12 model, a curious bullpup design, magazine-fed shotgun chambered in 12-ga Magnum that is garnering much acclaim among U.S. enthusiasts. It is an extremely compact semi-automatic firearm, thanks to its gas-operated action placed inside the stock: with a barrel length of 18.5 inches (47 centimeters), the gun's overall length is 72 cm, making it very maneuverable in tight spaces and an attractive option for home defense. Despite the short length, the weight is the same as a full-size shotgun: almost 3.5 kg, which nevertheless helps make firing behavior less annoying..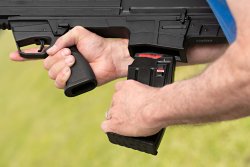 The Tokarev TBP 12 is distinguished by its military-like aesthetics, dominated by the pistol grip located about halfway along its length and the large five-round single-column magazine protruding almost entirely from the stock. Taking a closer look at the gun, you can see that in fact the upper part of the stock is nothing more than the steel receiver, around which a polymer shell has been built that incorporates the grip, fore-end, and Picatinny rails that allow the mounting of conventional, red-dot, and mechanical sights. The shotgun comes with a set of flip-up sights including an emergency aperture rear sight and a post front sight with thumb wheel elevation adjustment.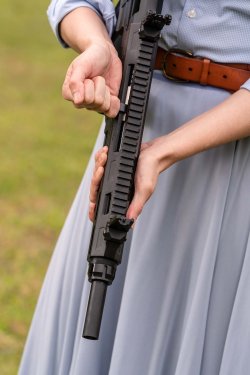 A rail is provided on the rear part of the stock for mounting an ambidextrous cheek rest, but this is not included. This is too bad, because it would be useful in case a conventional or red-dot sight is fitted. However, the cheek rest can be purchased as an option for a price of about 30 euros. The handguard features a pair of M-Lok accessory slots on both sides, at 3 and 9 o'clock, while at 6 o'clock we find another Picatinny rail.
As far as controls are concerned, it cannot be said that the TBP 12 was designed with left-handed shooters as its main target: it is true that the charging handle can be easily swapped to the right or left side – you can remove it with no need for tools – but the ejection port is on the right side only, as well as the main magazine release, which is moreover in a very backward and rather uncomfortable position. On the left side we find the secondary rocker-type magazine catch and the AR15-style fire selector, which in fact serves only as a safety.
Mechanically, the TBP 12 is a gas-operated gun in its own right, and in the package we find an extra piston to be mounted in place of the standard piston when using heavy loads. Completing the very minimal package is a set of two additional chokes (with Benelli-compatible threads) and a key to mount them.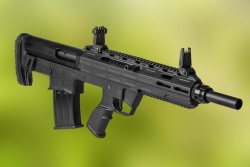 The author of the photos, our friend Oleg Volk, thoroughly tested this rifle in the U.S. and confirmed to us that it is very reliable with different types of ammunition and has a mild recoil, also confirming that the main flaw he found is the awkwardly placed magazine release. And speaking of magazines, if the standard five-round one seems a bit too small for you, know that there are high-capacity versions, also drum-type ones, with 20 or 25- round capacity. Their use is regulated by the local laws of the various states.
To conclude, we can say that the Tokarev TBP 12 is a very honest product, sold in the U.S. at $319 in a black finish and at $329 in the sand, olive green or arctic white color versions; for such a price it is foolish to expect miracles of ergonomics or aerospace materials. The TBP 12 works, has an aggressive look to the point, and thanks to its compact size and tame recoil is handy and suitable even for female shooters.
Tokarev TBP12 specs and price
| | |
| --- | --- |
| Manufacturer: | Tokarev USA |
| Model: | TBP 12 |
| Type: | Semi-automatic shotgun |
| Action: | Gas operated |
| Intended Use: | Informal shooting, defense |
| Gauge: | 12/76 |
| Barrel Length: | 18.5"/47 cm |
| Overall Length: | 28.3"/72 cm  |
| Chokes: | Benelli-type, internal |
| Sights: | Flip-up type  |
| Magazine Capacity: | 5 rounds |
| Weight: | 3.45 kg |
| Price (MSRP in the U.S.): | $319.00 |