Manufactured in Turkey, the new 12 gauge Magnum Yildiz Sporting over-and-under shotgun was made specifically for the Sporting clays discipline which, we remind you, emulates hunting with clays that move in different directions reproducing the flight and run of the most common wild game. In addition to being excellent training for hunters, Sporting clays is certainly one of the most fun disciplines to practice. Like all shooting sports, it requires that the guns used have some special characteristics, and this is where the Yildiz Sporting over-and-under comes in.

Yildiz Sporting in 12 gauge Magnum
The Yildiz Sporting is an over-and-under shotgun chambered in 12 ga Magnum, that is with a 3"/76 mm chamber. As in the best tradition of the Turkish manufacturer, it is distinguished by the sturdiness of the mechanical parts and the beauty of the walnut wood parts, obviously of Turkish origin. The Schnabel-style forend with the wide checkering on the side areas allows for a very firm grip, while guaranteeing comfortable and fast swinging.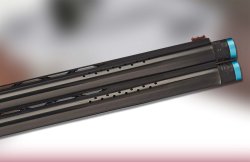 The receiver is made of 4140 chrome-molybdenum steel with a satin finish engraved with the company's logo, consisting of a capital "Y" inscribed in a star – Yildiz means "star" in Turkish. It features automatic ejectors. The barrels are 76 centimeters long and have external interchangeable chokes. Other features of the Yildiz Sporting over-and-under in 12 gauge Magnum include the ventilated double rib, the high-visibility red fiber optic front sight and the intermediate bead sight, positioned at mid-barrel length. Another peculiarity of this sporting version is that the barrels feature a ported section – a series of small holes near the muzzle – to compensate muzzle flip, allowing for faster gun realignment on the target. The pistol grip stock is made of grade IV Turkish walnut wood and has a height-adjustable comb. A generously thick rubber recoil pad helps reduce felt recoil. The selective single trigger allows shooters to select  which barrel will fire with the first pull of the trigger. The weight of the 12 gauge Magnum Yildiz Sporting over-and-under is 3.7 kilograms. 
Yildiz Sporting 12 ga shotgun specs
| | |
| --- | --- |
| Type:  | Over-and-under shotgun |
| Intended Use:  | Sporting clays |
| Gauge:  | 12 Magnum |
| Receiver Material:  | 4140 steel |
| Barrels Length:  | 29.5"/75 cm |
| Trigger:  | Single selective |
| Ejectors: | Automatic |
| Chokes:  | Interchangeable  |
| Stock:  | Walnut wood, with pistol grip and adjustable comb |
| Weight:  | 8.15 lb/3.7 kg |