The Breda Zenith Lite line of over-and-under shotguns was first introduced at IWA 2023 in Nuremberg, initially with the Zenith Lite Sport model, which was later joined in May 2023 by the Zenith Lite Trap. The lowest common denominator of the line is its essentiality: therefore, the two new shotguns have a more essential design of the receiver (with a profile reduced from 44 to 41mm), but still maintaining the mechanics of the Breda Zenith line. They are, of course, declined in the two versions, depending on the shooting discipline, and the idea is to be able to offer them to those who are approaching trap or sporting for the first time and want something that is performing, but at the same time with an excellent quality/price ratio. 
In fact, the retail price for both versions is €2,605 (price in your country may be different due to VAT and import duties).
Breda Zenith Lite Sport: a revolution in the world of Sporting Clays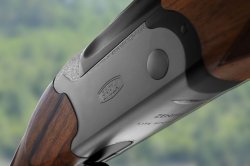 The Zenith Lite Sport over-and-under retains the mechanics and construction features of its namesake platform but with a cleaner, more streamlined design that makes it a perfect cross-over shotgun between Sporting Clays and hunting. The Breda Zenith Lite Sport is built around a receiver scaled to safely handle the stresses of 12/76 cartrdiges, but with a slimmer profile (41mm instead of 44mm) for easier and faster swinging. The design is sleek, with a slightly satin finish. The Lite Sport over-and-under is available with 71 cm and 76 cm barrel lengths, sandblasted finish, 10x8 mm conical rib, and interchangeable chokes with a choice of 70 mm-long internal (flush) or 90mm-long internal-external chokes. The connection between chokes and barrels is practically imperceptible thanks to the extreme bore precision (18.6 mm) and choke concentricity.
The ventilated side ribs perfectly match the barrels profile: they are manually fitted to achieve the highest quality. The barrels have a 80-mm long forcing cone, fully tapered, in order to produce less recoil and ensure uncompromising shot patterns.

Barrels tailored to Sporting Clays

The barrels of the Breda Zenith Lite Sport are specially designed for Sporting Clays, made from selected raw materials so as to achieve the best result from the point of view of both technical and ballistic performance. For Breda, it is by far the best barrel ever made for the Sporting discipline.
The pistol grip stock and forend of the Zenith Lite Sport are made of walnut wood, naturally dried to ensure the best strength. Wood is oil finished by hand and takes no less than seven days to achieve an optimal result. The stock ends with an effective synthetic rubber recoil pad that reduces felt recoil. The Zenith Lite Sport over-and-under with 71-cm barrels weighs 3.44 kg (weight may vary depending on the density of the wood used).


Breda Zenith Lite Sport specs and price

| | |
| --- | --- |
| Model:  | Zenith Lite Sport |
| Gauge: | 12 Magnum |
| Trigger: | Single, with golden trigger blade |
| Receiver: | Steel, 41 mm high |
| Barrels:  | 71 or 76 cm long, with satin finish |
| Stock: | Walnut wood, oil hand finished |
| Barrel Rib:  | 10x8 mm, tapered |
| Sights:  | Fiber optic front sight |
| Chokes: | 70 mm internal or 90 mm internal-external |
| Weight: | 3,440 g (with 71-cm barrel) |
| Price: | 2,605 euro |