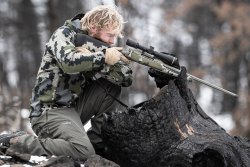 The original home of such straight-pull rifles for hunting use is actually the German-speaking region of Europe. You can think, for example, of proven classics or more recent newcomers such as Blaser R93/R8, Browning Maral, Heym SR 30, Merkel Helix, Rössler Titan 16, Steel Action HS/HM or Strasser RS 14. Thus, the courage of Savage Arms to enter this hard-fought market segment with an in-house straight pull repeater is to be evaluated as even greater.
Savage Impulse, 13 new patented design details

That the company's headquarters in Westfield, Massachusetts, has put a lot of effort into this rifle is proven by the fact that, according to the manufacturer, well-tested Savage technology has been harmoniously combined with no less than 13 new, patented design details. The heart of the new Savage Impulse is, of course, the straight-pull action known as the "Hexlock". Compared to a conventional bolt-action, a straight-pull action is much faster to operate and thus allows for quick follow-up shots, which can be a decisive advantage in hunting practice, for example in driven hunts.
With a conventional bolt-action rifle, the repeating process consists of four manual operations: lift the bolt handle up, pull back, push forward, and push down the bolt handle. With a straight-pull repeater, the manual cycling is generally more linear and consists of only two motions: pull back the bolt handle, then push forward. This saves valuable time.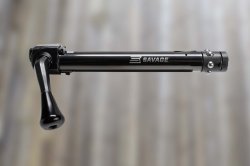 The Savage Impulse Hexlock straight pull bolt sits in an aluminum receiver with integral optics mounting rail with 20 MOA pre-tilt. Six hardened steel bearings lock the bolt in place inside the receiver's barrel extension. Thanks to to the sophisticated design of the bolt, even high-performance magnum calibers should be able to be fired from the new Savage Impulse with maximum reliability and safety. Speaking of safety: with the mechanical firing pin safety in combination with the AccuTrigger with integrated safety and the two-position slide safety on the tang that can be operated from both sides, the Savage Impulse has three independently acting safeties so that the straight-pull repeater is drop-proof even when the slide safety is not activated. In the aluminum receiver, the ejection port is on the right side. But thanks to the special design of the action, the bolt handle can not only easily be mounted on the left side for left-handed shooters, but its angle can also be adjusted according to personal preference.
Launch accessory offer: the Impulse bolt action is compatible with the current Savage Model 110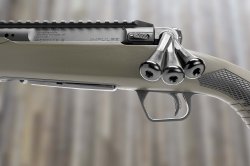 The other components of the hunting rifle are compatible with the classic Savage Model 110, which applies to the box magazines, button-rifled barrels and AccuFit stocks and trigger assembly. The AccuFit synthetic stock with aluminum rail system bedding allows for custom fine-tuning with four spacers for length adjustment and five interchangeable cheek rests of varying heights. The AccuTrigger two-stage trigger can also be adjusted in pull weight.
Modularity: caliber and barrel change on the Savage Impulse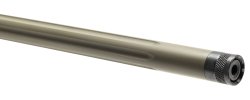 Thanks to the tool-free interchangeable bolt head and the likewise interchangeable barrels with barrel retaining nut system, nothing stands in the way of caliber conversion on the modular Savage Impulse. For this purpose, the receiver and barrel fixing screws must be loosened (3 screws) or removed (1 screw) with a torque wrench in order to be able to mount a different barrel together with the barrel extension. As already mentioned, the floating bolt head can be changed without tools.
All calibers and prices: which Impulse models will Savage offer at market launch in Europe?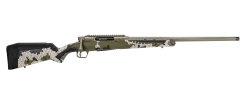 Certainly designed to expand, the new Savage Impulse line starts with three models in the guise of "Big Game", "Predator" and "Hog Hunter". The "Big Game" model in 6.5 Creedmoor, .243 Winchester, .308 Winchester, .300 Winchester Short Magnum (WSM) .30-06 Springfield and .300 Winchester Magnum calibers features a fluted "Medium Contour" barrel with 5/8-24" muzzle thread in 22"/560 mm and 24"/610 mm barrel lengths. The receiver and barrel feature a "Hazel Green" Cerakote finish and the synthetic stock has a "Kuiu Verde 2.0 Camo" camo pattern. Magazine capacity is four rounds – in .300 WM and .300 WSM calibers, three and two cartridges, respectively. The Savage Impulse Big Game will be available for € 1999 (MSRP) in Germany, but prices may vary depending on the country you live in.
The "Predator" model in .22-250 Remington, .243 Winchester, .308 Winchester and 6.5 Creedmoor calibers is also equipped with a "Medium Contour" barrel with 5/8-24" muzzle thread, but in 20"/510 mm length. Here, the receiver and barrel have a matte black finish, which is combined with a synthetic stock with "Mossy Oak Terra Gila" camouflage. The straight-pull rifle is fed by AICS box magazines with a capacity of ten rounds. Savage offers the Impulse Predator in Germany for € 1899  (MSRP).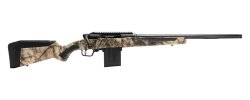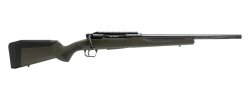 The "Hog Hunter" model in 6.5 Creedmoor, .308 Winchester, .30-06 Springfield and .300 Winchester Magnum calibers is equipped with a heavy barrel with 5/8-24" muzzle thread, with barrel lengths varying between 18"/458 mm (.308 Win.), 20"/510 mm (6.5 CM and .30-06) and 24"/610 mm (.300 WM). The receiver and barrel feature a matte black finish, while the synthetic stock comes in the "OD Green" color. Magazine capacity is four cartridges in standard calibers and three cartridges in .300 WM. The Impulse Hog Hunter will also change hands for € 1899 (MSRP).
The Savage Arms straight-pull rifles of the Impulse series are expected to be available on the market from spring 2021.