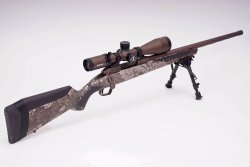 The new 110 High Country model by US-based manufacturer Savage Arms with spiral-fluted bolt, spiral-fluted barrel and "True Timber" camouflage-patterned synthetic stock and PVD hard-coated metal parts immediately catches the eye. This shapely, modern repeater for long-range use with "AccuFit" system for adapting the stock to the individual shooter's body proportions / preferences and user adjustable "AccuTrigger" with characteristic integrated trigger lever safety is offered in two barrel lengths, 22 "/ 560 mm or 24" / 610 mm. Depending on the caliber, the detachable box magazine holds 2, 3 or 4 cartridges.
The model- and caliber range of the Savage 110 series

The caliber range includes: .243 Win., 6.5 Creedmoor (both 22", 4 + 1 rounds), 6.5. PRC (22", 3 + 1 rounds), .270 Win., .280 Ackley Improved, 7 mm-08 Rem. (all 22", +1 cartridges), 7 mm Rem. Mag. (24", 3 + 1 cartridges), .308 Win, .30-06 Sprg. (22", 4 + 1 cartridges), .300 Win. Mag. (24", 3 + 1 rounds) and .300 WSM (24", 2 + 1 rounds). And please have in mind that "Savage 110" is a complete series, offering 27 different models. Here you'll find all models on the manufacturers website.

Savage 110 High Country in detail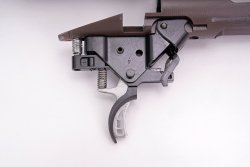 At first glance, the rifle is appealing thanks to the color contrast between the synthetic stock and the bronze-toned metal parts, with the Bushnell Forge riflescope 4.5-27x50 fitting well into the overall picture with a "terrain" finish. The PVD hard coating is not only cosmetic, but makes this repeater with fluted bolt and fluted 22"/ 560 mm barrel with improved low-friction properties also extremely resistant to mechanical stress and weather conditions. As for the model 110 High Country we tested (the 110 series is available since 1957), it has been completely stripped in the workshop to give us a better idea of its design and build quality.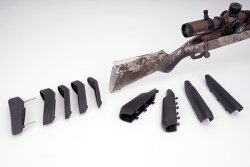 The stock adjustment components, supplied in sufficient numbers, can be removed with a simple Phillips screwdriver and put together individually. Only two screws on the butt plate have to be unscrewed to modify buttstock length with another component. The cheek rest can be pushed out, tilted and replaced as needed. Different length screws for recoil pads are also included. Due to the fits and form-locking connections, no play arises after a stock component change. The grippy rubber inserts on the side surfaces of the stock also pleased us. The bedding in our view is on a surprisingly high level for a rifle of this price range. The action rests on an accurately machined aluminum chassis in the synthetic stock. The peculiar, adjustable trigger unit with integrated safety lever is on the underside of the action. Trigger pull was 1750 grams and clean, characteristics already well set from the factory, so we decided to leave it alone for the test without any further gimmicks.
Bushnell Forge 4,5-27x50 riflescope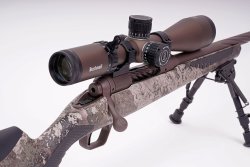 The new Bushnell Forge 4.5-27x50 riflescope was also mounted on the Savage 110 High Country with lightweight Leupold BackCountry mounting rings machined from 7075 T6 aluminum, with not even one millimeter between objective lens and barrel – It could not be more perfect! 
The magnification range of the riflescope with 6x zoom and throw lever for magnification quick changes ("Cat Tail") is quite interesting for shooters, just as the fine point of the unlit Deploy MOA reticle in the first image plane. The manufacturer guarantees IPX7 waterproofness (up to 1 m water depth for up to 30 minutes). The lenses are multilayer coated and additionally provided with an "EXO Barrier" protection. With this coating, micro pores on the glass surface are closed so that no dirt, oil or fingerprints can adhere to it.
Caliber 6,5 mm Creedmoor: a ballistic bestseller for many good reasons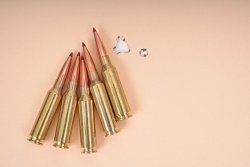 The 6.5 Creedmoor has taken the hunting and sports shooting world in its US home country by storm and it is likely to be the most successful new caliber of recent past. It was developed by Hornady in 2007 as a modern, thoroughbred long-range sports cartridge for shooting ranges of up to 1,000 yards / 914 meters. The 6.5 mm Creedmoor with 30 degree shoulder and long case neck for securely holding and seating the .264 "/ 6.70 mm bullet features a cartridge overall length of approximately 72 mm identical to the .308 Winchester, so that it fits into medium-sized standard actions (including self-loading rifles such as AR-10s or M14s). In the realm of the more European-based 6.5mm calibers with cartridges such as 6.5x55 Sweden Mauser, 6.5x54 Mannlicher Schönauer, 6.5x57 / 6.5x57R or .260 Remington and 6.5-284 Norma, the 6.5 Creedmoor is probably most comparable in performance to the two years older 6.5x47 Lapua long-range sports cartridge. From its .308 Winchester parent case, the 6.5 Creedmoor has been shortened to approximately 49 mm losing little inner volume, because it holds 53.0 grains of water compared to 54.4 grains of water in a .260 Remington with an original .308 Winchester sleeve length of 51 mm. Unlike the European 6.5x47 Lapua, the Creedmoor is factory offered in a variety of loads. With regard to the Ballistic coefficient (BC value), it does not need to hide either. A .308 Winchester / 175 Grains Sierra MatchKing and a .338 Lapua Magnum / 250 Grains Scenar achieved BC values ​​of .466 and .675, with the 6.5 Creedmoor / 139 Grains Lapua Scenar behaving very well at .615.
The advantages of 6.5 Creedmoor at a glance:
Lower recoil  


High efficiency: from a relatively low powder load, optimal ballistic performance is obtained. ballistische Leistung.


Gentle cartridge: relatively little powder and gas must be forced through the case neck and the connection cone, increasing the life of the barrel.


High precision  thanks to case design with minimum body taper, 30 degree shoulder and long case neck that ensures concentricity in the case/bullet relationship. 
On the shooting range with the Savage 110 High Country in 6,5 Credmoor

The Savage 110 High Country in 6.5 Creedmoor has been tested for accuracy with 13 different types of ammunition, four factory and nine handloads. For the handloads, we worked with two different propellants in the form of the Lovex D073.6 and Hodgdon Superformance. The latter powder is also loaded in the same-named factory ammo line from Hornady. In the test, it quickly became apparent that the Hodgdon Superformance is "the" powder for the 6.5 Creedmoor. It proved to be not only very consistent in the test, but also brought out the best in 6.5 Creedmoor. Thanks to its fine grain, the Hodgdon Superformance can be poured very well out of the powder feeder and despite powder loads of over 40 grains, the tolerance was only plus / minus 0.1 grains. With our handload, consisting of 43.0 grains of Hogdon Superformance and a 142-gr Sierra MatchKing bullet, we were able to punch a fantastic 7 mm group into the cardboard, but unfortunately a flyer made the grouping circle widen up to a total of 17 mm (still considerable). Other results also showed that this rifle can shoot very well. This is proven by 15 mm (handload with 41.0 grains of Lovex D073.6 and 123 gr Hornady ELD match bullet) or 16 mm (Hornady 143 gr ELD-X factory hunting ammunition) groups.
Savage 110 High Country: wrapping up our test impressions

The oldest continuously manufactured bolt-action rifle in North America - the Savage model 110 - is now even better. The 110 series has a fresh look and a full complement of improvements. Select models feature the AccuFit™ system, which lets you lock in a custom fit for fast target acquisition and enhanced accuracy.
The tested Savage 110 High Country is an ultramodern hunting rifle characterized by clean workmanship, practical features and very good shooting performance. Stock and trigger can be tailored to individual preferences. Once again, the young 6.5 Creedmoor caliber convinced us with its balanced efficiency. But no matter in which caliber the High Country may be set up, 1599 euro is a really fair deal for this rifle that gives you real value for money, and you'll enjoy it at the shooting range.