Article also available in other languages
Ever since it was first officially launched at the 2011 SHOT Show, the Ruger American Rifle has been living a moment of incredible worldwide success  and popularity between hunters and sports shooters. The Sturm, Ruger & Co. company − one of America's most dynamic gunmakers, operating plants in Newport (New Hampshire), Prescott (Arizona) and Mayodan (North Carolina) − offers the American Rifle as an entry level bolt-action rifles line, offering good performance, excellent manufacturing quality, versatility and compatibility with accessories and custom works, a very light weight and popular chamberings at a low price tag (usually under 500 US$ in the United States, under 500 € in Europe), which makes it very popular even in these times of persistingly dire global economic straits.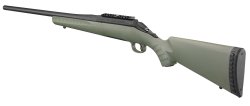 As of today, the Ruger American Rifle line counts seven different versions: five centerfire variants − available in seven different calibers for the entire line − and two variants (a standard-barrel one and a compact one) dubbed American Rimfire and available in three different rimfire chamberings for small game hunting, pest control and target shooting: .22 Long Rifle, .22 Winchester Magnum Rimfire and .17 Hornady Magnum Rimfire.
The global popularity of the Ruger American Rifle series has been, and still is, so incredibly high and widely spread that the Company decided to expand the line with new variant dubbed the American Rifle Predator, which will be launched in the next weeks.


The Ruger American Rifle Predator model has been specifically conceived as a Varmint-oriented variant of the American Rifle line, to meet the specific needs and tastes of the category of shooters that seems to be the one with which the American Rifle itself has more success and appeal.
As such, Ruger's American Rifle Predator model sports a plethora of peculiar features that tell it apart from the other American Rifle variants; first and foremost of all is the cold-hammer forged, black oxide finished, tapered barrel, sporting a heavier-than-standard profile and a threaded muzzle that allows the quick attachment of silencers or sound suppressors (when and where allowed by law) or additional flash hiders.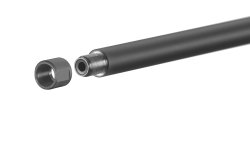 The bued, bar stock machined, 4140 chrome-moly steel receiver hosts a full-diameter body bolt, with two locking lugs, dual cocking cams for smooth and easy cycling from the shoulder, and a 70° throw that ensures full scope clearance. A factory installed, one-piece machined, hard-anodized black, MIL-STD-1913 "Picatinny" aluminium rail can be found on top of the receiver itself, allowing the shooter to quickly install any commercial scope or other optical devices on the Ruger American Rimfire Predator.
The barrel/receiver group are solidly secured to the moss green composite stock by Ruger's patented "Power Bedding" system, which replaces the traditional recoil lug with two embedded aluminium action blocks, providing a solid bedding while retaining full barrel floating for maximum accuracy. The Ruger American Rifle Predator also sports a highly visible, readily accessible and easy to operate tang-mounted two-position safety switch, gripping surfaces on the grip and handguard, a rubberized recoil pad for more comfortable shooting, sling swivel studs, and a Ruger "Marksman Adjustable" trigger, whose weight can be set by the shooter in a 2/5lbs. (1,36/2,26 Kg. approx.) range through a set-screw.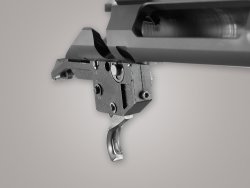 Ruger's American Rifle Predator model will be available in six different, very popular hunting and sports shooting cabilers: .204 Ruger, .223 Remington, .22-250 Remington, .243 Winchester, 6.5 Creedmoor and .308 Winchester; the flush-fit, detachable, rotary-dispenser magazine will hold five rounds of .204 Ruger and .223 Remington ammunition, and four rounds of all other calibers.

Ranging between 6.25 and 6.62 lbs. (2.8/3 Kg. approx.) in overall weight, the Ruger American Rifle Predator model is 42-inches (1.5 Mt. approx.) long overall, and sports a 22-inches (55.8 cm.) barrel; the .308 Winchester version is a little bit shorter than standard, offering a 38-inches/96.5 cm. overall lenght and an 18-inches/45.7cm. barrel.

The distribution of the Ruger American Rifle Predator model will start in June 2014 in the United States of America; manufacturer's suggested retail price has been set to 489.00US$, which amount to approximately 357 Euros. There is still no news concerning distribution and pricing outside of the United States; prospective non-US buyers may want to keep an eye on Waffen Ferkinghoff GmbH − Europe's biggest wholesaler and distributor of Ruger Firearms products − and on the rest of Ruger's global distribution network for updates, which are due in the months to come.