The first details about the new products that Davide Perersoli will introduce in 2021 begin to arrive. We start with a double rifle intended for hunters who love tradition and hunting fairness. In fact, it is a new version of the Kodiak Express, a double rifle initially chambered in .45/70, 8x57JRS and 9.3x74 R calibers and later proposed also as a percussion model. Following an evolutionary path already traced with the Howdah pistol, Pedersoli now completes the range of options introducing the Kodiak Express Flintlock, chambered in .63 caliber.
A journey in time with the Pedersoli Kodiak flintlock rifles
The Pedersoli model Kodiak Express presents itself as a firearm with a very refined aesthetics of the past, thanks to the locks enriched by a floral engravings and an unusual crossed checkering pattern that embellishes the grip areas of the stock and forend. The stock is made from walnut wood and oil finished. Consistent with the double rifle's designs, the buttplate is made from metal.

The Kodiak Express features a classic double trigger system with the steel trigger guard extending to the rear to offer a better grip. The double barrels of the Pedersoli Kodiak Express flintlock in .63 caliber are 27.5"/70 cm long and have a brown finish that is perfectly consistent with the rifle's style, with a bead front sight and a rear sight with two folding leaves. The rifling, with a long 1900 mm /1:75" twist rate, is ideal for muzzleloading with bullets and paches. The overall length of the Pedersoli Kodiak Express flintlock is 43.3"/1110 mm, with a weight of 7.7 lb/3.5 kg.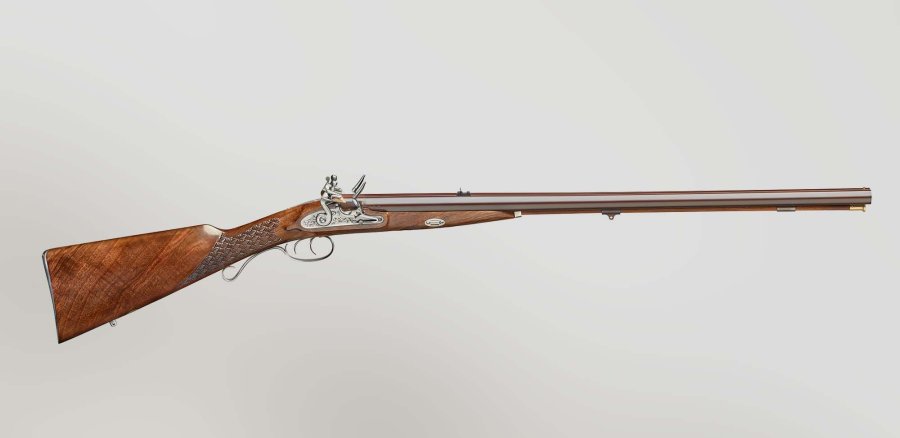 The intended use of this double rifle is wild boar hunting, where it can show all its qualities of accuracy and power. Certainly, it is the right gun if you want to relive the emotions of a time when hunting was an activity that required more dilated times. But with one distinction: if in the early 19th century the use of flintlocks – and later, percussion guns – was the non plus ultra in terms of technology, shooting a flintlock double rifle today is a deliberate choice, a step back to take two steps forwards in the direction of hunting fairness, as someone would say. From this standpoint, Pedersoli's idea of proposing the same double rifle in flintlock, percussion and metal-cartridge versions surely helps to find one's own dimension as a hunter and gun enthusiast.
The Express Kodiak Flintlock will be available starting from June 2021. Pricing has not been announced yet at this time.

---
To learn more please visit the manufacturer's website.