Three new Mark V Carbonmark rifle Models from Weatherby. As stated by the manufacturer, "the newly introduced Weatherby Mark V product line launches many all-new models with features and technologies at aggressive pricing levels."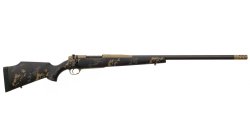 The new rifles are the Weatherby Mark V Carbonmark , the Carbonmark Pro , and the Carbonmark Elite . All three models are guaranteed as sub-MOA platforms and share some interesting features, including the new TriggerTech Mark V trigger, a Cerakote coating on all metalwork, a new spiral fluted bolt, Accubrake ST with standard 5/8×24 threads on all calibers and Monte Carlo fiberglass stock or carbon fiber stock (on select models). TriggerTech's trigger, in particular provides true zero-creep break, extremely short over-travel, and is externally adjustable, ensuring consistent trigger pulls, while the Accubrake ST should reduce felt recoil up to 53%.
According to Weatherby, the 54 degree bolt is the shortest in the industry – as compared to typical 90 bolt throw – and allows for faster chambering on follow-up shots and greater bolt-to-scope clearance.
The most striking feature of the new Weatherby Mark V Carbonmark rifles, anyway, is the BSF Carbon Barrel: thanks to a 416R stainless steel match barrel roll-wrapped with a carbon fiber sleeve loaded under tension to create strength and reduce overall weight, it's lightweight, accurate, and fast-cooling. 95% of the carbon fiber does not touch the barrel allowing air to foil around the steel and rapidly cool the barrel, adding rigidity and reducing overall weight. 
Calibers available are: .257 Wby. Mag., .300 Wby. Mag., 6.5 Creedmoor, 6.5 WBY RPM, 6.5-300 Wby. Mag.
Mark V Carbonmark rifles: accuracy and light weight
In detail, the Mark V Carbonmark sports a hand-laid Monte Carlo fiberglass black stock with gray and tan sponge accents, an FDE receiver/brake/trigger guard with a graphite black spiral fluted bolt and safety lever. Suggested price is 2499 USD.
The Carbonmark Pro features a charcoal carbon fiber stock, tungsten on receiver/brake/trigger guard, graphite black bolt and safety and dual Swivel Stud Attachments. MSRP is 2999 USD.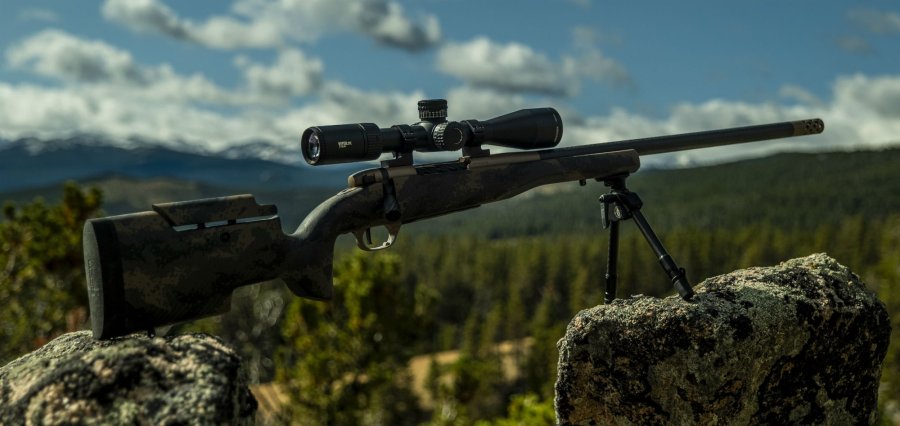 Last but not least, the Carbonmark Elite features an adjustable comb carbon fiber stock with a brown sponge pattern, coupled with Coyote Tan Elite on receiver/brake/trigger guard with a graphite black spiral bolt and safety lever. MSRP for the Elite version is 3299 USD. Depending on the model, weight ranges from a minimum of 6.7 lb with standard action up to a maximum of 8.4 lb with Magnum action (3-3.8 kg). In all the models, the barrel is 5/8×24 threaded to accept a muzzle brake or suppressor.
To conclude with the words of Kevin Wilkerson, Director of Marketing, Weatherby is "incredibly excited to launch these three models of Mark V Carbonmarks in partnership with BSF Barrels. New technologies and high performance lift the entire Mark V family. The new carbon fiber stocks of the Pro and Elite offer many shooting options from hunting to bench shooting all while saving weight."