On the Fasque Estate, Aberdeenshire, at 9 am, a procession of vehicles, lead by Gamekeeper Mark Antcliff, drive miles up the rustic track onto the hilltops of the estate where the weather bears no resemblance to the calm, still, air down at the Bothy.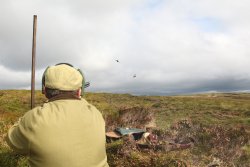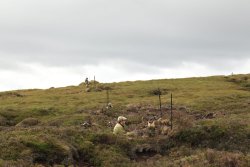 The wind speeds were exceeding 60 mph, every piece of clothing you have on had to be zipped up and buttoned down, hats tied to your head or they would be gone forever. We sat in the grouse butts, and we waited.
Our eyes never stopped scanning the skies. Suddenly, a white mountain hare popped up into view, looked around then dived back under cover of the thick heather. We relax. Suddenly, the birds are flying over the butts like rockets, twisting and curling and taking full advantage of the windy conditions.
The shooters aim, swing though and blast two barrels in quick succession. 
The birds' speed is incredible; moving as if propelled by tiny rockets under each wing, and rendering them practically impossible to hit. After the first drive, everyone gathered back at the vehicles for elevenses (a traditional short break for light refreshments), there was a mixture of excitement and shocked expressions on the shooting party's faces, and a lot of humour exchanged about the standard of the shooting.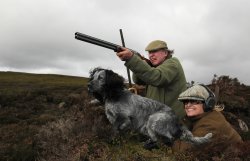 For the next two drives, the Keeper and his team worked hard and pushed the birds over the butts. The conditions challenged the most seasoned of game shots. 
After lunch in a sheltered spot in the heather, we secured our coats and hats for two more drives. The first drive of the afternoon was stunning; vast open views across eastern Scotland as far south as Fife. Suddenly the birds come into view, they're over the butts and out of sight in the blink of an eye, catching some of the shooters off guard and firing too late.

There are grouse days to suit most budgets, it can be one of the most exhilarating day's sport you will ever experience, and it takes part in some of the most beautiful countryside in the world.
Linda Mellor is one of Scotland's foremost shooting, fishing and hunting female writers and photographers. She is the product Ambassador for Venator Pro, a premier hunting company and stockist of the European brand Hillman. With a lifetime of countryside experience, Linda's passion, enthusiasm and respect for the outdoors and hunting is explored and shared across her writing and photography. 
For more information on Linda Mellor, please visit Linda Mellor's website, Twitter (LindaMellor) and instagram (linda_mellor).