A few weeks ago, after a successful afternoon target shooting, Kenneth Larsen invited me out on a live stalk.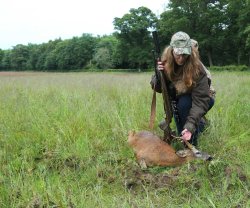 It was 03:30 am when Kenneth and I travelled to Abercairny Estate, 16 miles west of Perth. 
The beautiful estate, with a mixture of arable and mature woodland, provides a prime habitat for Roe deer. 
The light from the morning sky was good as we drove into the estate; we passed through thick forests before parking up close to a large potato field. 
We quietly left the vehicle, taking the rifle and sticks and stalked down a track. 
We used our binoculars to search the fields and woodland edges for signs of deer. 
We saw nothing. After a while, we backtracked and headed west towards a large open area of old game cover crop. And there, browsing in the cover crop, were two bucks. 
We stalked in closer, crouching down and using the tall grass for cover. We selected the bigger of the two. Quickly and quietly, I set up the Tikka T3 .243 rifle on the sticks approximately 90 metres from the deer. As I steadied myself by taking slow, deep breaths, I was telling myself, 'focus, this is it!'
I looked through the Zeiss Diavari scope, watching and waiting for the buck. It turned full broadside, Kenneth whispered, 'take the shot'. I calmly exhaled, held my breath and squeezed the trigger. The buck jumped up, ran a few metres then dropped down. I reloaded, watched and waited. Ten minutes passed.
We walked over to the buck, Kenneth touched the eyeball with his stick before pulling the beast out from the tall nettles. As a mark of respect, I picked some nearby leaves and placed them in the buck's mouth, we took our hats off, and Kenneth and I shook hands.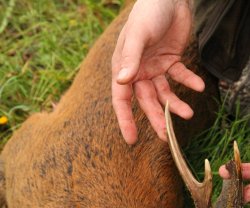 It was a perfect cull buck as the antlers were deformed and pointy; this would have caused severe damage to others in a fight. As Kenneth gralloched the deer, the midges started to bite, and it began to rain. Our timing had been perfect.
It was an honour to stalk my first roebuck, and I have no doubt I shall be out again, soon.
---
For more information on Linda Mellor, please visit Linda Mellor's website,  Twitter @LindaMellor and instagram @linda_mellor.