This video has been hidden because of an external service (YouTube) that could potentially collect personal data.Allow video services for the duration of the visitAllow video servicesStop allowing video services
This video has been hidden because of an external service (YouTube) that could potentially collect personal data.Allow video services for the duration of the visitAllow video servicesStop allowing video services
This video has been hidden because of an external service (YouTube) that could potentially collect personal data.Allow video services for the duration of the visitAllow video servicesStop allowing video services
This video has been hidden because of an external service (YouTube) that could potentially collect personal data.Allow video services for the duration of the visitAllow video servicesStop allowing video services
This video has been hidden because of an external service (YouTube) that could potentially collect personal data.Allow video services for the duration of the visitAllow video servicesStop allowing video services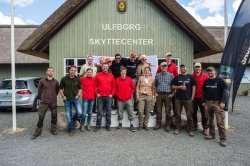 Zeiss Field Shooting Weekend is a competition for journalists, hunters and sport shooters from all over the world that will challenge each other in the widest array of simulated hunting situations such as running target, long range and clay shooting.
The 2014 event has been sponsored by Zeiss Optics, RWS Ammunition, Härkila hunting clothes, Sauer Rifles and Blaser shotguns. About 25 media professionals have been selected to attend the event and gather at the range for the competition. 
Ulfborg Skyttecenter is a rather unique training facility all over Europe, with 35 shooting stands ranging from 25 to 600 meters. Here shooters can practice on silhouette, steel plates, reactive and moving targets in a beautiful natural environment, where sand dunes alternate with a thick forest. The shooting range also offers accommodation for visitors that can spend the night in four-bed rooms or chalets and have a meal at the club house cafeteria.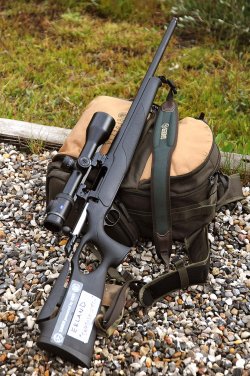 The first day of the Field Shooting Weekend was dedicated to training under the guidance of skilled instructors. 

Each participant was given a "Hunter kit" consisting of a Sauer 202 Synchro XT Compact bolt action rifle in .308 Winchester caliber, equipped with a Zeiss Victory V8 2,8-20x56 rifle scope. Ammunition were RWS EVO and EVO Green. 
Also a backpack and a shooting stick were provided. Zeiss Conquest HD and Zeiss Victory HT binoculars as well as Zeiss Diascope 85 FL spotting scope were also used by instructors to check the targets during the shooting. The Härkila quality hunting clothing brand provided some traditional checkered hunting shirts, much appreciated by participants.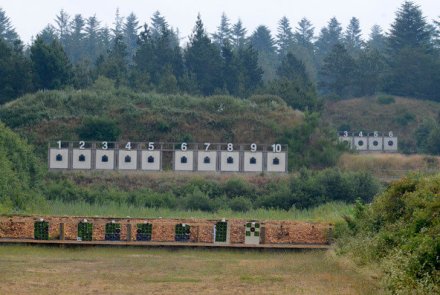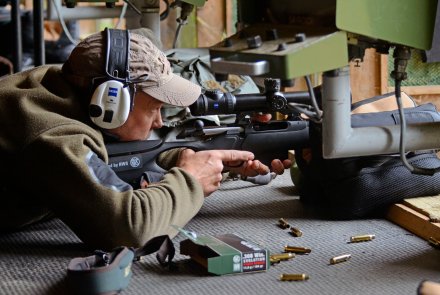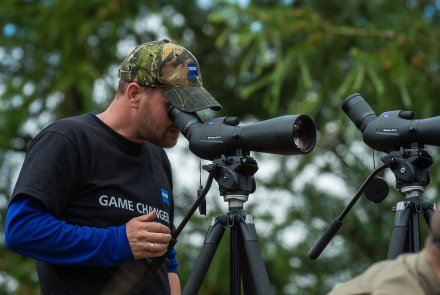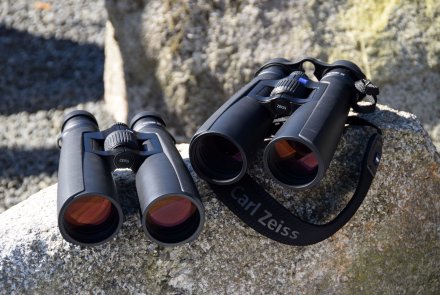 The first part of Training Day consisted in optical sight setting and zeroing, parallax and reticle adjustment, understanding and practicing shooting stances (standing, kneeling, prone), correct use of the Zeiss ASV adjusting system. Then the experience continued in different shooting ranges, each of them dedicated to a specific topic. 
RWS held an interesting clinic with live fire demonstrations of the new RWS EVO and RWS HIT hunting rifle ammunition, showing to the shooters how to measure and evaluate the permanent cavity of the bullets on ballistic soap blocks.
Shooters also had to face the challenge of clay shooting and two different running targets: wild boar (at 30 meters shooting distance), and elk (80 meters).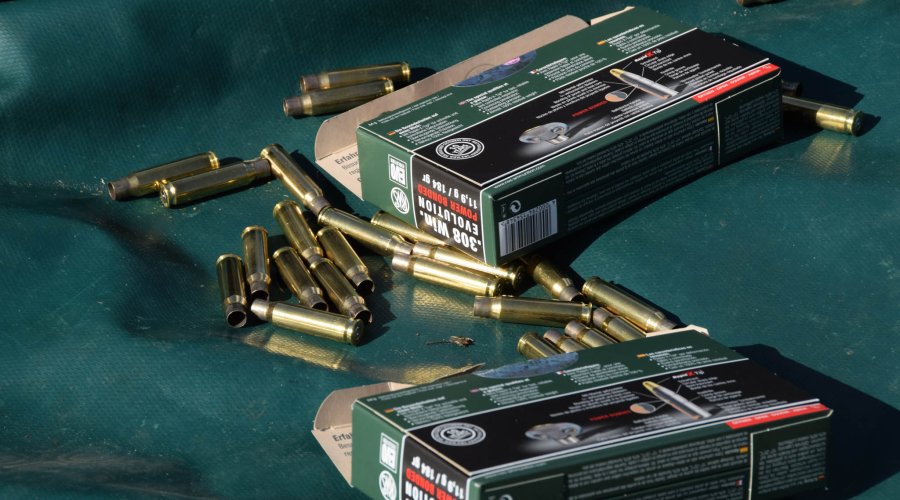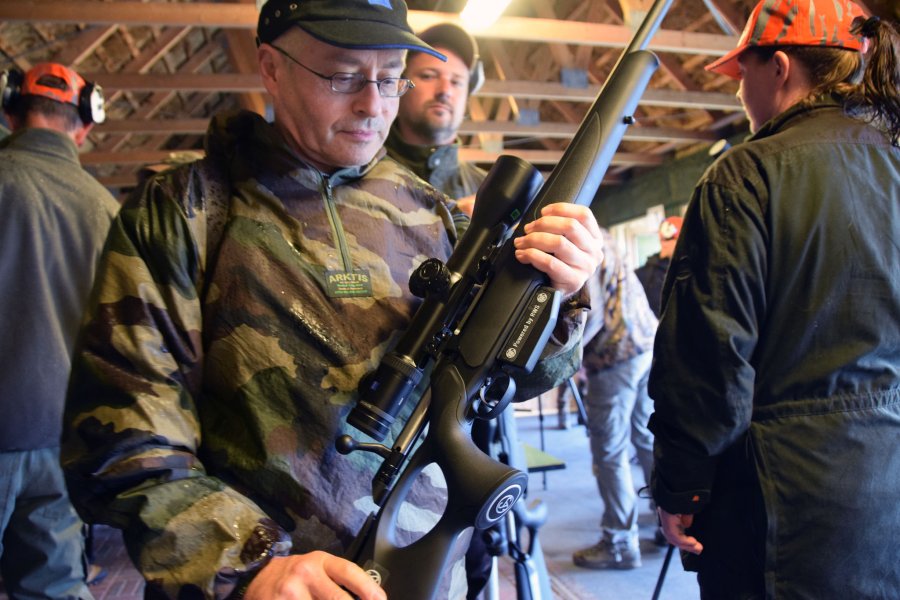 Equipment
Each participant received a .308 Winchester caliber Sauer Synchro XT Compact carbine, the latest update of the acclaimed Sauer 202 bolt action rifle that features a syntetic thumbhole stock with adjustable cheeck-piece and soft touch coating and five rounds detachable magazine. Barrel length is 51 cm.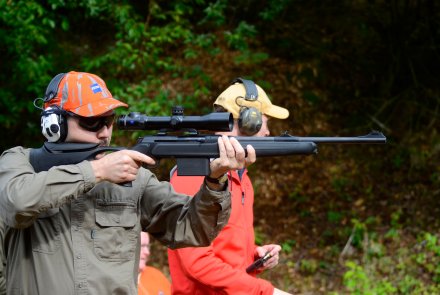 For running target stages, Sauer 303 autoloader carbines were used, while for the clay shooting class and challenge the new Blaser F3 over-under was available in several configurations. Rottweil Steel Trap 24 and 28 grams 12 gauge ammunitions were on the field.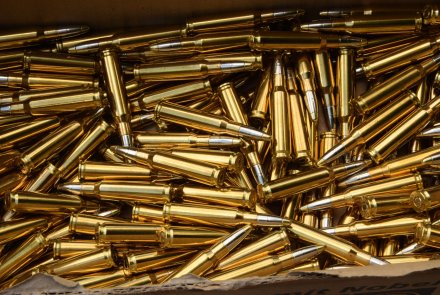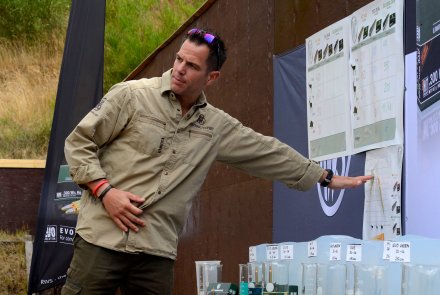 RWS EVO and RWS EVO Green ammunition were used trough the competition. The EVO ammunition family is a cartridge fit for large game even at long distance. Due to the special bonding of the lead core with the tombac jacket the EVO bullet ensures a weight retention of almost 100%.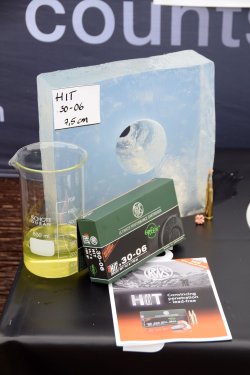 EVO Green ammunition is a revolutionary leadless bullet with pre fragmented double density tin core and Speed Tip bullet point that enables an impressive shock effect.

The new RWS HIT (High Impact Technology) ammunition is a great lead-free choice for hunters who prefer a non-fragmenting bullet. The nickel plated solid copper bullet ensures powerful penetration with minimal meat damage even through thick bones. TC twin compression polymer tip features two hollow cavities that ensures a flat trajectory and a reliable initial deformation, while Active Crater Cavity on the front edge of the copper bullet provides accelerated mushrooming with greater stopping power.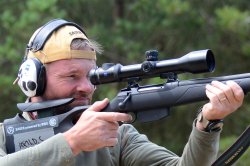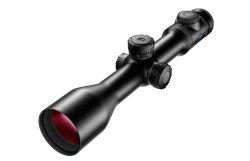 On the lens side, the provided Zeiss Victory V8 scopes were introduced at IWA 2014 and set a new standard in hunting optics. Available as 1,8-14×50 and 2.8-20×56, Zeiss Victory V8 features a 36 mm tube, Schott lenses with T* multilayer coating that allows a light transmission rate of 92%. It can be equipped with a new bullet drop compensation turret called ASV LongRange with enough elevation to reach out to about 600 meters. Reticle is placed on the second focal plane is "Zeiss 60" with red illuminated dot.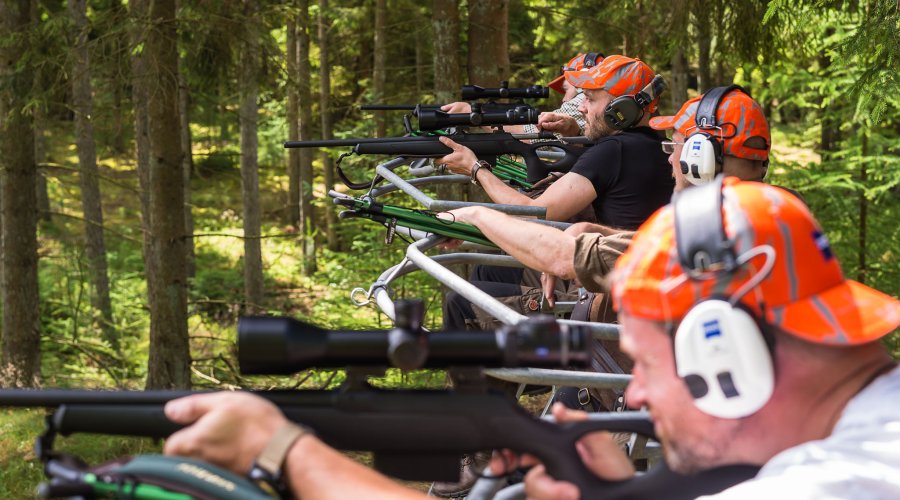 The competition
After a quick breakfast, Sunday at 8.00 the fully equipped participants left the club house, heading to the 18 stages of the competition. Each of them carried the rifle, a backpack with binocular and ammunition, a shooting stick and the mandatory ear protections and blaze orange cap. Shooting was only half of the struggle, as the shooters had to walk fully equipped for about 10 kilometers to reach the various ranges and check for the targets.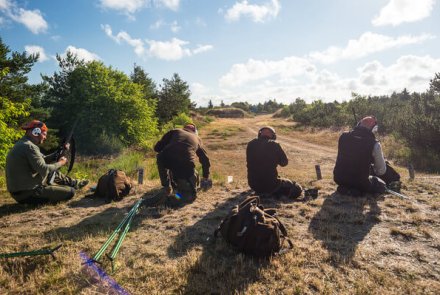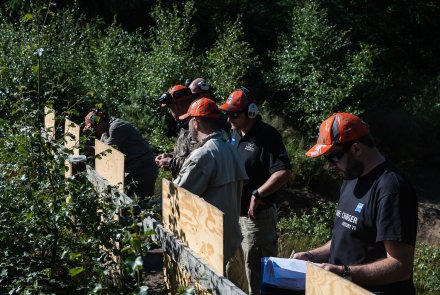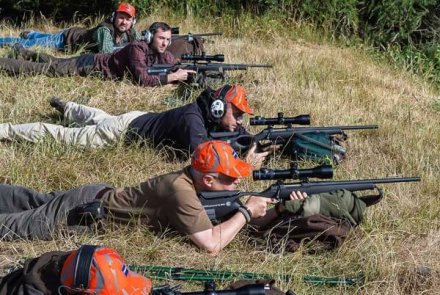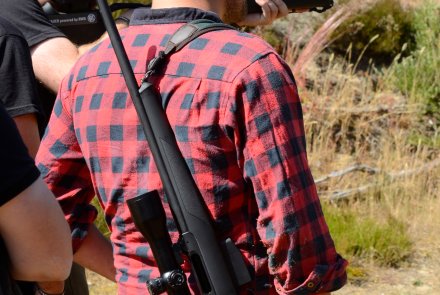 One of the funniest exercises involved Härkila hunting clothes and Zeiss binoculars. The shooters were asked to scan a dark area of the forest with the binocular, unaware that a guy was hidden in the bush completely disguised in Härkila Optifade camouflage hunting clothes. The goal was to see the guy and report him to the instructor. It has not been that easy…
As a result of the event, the perfect interaction between rifle, optic and ammunition, along with the incredible personal expertise of the participants, gave amazing shooting performances: one of the participants managed to hit four times in a row a small steel target at a distance of 540 meters! We have to put great emphasis on the fact that guns, optics and ammunitions used by the shooters were "standard products" intended for hunting and not for long range shooting; looked at from that angle the performance is even more impressive.
The match ended at around 13.00 and after a quick lunch the awards ceremony crowned the third edition winners. 
This year champion is the free-lance journalist Ulf Lindroth from Sweden (first place), followed by Norvegian professional hunter and filmmaker Kristoffe Clausen (second place) and Max Suominen, from Finland (third place).

Apart from the ranks, the competition was a pleasant excuse to spend some days with friends in a wonderful location, having fun shooting and testing extraordinary and reliable products.
Around 30.000 RWS EVO cartridges shot in just 36 hours speak for themselves!