A sense of deja-vu is what we feel handling the Pulsar Digisight ULTRA N355 hunting digital night vision riflescope for the first time. Having already tested the Pulsar Trail and Helion thermal optics, we realize that its signature design is actually a very clever and distinctive engineering achievement. As a matter of fact, the Pulsar Digisight ULTRA N355 is part of a new generation of digital night vision riflescopes that share a new unified architecture design philosophy with all new top-end Pulsar opto-electronic products.
Pulsar Digisight ULTRA N355 digital night vision riflescope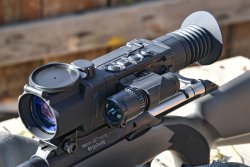 But, let's first take a look at what the ULTRA N355 has to offer.
This riflescope is based on a highly sensitive ½" size, 752x582 pixel monochromatic CCD sensor that is compatible with both the darkest night and full daytime use; a detachable, variable power and focusable 940nm long-range invisible IR illuminator can be added to the device for those truly dark situations.
A high quality 640x480 OLED full color microdisplay relays the image through a long eye-relief eyepiece, allowing the use of five selectable pre-set color palettes to enhance the image according to viewing conditions or hunter's preferences.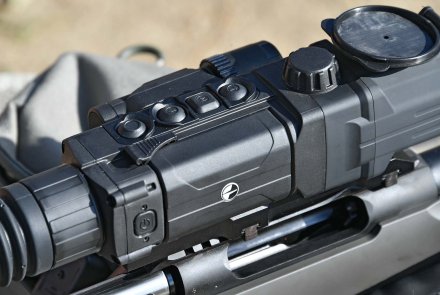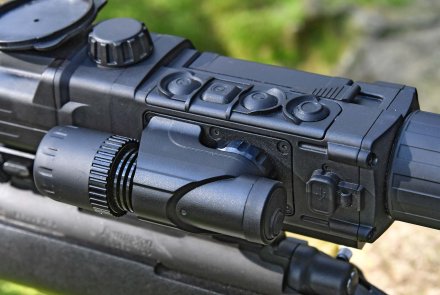 The native magnification is 3.5x, and thanks to a 4x maximum digital zoom, it reaches 14х, in both step-up and continuous magnification modes. A Picture-in-Picture mode can be selected for more accurate shot placement. Digital zeroing allows to store in memory 15 zeroing distances and three zeroing profiles, making a quick switch between multiple rifles and types of hunting loads possible.
Digisight ULTRA N355: Pulsar unified design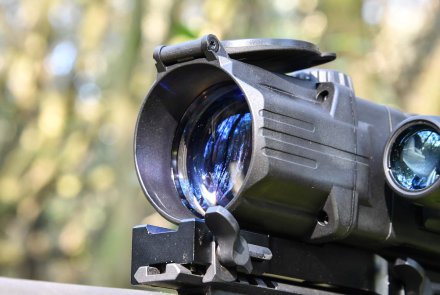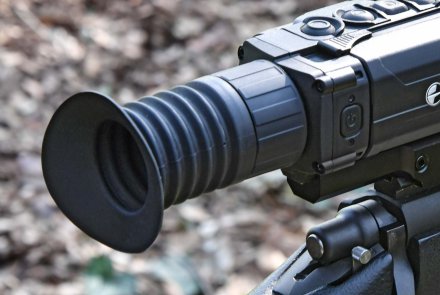 Back to the Pulsar unified design. Essentially, most of Pulsar's top-end optics now share the same overall design, basic hardware, electronics and interface specifications, for a truly modular manufacturing approach. Pulsar conceived a high capacity rechargeable Lithium battery form factor with a quick-detach interface: the B-pack power supply system.
B-pack batteries are available in two sizes, IPS5 and IPS10, for up to 10 hours continuous use. There are also adapters optionally available to use commercial batteries, such as AA cells.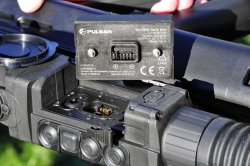 The Pulsar Digisight Ultra N355 riflescope is quite compact and lightweight, measuring just 314mm in length and weighing just 900g - IPS5 battery included. The ergonomic body is a fully sealed glass-fiber reinforced Nylon technopolymer housing, that is IPX7 certified waterproof (the instrument can be fully immersed in water for short periods of time). 
The case can withstand the recoil of heavy rifle calibers (9.3х64, .30-06, .300, .375. etc, with a suggested limit of 6000J); smoothbores and air gun recoil are easily handled as well.

The controls on the top of the housing include a row of four buttons, used to manage all the functions, plus the power ON button on the right side. Each button has a different texture and shape so the operator can tell which is which by feel even in the dark. The removable IR illuminator has a small button on its rear for activation; the illumonator socket is protected by a threaded cap. The Micro USB port is used for recharging the B-Pack (although a charging battery plate adapter  is included) and to download video recorded on the integrated 8 Gb storage. A Wi-Fi module for video streaming to smartphones or internet including live direct streaming to YouTube, using the free, iOS and Android compatible, Stream-Vision app is also featured.
This video has been hidden because of an external service (YouTube) that could potentially collect personal data.Allow video services for the duration of the visitAllow video servicesStop allowing video services
The Digisight ULTRA N355 riflescope uses a separate Picatinny rail grabber mount, that can be fitted in one of three positions on the body of the device, to optimize the shooter's eye placement with the gun. This mount can be replaced by an optional quick release Picatinny lever mount; proprietary mounts for specific firearms are also available.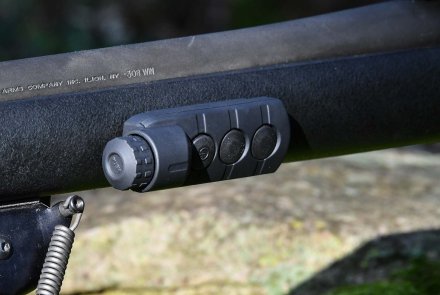 A small remote is included, that can control virtually all of the functions of the Digisight Ultra 355. We found this remote to be very handy, as it provides an encoding wheel that allows immediate adjustment to brightness, contrast, etc. and it can be easily mounted on the firearm, or kept in your pocket.

Test: Pulsar Digisight ULTRA N355 riflescope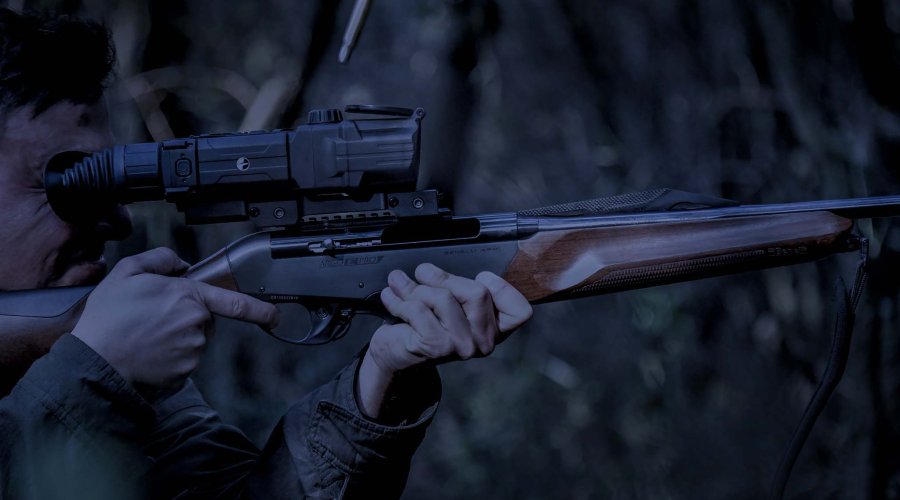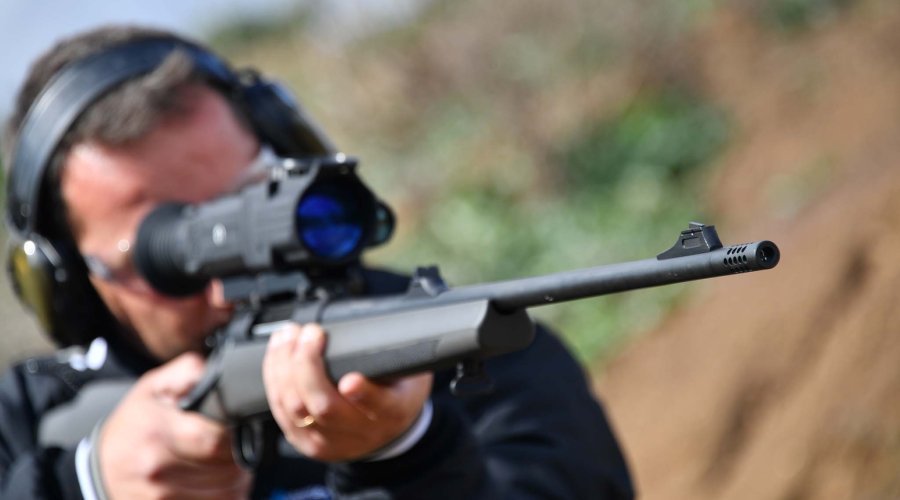 The image through the riflescope is extremely sharp and surprisingly clear, in night time conditions: a quarter moon, no IR illumination engaged and clear sky. Maximum range is about 400 meters, with a claimed detection range of 500m. The large sensor is able to capture more light with less noise and in our experience, it is possibly the best we have ever seen fitted on a portable night vision device. performance in daylight is also excellent, although in full noon sun conditions it may be necessary to close the lens cap and use the small hole, just like with an IIT equipped device.

The Picture-in-Picture mode is also very handy; the magnified image of the reticle area at the top of the display uses on 10% of the available field of view and proves to be invaluable in improving accuracy while retaining situational awareness. 
Learning curve is not too steep, especially if the shooter has had experience with other Pulsar devices. All in all, this digital sight is – performance wise - a very credible contender to expensive and sometimes difficult to obtain image intensifier tube equipped night vision riflescopes, with a distinctive advantage thanks to the valuable digital features and enhancements and, last but not least, its sensibly lower price tag.