The acclaimed and popular Helion thermal monocular scopes and Accolade thermal binoculars series for sports, hunting and professional use are the flagships of Pulsar's thermal imaging observation offer, and the European manufacturer has been constantly evolving and improving both lines of thermal optics. 
Features of the new models Accolade 2 LRF XP50 PRO and Helion 2 XP50 PRO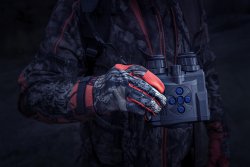 fotografas Karlas, © fotomax.lt
Today, Pulsar releases two major updates to these two lines of products, introducing at this year's Virtual Shot Show the completely redesigned Helion 2 XP50 PRO and Accolade 2 LRF XP50 PRO, based on the highest performance uncooled Amorphous Silicon Microbolometer FPA (Focal Planar Array) sensor ever used in these products: a state-of-the-art 640x480 resolution Sensor with 17 μm pixel pitch, full frame rate (50 hz) and amazing <25 mK NETD sensibility, for extended long detection range capabilities, up to 2000yd/1800m. 
Several improvements have also been added to both devices, mostly to support the advanced sensor technology.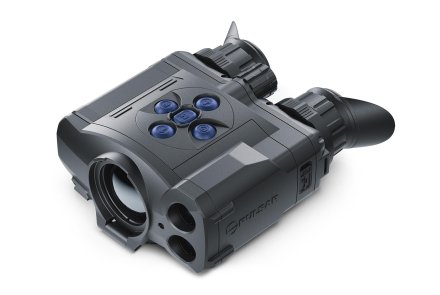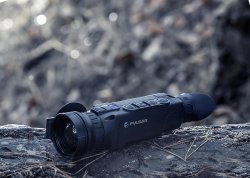 ARTURAS MOISIEJENKO, © comstudio 2020
The objective is similar in both thermal imaging devices: a 50mm lens featuring coated Germanium elements with a fast relative aperture, D/f' of 1:1.2 in the Accolade 2 PRO and 1:1 in the Helion 2 PRO; the minimum focusing distance is about 3m. The objective allows for a native magnification of 2.5x, that is digitally zoomed to 10x in the Helion 2 PRO and 20x in the Accolade 2 PRO.  The Accolade 2 LRF XP50 PRO also features a laser range finder with 1000m measuring capabilities in both single and scanning modes – the Helion 2 PRO uses a stadiametric rangefinder.
The Pulsar Helion 2 XP50 PRO features a full color AMOLED HD display with 1024x768 resolution, with a wide eyepiece that allows ± 5 diopter adjustment, with 5mm exit pupil and 15mm eye relief suitable for prescription glasses wearers. The Pulsar Accolade 2 LRF XP50 PRO binocular instead offers a double, full color AMOLED display with 640x480 resolution, and eyepiece differs only in eye relief, which is 16mm.
Both thermal imaging observation devices feature a built-in video recorder with 16GB of onboard memory, Wi-Fi module with IOS and Android Stream Vision app support, Image Boost technology, Micro USB port, long-life quick-change Li-Ion proprietary IPS7 B-pack battery with up to 8 hours of operation (7 in the Accolade 2 PRO), and last but not least, a Magnesium, rugged IPX7 waterproofed housing. Additional features and detailed specs, including availability and European pricing, will be available soon on all4shooters.com – stay tuned!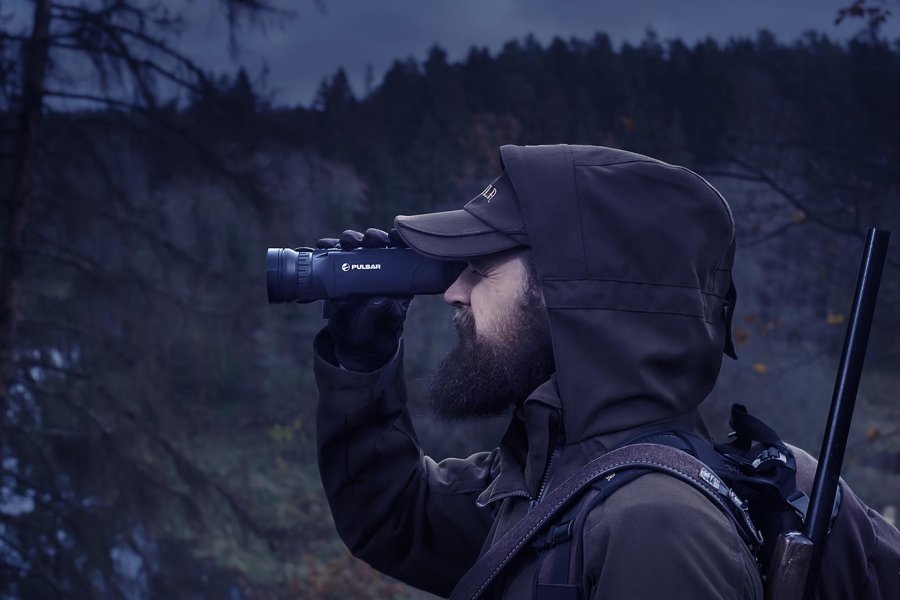 fotografas Karlas, © fotomax.lt
---
For more informaton please visit the Pulsar website.

Find all the news from SHOT Show 2021 on all4shooters/all4hunters.