It would be natural to look at the Pulsar Helion 2 XQ introduced today and simply pass it as a minor restyling, with a different design of the housing and naming, very similar to the previous generation Helion entry models. Instead – and the "2" in the name should be a very strong hint – we are looking at a completely redesigned and new model, that actually shares little from last year's optical instrument.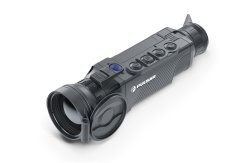 The new Helion 2 XQ integrates the same second-generation technology for the sensor and thermal processing engine of Pulsar's latest thermal imaging achievements, with high sensibility 40 mK NETD uncooled microbolometer and improved image processor. The resolution is a standard 384x288 pixel, that is enhanced by quick 50Hz frame rate, superior sensitivity of the Amorphous Silicon microbolometer, Image Boost processing technology and excellent, superfast F:1.0 Germanium objective lens elements optics.
The new Helion 2 XQ line is available in two models, differing only by the fixed objective focal lengths and therefore magnification: the Helion 2 XQ38F with a 35mm/3x magnification, and Helion 2 XQ50F with 50mm/4.5x; native magnification can be digitally zoomed up to 12x and 18x respectively.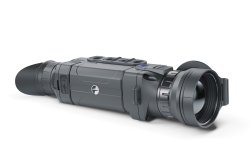 Improved optics and sensibility means enhanced detection range, with 1350 and 1800 meters to detect a 170 cm tall live object respectively for the Helion 2 XQ38F and XQ50F. All upgrades introduced with Generation 2 of Pulsar's thermal imaging architecture are obviously present in the Helion 2 XQ: 16GB video recording memory, WIFI connectivity with Stream Vision app support, reduced startup time, AMOLED full color, HD resolution EVF and redesigned eyepiece optics, and extended operation time of 9 hours with a single charge of the field replaceable IPS7 proprietary Li-Ion battery.
Last but not least, the body design: reminiscent of the style introduced for the first time on the Axion super compact thermal monocular, the Helion 2 XQ reprises its sleek magnesium alloy metal housing with a dimpled finish and high grip rubber panels; weight is between 450 and 500 g depending on the lens.
MSRP is 2290 euro for the Helion 2 XQ38F, and 2490 euro for the Helion 2 XQ50F – there may be small variations from region to region due to EU different VAT.