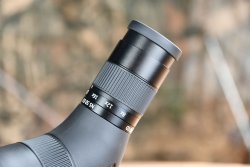 Weighing just 18.7 oz/530 grams and with the length of a medium-sized Chiquita banana, the mini spotting scope by Noblex even fits into a spacious jacket pocket, complete with its case, if necessary. Despite the low price, the coated lenses deliver a sharp and true-color image. And the new 8-24x50 ED is also protected against water spray. The eyepiece can be used to compensate for ametropia of up to +/- 6 diopters and the eyepiece interpupillary distance can also be adjusted for spectacle wearers. The manufacturer provides a five-year warranty.
Noblex NS 8-24x50 spotting scope in practical test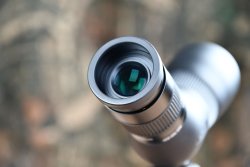 Featuring a lightning-fast 8x to 24x optical zoom and a powerful 50-mm diameter lens, the Noblex NS 8-24x50 mini spotting scope exceeds the limits of conventional binoculars. A special glass with anomalous partial dispersion (ED) is used for the the lenses, which ensures clear, color-neutral vision even at high magnifications (24x).

For our practical test the small spotting scope had to prove itself on the short gun range, the long gun range and on the high seat. The optic was particularly effective on the 25 m stand: the Noblex hardly takes up any space in the range bag and, due to its low weight, it does not requires any special mount in the form of clamps or a compact tripod. At 50 m, it still meets many requirements. For the 100-meter stand, the performance is still quite satisfactory – depending on the lighting situation.

It's certainly not the first choice for particularly unfavorable combinations such as black targets, small calibers and dim target illumination, or dwindling daylight. For rifle shooting a more powerful spotting scope is worthwhile in case of doubt – in the 40-50x magnification range there are also very inexpensive and still relatively compact alternatives such as the Kowa TSN-502 (approx. 270 euro with angled view) or the Nikon Pro Staff 3 16-48x60 (approx. 315 euro) with straight view.
As a companion for the raised hide, the tiny Noblex made a great impression in good light conditions within its performance parameters.

Noblex NS 8-24x50 mini spotting scope specs and price
| | |
| --- | --- |
| Model: | NOBLEX 8 - 25 x 50 ED |
| Price:  | 299 euro (MSRP in Germany - Price may vary in your country) |
| Exit Pupil (mm): | 2.1-6.2 mm |
| Field of View at 1000 m (m): | 42 - 88 m |
| Objective Diameter (mm): | 50 mm |
| Twilight Performance:  | 34.6-20 |
| Diopter Compensation (dpt): | ± 6.0 |
| Weight: | 530 g |
| Tripod socket:  | 3/4 |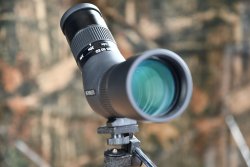 Noblex NS 8-24x50 ED – Test conclusion
Obviously, the tiny 50 mm lens cannot replace a fully-grown premium model with a 65 mm lens upwards. But these devices, complete with eyepiece, quickly cost over 1500 euro, sometimes even twice as much. Many hunters prefer considerably smaller and more compact models, for example an Optolyt 25x70, and here the new Noblex is even shorter and considerably lighter. As an ultra-compact spotting scope, this model certainly plays in its own league. The price of 299 euro is more than ok for the offered performance.