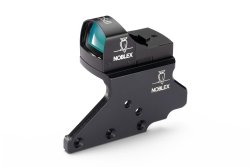 When designing the new IPSC mount for mounting red dot sights on pistols, the developers at Noblex were very closely oriented to the requirements of IPSC shooters. However, the new mount can of course also be used for all other shooting sports disciplines in which red dot sights may be used. The new Noblex mount is an all-metal construction made of aluminum. Metal surface is protected by a black hard anodized coating. The mount was tested with tens of thousands of rounds during the development phase and can be used in a variety of applications. Unlike conventional mounts, Noblex's new Red Dot mount is not fitted onto the pistol slide, but on frame side holes compatible with standardized C-More mounts. This allows shooters to attach the mount themselves to a gun that already has such threaded holes without much effort.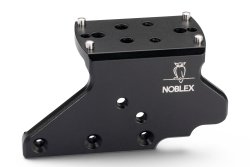 The red dot sight is then mounted using the so-called "Docter/Noblex Footprint", an interface to which not only all Noblex red dots can be mounted, but which is now also used as a base by several other optics manufacturers.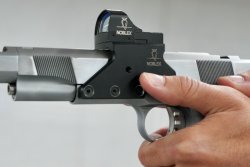 The Noblex mount will accept, for example, the company's own NV Sight II plus IPSC red dot. This Noblex reflex sight, or any other, can be mounted extremely low above the slide using the new IPSC mount, so that the sight line is also extraordinarily low above the barrel bore axis. This should allow the shooter to fire quickly at a variety of ranges. In addition, the rigid mounting just above the slide brings other advantages. Because aiming optics do not move with the slide, the shooter should not lose sight of the target when firing, which consequently then also allows him to place the next hit on target more quickly.

New Noblex IPSC mount: top shooters say it could play the decisive role in the outcome of a competition

IPSC shooter and multiple German champion from the GECO team, Luis Ehrhard, says: "Since the density of talented shooters in IPSC shooting is extremely high at the top, I am happy to have developed such a mount together with Noblex E-Optics, which can definitely make the difference between first and second place."
In addition, with this type of mount, the forces that act on a red dot sight moving with the slide do not even occur. Therefore, Noblex predicts a longer service life for both the sight and the mount itself here than is the case with a slide-mounted type. Thus, the manufacturer offers a 10-year warranty for its new IPSC mount as a "quality promise from the Noblex engineers". The new IPSC mount from Noblex is available immediately from authorized dealers. The manufacturer estimates the price (RRP in Germany) at 199 euros.
---