The new models were developed at the MINOX factory in Wetzlar and are designed to meet the requirements of hunters as well as sports shooters. MINOX promises another step up from their already impressive workmanship as well as a significant improvement in terms of precision, quality and reliability. But let's not diverge further.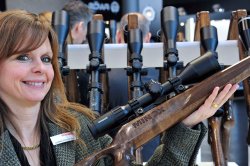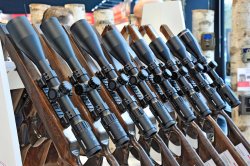 MINOX: three new ZX5 series riflescopes for daytime hunting
The ZX5 series of riflescopes, available with and without illuminated crosshairs, is generally suited to use in low light conditions such as the typical German hunting opportunities during early dawn and until late dusk. Due to international demand, MINOX now adds three models with reduced lens diameter that are uniquely suited to daytime hunting: The ZX5/ZX5i 2-10 x 45, 3-15 x 50 and 5-25 x 50.

The 30mm main tube and the 5-fold magnification range offer a maximum of flexibility and precision for short to long distance work. The large field of view aids the hunter in target recognition and accquisition as well as enabeling him to make sure nothing unwanted is close to the target.
The eye relief was increased to 100mm to faciliate shooting with glasses and avoid scope kisses when shooting magnum calibers.
All ZX line riflescopes are made from anodized, shock- and scratch resistant aircraft aluminum. Additionally an argon filling prevents fogging. The buyer can choose between German 4, BDC and Plex plain or illuminated recticles. As a battery saving feature, a motion sensor will turn off the illumination after 2 hours of inactivity.
The technical details of the three new ZX5 riflescopes
Minox ZX5/ZX5i

MINOX ZX5/ZX5i 2-10x45

MINOX ZX5/ZX5i 3-15x50 SF

MINOX ZX5/ZX5i 5-25x50 SF

Magnification max./min.

2-10x

3-15x

5-25x

Front lens diameter (mm)

45    


50

50

Exit pupil max./min. magnification  (mm)

4,5/11,4

3,3/11,4

2,0/10,0

Field of view at min./max. magnification at 100m (m)

37,1/8,2

18,9/4,0

11,9/2,6

Eye relief (mm)

100

100

100

Diopter adjustment (-/+)

-3,0/+2,5

-3,0/+2,5

-3,0/+2,5

Elevation and windage travel / per click (MOA*)

1/4
7,5mm/100m

1/4
7,5mm/100m

1/8
3,6mm/100mm

Focal plane of recticle

2
2
2

Power supply

Battery CR 2032

Battery CR 2032

Battery CR 2032

Dry argon purge

Yes    

Yes    

Yes    


Tube diameter (mm)

30    

30    

30    


Overall length (mm)

285

335
372

Weight (g)

605/630

715/740

745/770
*Minutes of Angle
Technical details and MRSP of MINOX can be found at all4hunters.com

MINOX MD 88 W spotting scope: Fascinating resolution down to the smallest detail
The MD 88W features a stepless adjustment from 20x to 60x magnification and an 88mm objective. The minox spotting scope serves more than just the target shooter, it excels at bird watching as well as general wildlife observation. 
The MINOX MD 88 W employs state of the art optical coatings offering a vividly colored, high contrast and crystal clear picture.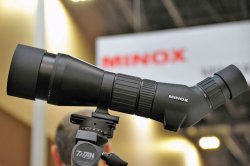 MINOX MD 88 W: Usability at the hightest level
For ease of use, the dual focus system permits a quick adjustment towards a spotted object while a second dial allows the user to fine tune the focus. The longitudinally adjustable tripod mount is a feature much sought-after by sports shooters. Another nice feature for outdoor is the retractable lens hood preventing unwanted reflexes whenever needed. Further features include camera and smartphone adaptors for wildlife photography. 
The technical details of the MINOX MD 88 W spotting scope
| | |
| --- | --- |
| MINOX MD 88 W | |
| Magnification     | 20-60x |
| Entry pupil | 88 mm |
| Exit pupil | 4,4 ~ 4,6 mm |
| Field of view | 42 m - 19 m at 1.000 m |
| Eye relief | 21,76 - 20,27 mm |
| Close focus | 7 m |
| Operating temperature | -10° ~ + 40° C |
| Waterproof | yes, bis 5 m     |
| Dimensions | 415 x 100 x 140 mm |
| Weight     | ca. 2.072 g |
The MINOX MD 88 W will be available at an MRSP of 1.669,- EUR. A carry bag is included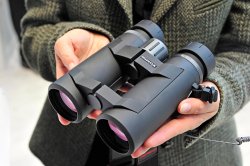 MINOX binoculars redesigned
Another IWA 2016 announcement is a redesign of the well-known BL HD binoculars. The two 8 x 44mm and 10 x 44mm models now feature an improved field of vision and better contrast. Additionally MINOX now offers a 30 year warranty on all of their binoculars.