With the recently introduced and improved RX rangefinder series Leupold is now offering an even more interesting and competitively-priced choice. All the models share some characteristics such as a high performance laser engine, a fully multi-coated lens system and are waterproof. They are available with black or camo finish and Plus Point, Duplex or Duplex Plus Point reticles.
Leuopold rangefinders for any need
First comes the RX-2800 TBR/W model: designed for long range shooting, it's guaranteed for a ½ yard accuracy up to 2,800 yards/2560 m, with 7x magnification. The new proprietary Alpha IQ ranging engine makes ranging smaller targets quicker, while Leupold's True Ballistic Range (TBR) technology takes into account the angle of your shot and your rifle's ballistics for perfect accuracy. The RX-2800 TBR/W also features a ballistic compensation system with wind management software (that's what the "W" in the acronym stands for) and a lightweight aluminum chassis with an impact-resistant rubber armor coating that provides a positive grasp. The display is an easy-to-read OLED type. Eyecup can be folded down for eyeglass wearers. Pricetag is around 717 euro (prices may vary in your country and depend on the applicable VAT).
The RX-1600i TBR/W is a sort of all-rounder whenever it comes to versatile, accurate range finding up to 1600 yards/1460 m. With a 6x magnification that allows for a wide field of view, it's perfect for both long range shooting and hunting. Like the previous model, it's equipped with Leupold's proprietary advanced ranging engine, ballistic compensation system and wind management software, lightweight aluminum chassis with ergonomic housing design and high-contrast OLED display. It also offers a built-in inclinometer. Guaranteed for a +/- 1/2 yard accuracy, waterproof and fogproof, it's priced at 574 euro (approx depending on local VAT). Both the RX-1600i TBR/W and the RX-2800 TBR/W use 1 CR2 battery.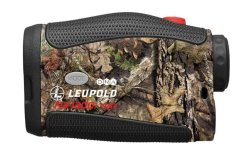 The smallest option in Leupold rangefinder line-up and at only 7 oz/198 g of weight, the RX-1300i TBR offers ½ yard accuracy up to 1,300 yards/1190 m and True Ballistic Range (TBR) up to 800 yards, still delivering superior brightness and resolution and also featuring Leupold's unique Trophy Scale, so you can easily gauge an animal's size to make sure it's a shooter. Magnification is a useful 6x. You can find it in specialized shops at around 330 euro.
You can look up the distributor for your country here: https://www.hornady.com/retail/international-distributors