As an addition to its hunting line-up, Burris has now also introduced a total of five thermal optics. They are divided into a handheld and a clip-on device. The former is available with a 25, 35 and 50 millimeter objective lens respectively, while the clip-on offers customers the choice between 35 and 50 mm. all4hunters.com took a closer look at the models from Burris.
H-Series: the handheld thermal imaging optics from Burris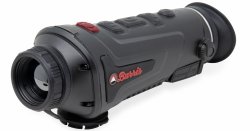 The H-Series of thermal devices comes with a modern and ergonomic design. On the other hand, inside works a 400x300 IR sensor that processes the image for the 1280x960 pixel display. This ensures high-contrast and sharp reproduction of the thermal image. To make it easier to see details, the 25-millimeter version features a magnification range of 1.7-6.8x. The 35-millimeter device magnifies in the range of 2.3-9.2x and the 50-millimeter one covers the  3.3-13.2x  range. In all three devices, the zoom works smoothly. The equipment for safe game observation also includes various color modes, a picture-in-picture function and a high frame rate of 50 hertz. All in all, this ensures detection up to a distance of 1400 meters and recognition up to the range of even 3000 meters (for the 50 mm version). Distances can be determined with the integrated, stadiometric rangefinder.


Features of all three devices for convenience and use include user-friendly menu navigation with mobile app support and a video output in HDMI format. The MSRP in Germany is 1739 euro for the 25 mm, 1949 euro for the 35 mm and 2149 for the 50 mm (prices may be different in your country).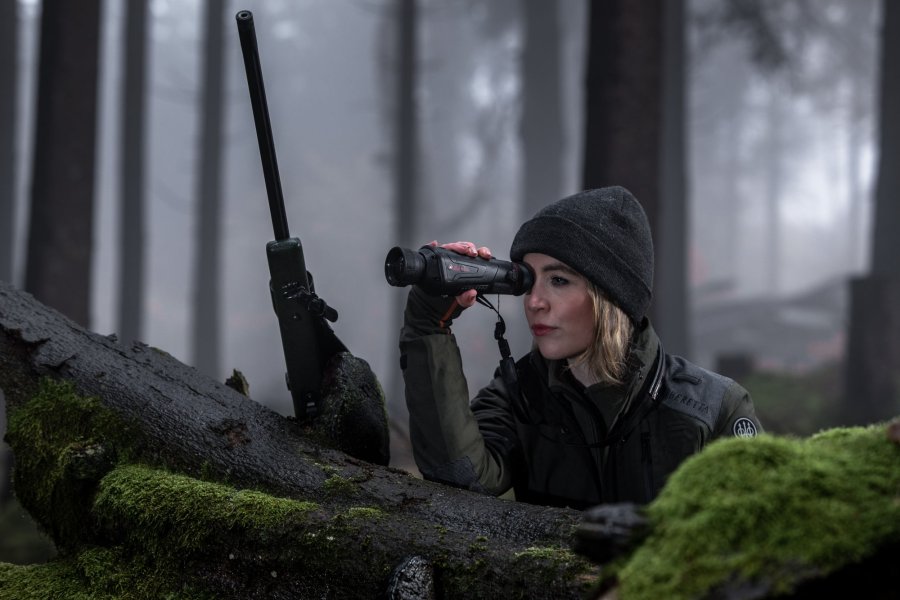 Handheld thermal imagers from Burris: specs and prices

| | | | |
| --- | --- | --- | --- |
| Model: | Burris Handheld H25 | Burris Handheld H35 | Burris Handheld H50 |
| Price: | 1739 euro  | 1949 euro  | 2149 euro |
| Display: | Full HD Color, 1280 x 960 pixels | Full HD Color, 1280 x 960 pixels  | Full HD Color, 1280 x 960 pixels |
| Frame Rate:  | 50 hz  | 50 hz | 50 hz |
| Resolution: | 400x300 | 400x300 | 400x300 |
| Detector Pitch:  | 17 μm | 17 μm | 17 μm |
| Field of View at 100 Meters: | 27 x 20 m | 19 x 14 m | 13 x 10 m |
| Digital Zoom: | 1-4x | 1-4x | 1-4x |
| Magnification:  | 1.7-6.8x   | 2.3-9.2x   | 3.3-13.2x |
| Weight:  | 16.57 oz/470 g  | 17.10 oz/485 g  | 18.87 oz/535 g |
C-Series: the Clip-On thermal models from Burris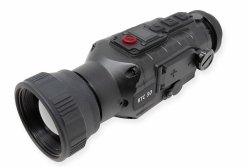 Just like the handheld models, the Clip-On series comes with a detector that has a resolution of 400x300. The display, however, is different: this resolves with 1024x768 pixels and comes with OLED technology. Both available models with 35-millimeter and 50-millimeter objective lenses offer a digital zoom in the 2-4x range. As with the other devices, different color modes are available to improve visibility.  Detection is possible up to 2400 meters, with coverage down to 1000 meters.


Burris also promises easy mounting on the rifle (here please always observe applicable laws), without having to re-zero it afterwards. In addition, the weight has been noticeably reduced compared to the handhelds, which improves the ease of use in hunting. The manufacturer recommends combining the rifle with its own FourXe 2.5-10x50 riflescope.

For use under even the most difficult conditions, the device is also guaranteed to be usable in temperatures ranging from -30 to 50 degrees Celsius. In Germany, the 35-mm version has a MSRP of 2899 euro, 3379 euro the 50-mm model (prices may be different in your country).  

Details and prices of the Clip-On thermals from Burris

| | | |
| --- | --- | --- |
| Model:  | Burris Clip-On C35 | Burris Clip-On C50 |
| Price: | 2899 euro  | 3379 euro |
| Display: | HD OLED, 1024x768 pixels  | HD OLED, 1024x768 pixels |
| Frame rate:  | 50 hz | 50 hz |
| Resolution:  | 400x300 | 400x300 |
| Detector Pitch:  | 17 μm | 17 μm |
| Digital Zoom:  | 2-4x | 2-4x |
| Weight: | Under 14.10 oz/400 g  | Under 15.87 oz/450 g |