The versatility of the new Burris QD P.E.P.R optics mount is enhanced by the availability of six Xtreme Tactical Steel 1-piece bases.
New Burris AR-Signature QD P.E.P.R mount: features and price
QD P.E.P.R. mounts are available with 30, 34 and 35 mm ring diameters and include internal polymer rings capable of 5 to 40 MOA of scope adjustment without using windage and elevation knobs, greatly increasing the maximum range of most optics. In addition, the polymer contact surface eliminates the risk of scratches on the optics tube. The streamlined design of the rings also ensures rapid target acquisition and allows for the use of iron sights in case of emergency.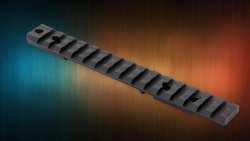 The QD attacks P.E.P.R. mount is entirely made from solid steel with six screws on each ring, a design that guarantees maximum durability and holding power. Two locking levers at the base make it possible to quickly remove it from the gun and to mount it back just as quickly. The weight of the mount is about 10.2 oz / 290 g.
Milled from a single piece of steel and coated with melonite, the new Xtreme Tactical Steel bases provide greater strength and rigidity for precision shooters. A recoil lug built in the bottom of the base guarantees a secure fit even after thousands of rounds. They are available for Savage, Remington 700, Howa 1500, Remington 700 short action, Howa 1500 short and Tikka rifles.