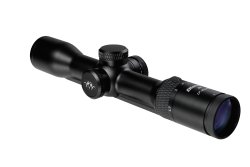 With its magnification of 1.7x to 10x and an objective lens diameter of 42 mm, the new Blaser B2 1.7-10x42 iC is one of the so-called all-round riflescopes, which have become very popular for stalking, raised hide, driven hunting and mountain hunting, as they represent an ideal compromise between a small and lightweight driven hunt riflescope and a high-magnification optic for extreme ranges in terms of optical performance, size and weight. 
Those who want to be a little more comfortable when shooting at ranges up to 500 m can, of course, also turn the elevation adjustment turret of the new B2 1.7-10x42 iC into a convenient quick adjustment with the QDC+ (Quick Distance Control+) from the optional accessories range of the B1 and B2 models.

Technical details of the new Blaser B2 1.7-10x42 iC riflescope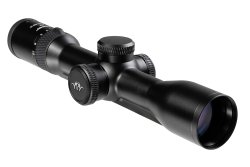 Like all of Blaser's B2 scope line, the new B2 1.7-10x42 iC has a very sturdy and compact nitrogen-filled body that, according to the manufacturer, remains watertight to a depth of 5 meters. The field of view at 100 meters is 24 meters wide at the lowest magnification and 4 meters at the highest magnification. The new B2 model has a main tube diameter of 30 mm and operates with a click adjustment of 1 click per cm at 100 meters. At this distance, it has an adjustment range of +/- 145 cm in both windage and elevation. Its length of 315 mm also makes the new Blaser riflescope a compact solution for night hunting with clip-on attachments, which can thus be operated and adjusted comfortably even when aiming with the riflescope. In addition, the center of gravity does not shift unnecessarily far forward with such a compact combination. By the way, Blaser also offers a suitable Blaser CM mount for the new B2 1.7-10x42 iC for attaching night vision or thermal imaging clip-ons. The clip-on mount comes in at 214 euros and is supposed to make it possible to clamp the attachment optic onto the riflescope in seconds, very easily and with repeatable accuracy in just a few steps – even if a Blaser flip cover has already been mounted on the lens beforehand. Sounds like a good solution. We will try this out in practice shortly and report back.



The new Blaser B2 1.7-10x42 iC riflescope is available at a price of €1,850 with rail and €1,800 without rail. The scope with rail weighs about 700 g, without it is about 20 g lighter.

If you want to optimally protect the lenses on the eyepiece and objective lens, you can order the optionally available B2 Flip Cover right away. The "Blaser B2 Flip Cover 48 mm" for the objective lens is priced at 159 euro and the "B2 Flip Cover iC Eyepiece" at 134 euro. All prices mentioned are the manufacturer's recommended retail prices.
The new Blaser B2 1.7-10x42 iC will be available from the end of August 2023.

Something else new from Blaser: the 250-page catalog with the complete product range for 2024 is already available. We tell you where!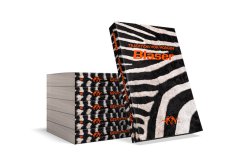 With its 2024 general catalog, Blaser once again presents many hunting-related innovative ideas and brand-new products. The new R8 Ultimate Monza straight-pull bolt-action rifle can be found in the 2024 catalog, as can the B2 riflescope line, from which comes the B2 1.7-10x42 iC, presented above, which can be used in many ways. Of course, fans of the Blaser Outfits clothing line are not left out in the new catalog either. In the 2024 general catalog, for example, you will find the new down jackets for women and for men, which keep their wearers pleasantly warm on cold days while hardly restricting their freedom of movement.
+++ The new Blaser catalog 2024 is already available at many retailers. Here you can download the catalog with the complete 2024 program directly from Blaser's service website or order it in paper form. +++
---
For more information on the new B2 1.7-10x42 iC riflescope and the accessories presented here please visit the Blaser website.