Founded in 1825, Sellier & Bellot is one of the oldest companies in the world to operate continuously in the field of firearms and ammunition. With almost two hundred years of experience, it should come as no surprise that the company based in Vlašim, Czech Republic, is able to meet the changing demands of the market. In fact, Sellier & Bellot manufactures all types of ammunition for the civilian market, from pistol and revolver cartridges to rifle, shotgun and rimfire ammo. It is also one of the leading European manufacturers of small caliber military ammunition.
Sellier & Bellot, new solid copper bullet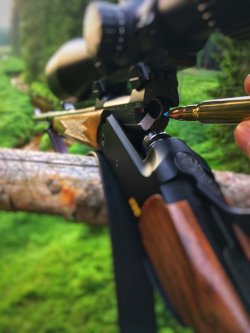 The latest innovation introduced by Sellier & Bellot is the eXergy Blue hunting lead-free line of ammunition, featuring the homonymous solid copper bullet. The eXergy Blue solid copper bullet with tapered base (boat tail) and a very pointed nose guarantees an extremely flat trajectory. The blue plastic tip that gives the cartridge its name enhances expansion at all ranges, while the solid copper construction maximizes weight retention and energy transfer. The bullet is completely lead-free.
The Sellier & Bellot eXergy Blue ammo line is available in a wide range of European and American calibers, which are shown in the table below. It should be noted that a 6.5 Creedmor load is already available. It's particularly suitable for long range shooting thanks to its very flat trajectory, with a 120 grain bullet propelled at a velocity of 869 meters per second and with an energy of almost 3,000 joules.
There is no shortage of traditional European hunting caliber loads, such as the 6.5x55 SE with 120-grain bullet and the 8x57 JRS with 180-grain bullet. The Sellier & Bellot eXergy Blue are sold in packs of 20, with practical 5-round plastic trays that keep the cartridges in perfect order and can be reused.
We are looking forward to testing these interesting European production cartridges in the field, for hunting and some long range target shooting. We have already ordered some... Stay tuned!
Sellier & Bellot cartridges with eXergy Blue bullet are available in the following calibers and with the indicated bullet weights:
| | | | |
| --- | --- | --- | --- |
| Caliber           |  Bullet weight grs/g | V0 M/S | E0 J |
| 6.5x55 SE | 120/7.80 | 863 | 2905 |
| 6.5x57 | 120/7.80 | 830 | 2680 |
| 6.5 Creedmor | 120/7.80 | 869 | 2945 |
| 7x57 | 150/9.70 | 774 | 2906 |
| 7x57R | 150/9.70 | 754 | 2757 |
| 7x64 | 150/9.70 | 854 | 3537 |
| 7x65 R | 150/9.70 | 839 | 3414 |
| 7mm Rem. Mag. | 150/9.70 | 939 | 4267 |
| 300 AAC Blackout | 110/7.10 | 675 | 1617 |
| .308 Winchester | 110/7.10 | 775 | 2132 |
| .308 Winchester | 165/10.70 | 829 | 3677 |
| .30-06 Springfield | 165/10,70 | 849 | 3856 |
| .30-06 Springfield | 180/11.70 | 809 | 3829 |
| .300 Win. Mag. | 180/11.70 | 839 | 4118 |
| 8x57 JRS | 180/11.70 | 759 | 3370 |
| 8x57 JS | 180/11.70 | 804 | 3782 |